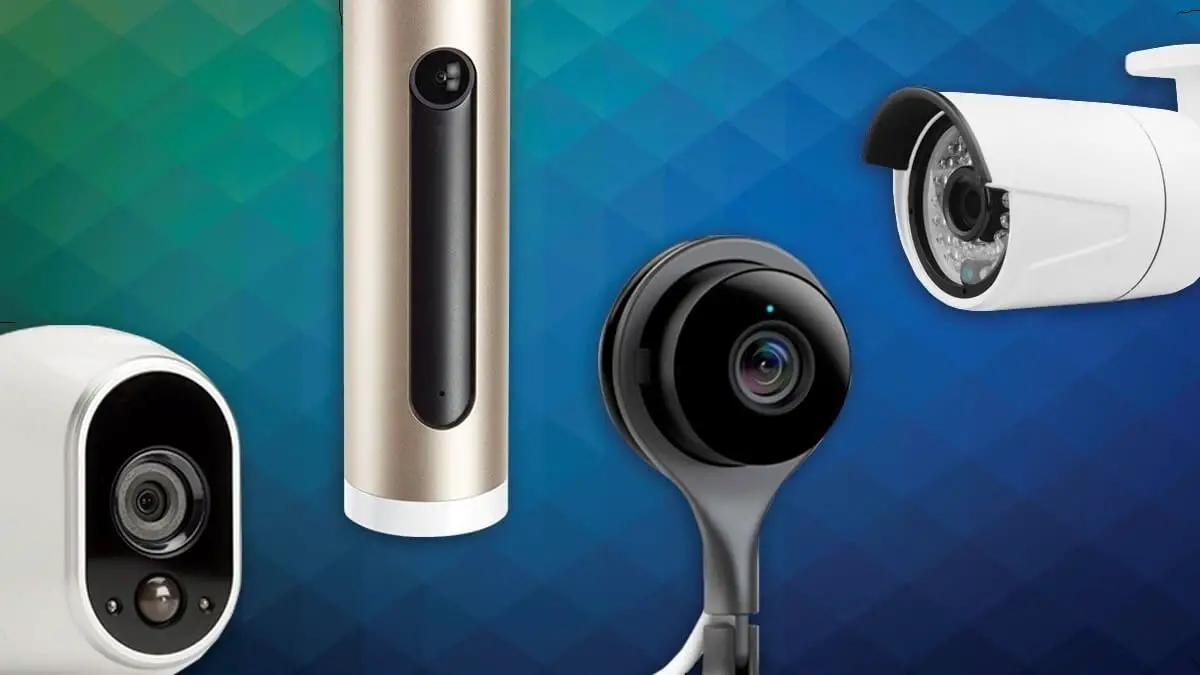 1) Amazon Cloud Cam Review
Amazon has extended its smart home reach from voice assistants to security cameras with its indoor security camera at a reasonable price that not only show you who is at the door but allows you to unlock it as well. It offers equivalent quality and subscription plans as any other favorite camera like Netgear Arlo pro or Nest Cam IQ Indoor. In short, it has everything we love about Amazon and this camera distinguishes itself as the right balance for home security.  Read on the review on Amazon's first home security camera.
Amazon Cloud Cam Features:
Cloud storage
Simple installation
Steadfast performance
Smart Home Integration
Easy app
Reasonable price
Specifications
Cord Length: 7.5 metres
Operating temperature: – 20 degree to – 40 degree Celsius
Night vision: With 8 infrared LED
Battery: No
Special Features: Netcam, Wireless Interface.
Weight: 1.4 Kg
Easy installation
The Amazon Cloud Cam Security camera, is really easy to set up even in comparison to the simple Nest Cam IQ indoor camera. First plug the Cloud cam, download the app and follow the pairing instructions. The app will discovered the camera instantly via Bluetooth, then after entering the Amazon credentials you can have access to videos and other Amazon services. Your Amazon Cloud Cam will be up and running.
Design
The Amazon Cloud Camera has a cylindrical head that is 2.4 inches in diameter and 1.7 inches in depth, which is supported by a small white base. Its height is about 4.1 inches tall with its stand. Moreover, it comes with a 10-foot USB cable which provides power to the Cloud Cam.
Video and Audio Quality
Amazon Cloud Cam has a resolution of 1080p and a frame rate of 30 frames per second but its field of view is slightly slimmer that is 120 degrees and not 130 degrees. If we compared the video quality to Nest Cam, then it has been recorded that video from the cloud cam is overall good and brighter. In some cases, the brighter video from the Amazon is not much impressive but in other situations, the brighter video from the Amazon camera is an asset.
Motion and Sound Detection
You can select to receive alerts if the camera detects motion or a person or both. You will receive notifications instantly. Furthermore, the geofencing notification turns the camera on automatically when you leaves a particular area with your phone and off respectively when you get back home.
Indoor security Camera Performance
The Cloud Cam performs clear and faultlessly providing smooth video, two way audio communication, customizable settings and an excellent user experience. Nonetheless, video brightness quality effects in the area between low light and darkness but it does not affect the opinion of the device.
Summary
Overall, Amazon Cloud Cam Indoor is a quite decent choice and entry in smart home security category. It is well built with reasonable rate having advanced motion sensor and delivers excellent 1080p quality video and has good cloud storage options. Hence, if you are looking for smooth wireless at home indoor security system that is not heavy on your pockets either, then for the Amazon Cloud Cam that appears to be a great choice with a lot of features.
2) Arlo Pro Review 2019:
Take security steps further with Netgear Arlo pro. It is high end, weather-proof, completely wireless camera with rechargeable batteries. Furthermore, its clear night vision lets it see even in the dark so you can be ease at night without any worries. What makes Arlo Pro best buy is if you have large property and want to keep an extended check outdoors or even if you want Arlo pro add on camera to be moved around repeatedly. Read away the Netgear Arlo pro review to know more.
Arlo Pro Review Features:
• Wirelss design with Wi–Fi
• Rechargeable battery lasting up to months
• Motion and sound activated cameras to notify on mobile device
• 100+ decibel siren
• Live stream and HD recordings
• Certified IP65 indoor/outdoor weatherproof cameras
• Arlo cloud storage for up to 7 days Night vision for 24–hour monitoring
• Two–way audio communication
Specifications
Voltage: 12 volts
Wireless Type: 802.11.n
Battery: 6.5 watt/hours
Ram: 128 MB.
Weight: 1.8 Kg
Brand: Arlo
Feel Secured on the Go

Netgear Arlo Pro offers you to observe and monitor what matters the moat at any time. You can even fix motion and sound detection routines and get notified on your phone if something unusual happens. It comes with a built-in loud 100+ decibel alarm that alerts you of disorders and prevent stalkers or burglars.
Weather-Proof 24/7 Security System
Wherever you want to set it up, it sets up in seconds and works indoors as well as outdoor. You do not have to worry about the weather even because it is IP65 rated weatherproof that can bear rain as well as dust. Also, Arlo pro camera even makes clear night vision no matter how intense the darkness is.
If you want built in face recognition feature, check Next Cam IQ Indoor.

Live Streaming & Recording
You can watch live HD streaming through free Arlo application or even review your saved recordings later that you may have missed. Watch really sharp, high definition video. Moreover, its two way voice communication makes it easy and seamless that is perfect for helping the kids or just checking upon them.
Free Cloud Storage
As Arlo app allows you to save recorded videos, you can store important footages to review later. You can store footages for up to seven days to Arlo's cloud storage and access it remotely as you want.
Summary
Netgear Arlo pro camera system without any doubt is the finest home-security system. Certainly a premium outdoor security camera that is worth your every penny. While offering a reliable weatherproof outdoor camera and great value subscription, it proves to be an excellent choice in home security cameras to buy.
3) Nest Cam IQ Indoor
Get a certainly smartest security ever with Nest Cam IQ. Get mobile alerts when you are on the go or review recording at a later time. Stay at ease with a 4k sensor, which has face recognition built in. Get this high quality monitoring device that uses advanced algorithms to recognize and track faces.  Read on the full Nest Cam IQ review to know its features better that includes but not limited to round the clock surveillance.
Nest Cam IQ Indoor Features:
• Signals when someone walks into the frame
• 12x digital zoom and enhance
• 4k sensor
• High Dynamic Range imaging
• HD Talk and Listen
• 24/7 live streaming
• 130° view in 1080p HD
• Night Vision and 940 nm infrared LED
• Activity alerts
Specifications
Power Source: mains operated
Special Features: video sensor, nightvision sensor
Battery: 1 Nonstandard Battery
Weight: 798 g.
Advanced Technologies: 128-bit AES encryption, TLS, 2048-bit RSA
Live streaming
Lookout 24/7 hours streaming of your home in 1080p HD. You can see more with its 130° field of view. The Nest Cam IQ Indoor comes with night vision and 940 nm infrared LED, that allows you to keep an observant eye during the course of night.
Excellent monitoring
You can hear exactly what's happening and speak back clearly with its HD Talk and Listen. Moreover, you can catch more minute details with High Dynamic Range (HDR) imaging. Its super sight feature uses 4k sensor and 12x digital zoom, which enhance to focus in on and track faces.
Stay Alert
Get notified of things even when you are away from home. Have Person Alerts whenever someone walks into the frame. You can also reviews a three hour snapshot history using the Nest app and have a look at any alerts you missed. The Nest Cam IQ Indoor even use familiar face alerts to differentiate between family members and strangers. Cool, we know right!
Summary
Nest Cam IQ Indoor is a very smooth security camera system with outstanding image quality and features. It is of no doubt that it's a smart and sophisticated security camera and with brilliant combination of intelligent features with high quality performance. You will certainly be happy to invest in this smart home camera because of its excellent yet delighted results.
4) Nest Outdoor Security Camera Review:
Keep an eye and monitor outside of your home even if you are not physically present there with Nest Cam Outdoor. Benefit with its 24/7 live video streaming feature on your mobile phones or tablets. Get notified through alerts and watch smooth footage in clear 1080p HD. Moreover, it is one fine best buy outdoor webcam as its IP65 weatherproof rating allows it to bear severe outdoor weather conditions. Furthermore, Nest Cam Outdoor security camera relieves the pain of installation and configuration with its easy and seamless Nest outdoor camera install method, you just plug in the cable and connector with its exceptional magnet mount.
Outdoor Security Camera Features:
1. 1080p 30 frames per second video
2. Activity Zones (with subscription)
3. 10 and 30 days video history
4. Built-in microphone and speaker
5. 130-degree field of view
Specifications
Cord Length: 7.5 metres
Operating temperature: – 20 degree to – 40 degree Celsius
Night vision: With 8 infrared LED
Battery: No
Special Features: Netcam, Wireless Interface.
Weight: 1.4 Kg
24/7 video streaming
Watch anytime throughout the day or night about happenings occurring in your monitored space just by the feed through the free app. You can also view 130 degree angle of your home's exterior on any medium such as phone, tablet or laptops in 1080p HD. Moreover, you can even zoom in for a closer look.
Get alerts
The Nest Cam Outdoor security camera records all the motions and sounds, so in case if something happens, it will notify you on your handy devices.
Designed specifically for outdoor purpose
Extreme weather conditions will not stop Nest Cam Outdoor to serve its purpose of keeping an eye on your home's exterior. Because its camera, cable and adapter have an IP65 weatherproof rating that enables Nest Cam Outdoor to smartly perform its operation.
Listen and talk back
With Nest Cam Outdoor security camera's mic and speaker, you can precisely hear what is going on and even talk back using the Nest app. Great, we know right?
Visibility in dark
Want your area being monitored lighten even in the dark? Well, it is possible for sure with Night Vision LED sensors of Nest Cam Outdoor security camera. It's built in security camera which identifies light volume and activates the switch to night mode.
For excellent indoor monitoring, check Nest Cam IQ Indoor Security Camera.
Seamless Installation
Its set up is hassle free, you just have to plug in the power cable, download the free app and install Nest Cam using your Android or iOS device. Besides, finding a place for the Nest Cam Outdoor is stress-free because its magnetic stand allows the camera be fixed in a variety of locations.
Nest Aware
At first, install your Nest cam and gain your 30-day trial offer of the Nest Aware service. For 30 days, video in the cloud is stored via Video History, so that you can go back to review what you missed, save clips and more. After the trial expiration, you can choose for Nest's subscription-based cloud storage. Its entry-level plan offers up to 10 days of video history (100+ GB) stored in the cloud, however the upgraded offer lets you save up to 30 days of video history 300+ GB of cloud storage for future review and reference.
Summary
The Nest Cam Outdoor is by far one of the best security cameras with its smooth, powerful and well specified security camera which is backed up by most user-friendly companion app Nest Aware service. Nest Cam IQ Outdoor wins praises for its smart features and fantastic day/night image quality because only few can match the quality, intelligence and simplicity of Nest Cam IQ Outdoor security cam.