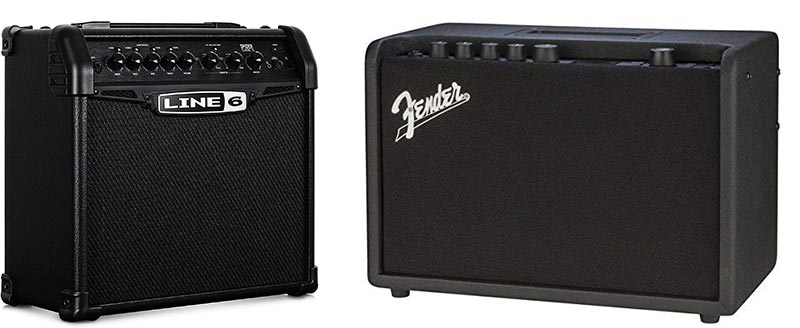 Simply put, a modeling amp is an amplification device which models itself and tone capabilities on acclaimed higher end guitar amplifiers. They contain presets that mimic well known, popular classic-amp tones. They provide a good quality digital emulation of distinctively recognizable sounds at a more affordable price. In a quest for sound superiority, we tested the best modelling amps for guitar to save you trouble.
Fender Mustang GT 40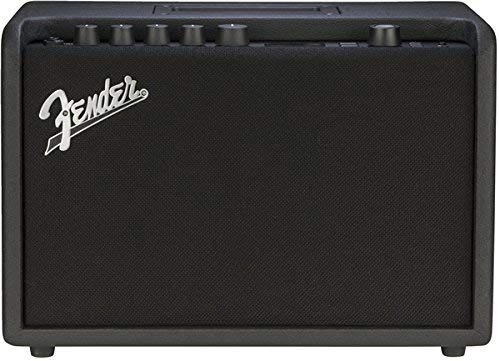 Why we like it?
With newly developed high-fidelity algorithms Fender has outdone itself with its Mustang series line and makes it into our top 10. The GT40 is a fine specimen of versatility in a modeling amp. It precisely models realistic amp response offers modern-day compatibility capabilities. Packed with 21, classic voices and more than 45 different effects the possibility this amp is one of the best modelling amps for guitar.
The Fender Mustang GT-40 Combo Amplifier builds on the success of the classic Mustang II amplifiers and adds built-in WiFi, Bluetooth capability as well as a host of brand-new effects to make it one of the best modelling amps for guitar for the modern musician. This is actually the world's first WiFi equipped amplifier.
In addition to everything the previous model had to offer the pathway signal processes have been refined, you are now free to move effects anywhere in the signal chain. This truly promotes musical creativity which is "limited only by your imagination" as the tag-line states. Making it number 1 on our best modelling amps for guitar list.
Pros. & Cons.
PROS:
Bluetooth sharing presets.
MP3 line.
Full color display screen.
Volume ranges for home practice and gigging at a variety of venue sizes.
CONS:
Doesn't include the 1-button footswitch
Software is of low quality and difficult to use
Poor selection of modelling choices
Line 6 Spider Jam Classic 15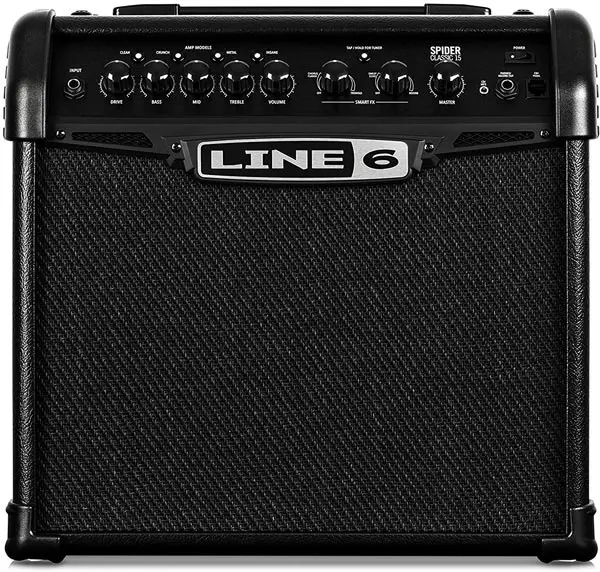 Why we like it?
This is a sweet modeling amp that puts classic line six effects neatly inside a 15-watt digital version for liberating tone experimentation. It is a durable but lightweight and economical alternative to top of the range models from Line 6. Musicians will find it easy to adjust their sound by simply tweaking the knob which allows users to control their tone and combine two effects simultaneously.
In addition to your usual reverb, delay and modulation settings Some of the other featured effects include tape, sweep, echo, and tremolo, with fully adjustable parameters. It has a closed back cabinet and a custom built 8-inch speaker and comes with an FBV foot controller for remote switching. It also sells with a copy of spider jam editing software which takes the tone shaping capabilities to another level and gives players access to exclusive online content.
Pros. & Cons.
PROS:
Useful built in tuner.
Create save and store 4 settings.
Hands free foot multi-effects pedals.
CONS:
Needs the Line 6 Relay G10T in order to truly customize and tweak the sounds, and the additional accessory needed for this is expensive
No XLR Input for microphone
No suitable for use with bass guitar
Marshall CODE-100

Why we like it?
The tone tweaking capabilities of the Marshall CODE series are almost limitless. This is a range of guitar amplifiers that honestly allow musicians to dial in and find their own unique sound. It is a stunning modeling amp replicating the company's legendary high-end amp tones. Consisting of 14 preamp models, 4 power amp models, 8 speaker cab models. Players can adjust gain, volume, modulation, delay, reverb accessing around 100 presets and 24 effects. Enabling customers to produce a blend of Marshall's authentic tones with pro-quality effects including that critical glistening clean tone making it the third best modelling amps for guitar.
This is one of the best modelling amps for guitar on the scene today thanks to the fact its packed with Marshall Softube Technology, or MST for short which includes 14 x MST Preamps, 4 x MST power amps and 8 x MST speaker cabinets, it's like taking an entire studios worth of history's greatest amps with you anywhere you go.
You can even use it as an audio interface via the integrated USB port and use the Marshall Gateway app to change amp settings from your Android or iOS device. This is not only a contender for one of the best modelling amps for guitar, but one of the best amplifiers constructed, hands down.
Pros. & Cons.
PROS:
Includes a 2-way footswitch
Loud volume level at 100 watts, great for live use.
Features android integration App for updates and patch sharing.
CONS:
For live use PEDL-91009 is essential.
Final Words
Fender have taken their experience in the amplification field to provide tube-like emulations in a versatile modeling amp and effects loop to the masses.
It is an exceptional low budget amp model ideal for classic as well as modern rock making it number 2 on our best modelling amps for guitar list.
The Marshall CODE-100 is an outstanding marvel of amplification, eliminating the need for multiple effects pedal once and for all. It really is quite limitless. The CODE is packed with great tone. It's competitively priced, looks good, sounds great out of the box and it's ridiculously easy to use, even for a complete beginner.