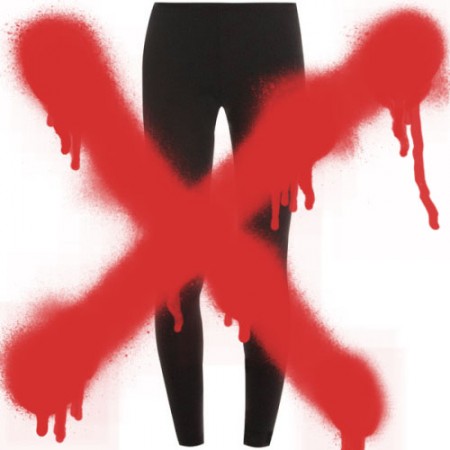 The most debatable article of clothing a person could probably wear in the year 2016 is one that has stirred up a few serious debates. Leggings come in all sorts of lengths, patterns, colors, textures, and thicknesses; they're a go-to article of clothing that's reasonably cheap and overall comfortable to wear. I attend a university, and the amount of leggings I see on campus every day is a pretty large number. I get it, these people are looking for sheer comfort and leggings are fast and easy to slip on. And yes, I will admit, I wear them.
In the past, I had a job where I couldn't wear jeans; I either had to wear black slacks or leggings. Long short story short, I hate wearing slacks, so I went with wearing leggings for nearly every shift. Before I knew it, I had accumulated over 15 pairs of leggings, five of which were black. I began wearing them 24/7, not realizing just how worn out they were becoming. I slowly began to see my skin through the spandex/cotton material, and that's when it hit me… these are not pants.
That's right, I'm a firm believer that leggings are not pants.So why do I not believe they're pants?
First, the sheer fact that people could most likely able to see my underwear frightens me—like, my underwear is my business. Also, they're not the most durable things in the world. Leggings quickly become worn out after a few washes, and they eventually lose color, making it easier for people to see your skin. Not to mention (based on personal experience), the crotch may rip at the most inconvenient times (at work, on a ladder, with no backup clothes). And don't even get me started on the accidental wedgies; those are uncomfortable to pick in public. Not only are leggings not pants, but they're a nuisance. I mean, they don't even have pockets!
Not to sound overly dramatic, but one of the best days of my life was when I finally bought a pair of black skinny jeans to replace my leggings. I no longer had to fret about my underwear showing or worry that if I moved the wrong way, the crotch would rip. I was actually wearing pants and I felt like a new woman.
Now, don't get me wrong, I still wear leggings, but I'm strict with myself when I wear them. Since I believe they aren't pants, I only wear them in public if my butt and crotch are fully covered with a longer shirt or dress; or, if I'm on my way to the gym or a yoga class. In the latter situation, I wear spandex leggings made for exercise and sports. However, wearing leggings in the privacy of my own home is a different story—I'll wear them with whatever shirt I want.
leggings1If you yourself just realized that leggings aren't pants and are now wondering what you're going to wear that's still comfortable, then fear not. Clothing stores are stepping up their game and making pants that are called 'jeggings.' They're a stretchy pant that resembles denim jeans, but basically feel like leggings. Finally, the best of both worlds.
In the end, it's your decision to decide if you're wearing actual pants or not; it's all about what you are comfortable in.