Working out in a noisy and disturbing environment can be quite irritating and with the current COVID situations, it now makes sense to workout at home more than ever. But let's just keep it peaceful.
Treadmills are a great way for your cardio source at home. But the noise sometimes just gets to you.
Running helps you reach a calm, almost meditative mood, as most runners have discovered. However, if you choose a home treadmill that clanks or is loud, it can be difficult to let go of your tension long enough to hit your comfortable running spot.
Our list of quietest treadmills will help you with that.
Horizon Fitness Store Studio Series:
The Horizon 7.8 AT has a very silent motor.
From the heavy-duty steel base to the thicker plastic that doesn't vibrate and hold sound like most treadmills, this treadmill is made of components that help in silencing the noise.
We measured the following decibel levels on the Horizon 7.8 AT:
65 Decibels: 3mph, belt on only
71 Decibels: 3mph, with a person walking
73 Decibels: 6mph, belt on only
76 Decibels: 6mph, with a person running
And at its fastest speeds, which range from 0.5 to 12 MPH, the Horizon 7.8 AT treadmill will not disturb the neighbors or family members in the next room. The deck cushioning on the Horizon 7.8 AT helps to dampen sounds while still shielding your knees from damage caused by walking and running movements.
When running, the Horizon 7.8 AT's motor is both powerful and silent. This 4.0 CHP commercial motor will keep you going strong through your workouts. Hill job, calorie burn, and even the Sprint 8 HIIT training program are among the preloaded programs on the 7.8 AT.
You also give an audible beep as you switch between applications, use the pace and incline keys, and pick items on the touchscreen to help remind you that the Horizon 7.8 AT has received feedback from you.
It has a responsive QuickDial, with its internet access, you can stream fitness classes, it has a built-in HIIT training program that you can watch on a bright 9.3 inch LED screen.
It gives you a lifetime warranty on the motor and frame. One chink in the armor that we found was it does have an adjustable fan.
LifeSpan TR2000e Electric Folding Treadmill:
The LifeSpan TR2000e is a lightweight folding treadmill that is also very quiet when used. This treadmill has an electronic folding feature, which means all you have to do to fold it up is press a button, and it will collapse on its own.
To unfold, simply press the same button again, and it will open without your assistance.
The features and motor power of this silent, lightweight treadmill impress us.
We measured the following decibel levels on the LifeSpan TR2000e:
70 Decibels: 3mph, belt on only
72 Decibels: 3mph, with a person walking
79 Decibels: 6mph, belt on only
84 Decibels: 6mph, with a person running
You can see that this treadmill has been meticulously designed. With an 8″ step-up height, it's convenient to get on and off the deck, since it's low to the bottom. The 2.5 horsepower engine can also drive you through either stroll or light jog with ease. The 20″ wide by 56″ long belt allows for a relaxed walking speed, and the 8 friction shocks help to withstand both impact and noise.
This treadmill, among most, has a 15 percent incline so you can use it for uphill exercise or just to change up your walking routine. Since it is lightweight, quiet, and folds up on its own, this treadmill is especially well-suited for seniors.
A single console is simple to use. There are 17 pre-programmed programs and four personalized programs, as well as
heart rate preparation. The LifeSpan TR2000e folding treadmill will inspire you with its features, functions, and low noise performance.
On the other hand, we think we think that the console may be too simple for some users, it also doesn't allow you to skim through subscription options.
Exerpeutic TF3000:
The Exerpeutic is more like a walking treadmill than a running treadmill, but you can sprint at a top pace of 8 mph on it. It has a 5-inch LCD display screen with a clear backlight that shows the size, rpm, calories burned, and elapsed time.
The deck is reasonably wide, with eight shock absorbers to cushion the effect. There are also 12 pre-programmed exercises and three exercise aim settings on the unit. When walking, the handlebars provide traction. It also has easy-to-use buttons for adjusting your pace and beginning and stopping your exercise.
You will listen to music or watch a broadcast while working out with dual stereo speakers. It has a 2.0 HP engine with a "quiet drive," which eliminates noise when you're working out.
When you're finished working out, the air piston will help you fold the deck up. You can quickly move it out of the way due to the wheel's built-in. It also comes with a 3-year frame warranty, a 5-year motor warranty, and a 90-day parts warranty. The MyFitQuest7 app allows you to build a profile that can help you keep track of your workouts and success.
It has Handlebar-mounted speed control buttons that allow you to control your speed with ease. It also has a Cushioned deck. With air pistons, it's easy to fold and unfold as per your needs. It has built-in wheels that allow you to move the treadmill wherever you want to.
With all its awesome features, it has only had a 6 percent incline, which may not provide enough of a challenge for some runners, it also doesn't have a fan.
Assault AirRunner:
The Assault AirRunner treadmill will get you working up a sweat in no time if you're looking for a treadmill that will challenge every muscle fiber in your body.
Curved decks are becoming increasingly popular. Rather than a long flat belt, the AirRunner's curved deck is made up of individual textured slats. Some people can find it a little narrow at 17 inches across. However, with a length of 62.2", it will easily allow you to run at full throttle.
The majority of curved treadmills, like this one, are driven by hand and do not have an engine. You will boost the pace by switching to the front of the treadmill. Running in the middle will keep you going at a constant pace while running in the back will slow you down.
You'll get a perfect HIIT workout on the manual treadmill, and you'll lose more calories than on an automated treadmill. You can practice running on a curved surface before trying to sprint on this treadmill.
The battery-powered LCD screen on the Assault AirRunner keeps track of calories burned, pace, distance, time, and rpm. It also has LED lights that indicate whether you should go all out or take a break. You can build your HIIT workout or use one of the preloaded ones.
The console is Bluetooth-enabled and can connect to a Polar heart rate sensor with ease. You'll have to get used to the absence of a media shelf on which to rest your tablet, as well as no storage room for your cellphone or water bottle. However, this does not affect the nature of the workout you'll get.
Since it's a non-motorized treadmill, we found it to be exceptionally quiet. It Mimics outdoor running, it can go as fast as you want it to. It is specifically designed for HIIT Training.
Although we feel that due to the weight of the belt, it takes a bit of time to slow down, and if you're not paying attention, you could get thrown off. We also feel that for a manual treadmill, Assault AirRunner is a bit on the expensive side.
NordicTrack T Series Treadmill:
The DurX Smart Response Motor in the NordicTrack T Series Treadmill is a versatile 2.6 CHP* motor that is perfect for keeping things quiet when you're walking, jogging, or running in your house.
This treadmill's belt, in addition to the quiet motor, was engineered to cushion your footfalls with each turn, further reducing unnecessary noise.
The extra-wide 20-inch belt offers enough running space, and unlike most silent treadmills, it can handle people weighing up to 300 pounds.
It comes with a five-inch or ten-inch display, as well as an integrated tablet holder for enhanced ease.
Each treadmill includes a 30-day free iFit Trial Membership, which gives you access to a library of on-demand workouts.
The iFit app will also automatically change the treadmill's settings during exercises, thanks to the treadmill's sophisticated Bluetooth technology. Besides, the treadmill's folding nature reduces the amount of space it takes up while not in operation.
We found it challenging to maneuver this treadmill on its own because it weighs 200 pounds. Unfortunately, after 30 days, the immersive iFit videos cost extra.
Despite this, this is one of the best quiet treadmills for the dollar, thanks to its excellent features, trustworthy brand name, quiet motor, and competitive price.
NordicTrack Commercial Series:
The NordicTrack x22i incline trainer is the quietest treadmill on our list. It has a steel frame, solid uprights, and a very shock absorbent deck which reduces overall noise output. The x22i has a 4.0 horsepower motor which is both powerful and quiet and will support intense running as well as walking.
The NordicTrack X22i is also at the top of our list of best treadmills overall.
We measured the following decibel levels on the NordicTrack x22:
66 Decibels: 3mph, belt on only.
67 Decibels: 3mph, with a person walking.
71 Decibels: 6mph, belt on only.
73 Decibels: 6mph, with a person running.
Incline trainers lift higher than standard treadmills, so the x22i inclines to a 40% grade and declines to a -6%. Incline training is more challenging and allows users to either run or walk on an incline for a higher calorie burn with more posterior engagement. We love that the incline training feature allows users to stay low impact. If you are a person who has mobility limitations or joint issues, you don't have to run to get a good workout on the NordicTrack x22i.
I love the 22" touchscreen on the x22i! NordicTrack's subscription program, iFit, is included free for the first year so you can try it out without having to pay at first. iFit has over 16,000 classes both indoor and outdoor with routes all over the world. Since the x22i has extended cushioning in the deck, it gently descends with each step.
The NordicTrack x22i does not fold, so it has a firmer frame and is heavier than a folding treadmill. This increases stability and reduces noise output. However, this machine is large and doesn't fold up — so if the size is also a consideration, make sure to look at the folding treadmills listed below.
It has extensive Reflex Cushioning in the deck that helps absorb much of the impact noise, The Belt and motor are exceptionally quiet, nearly silent, With its large rollers and 2-ply belt, it makes the surface feel comfortable underfoot. It has an Impressive 22" touchscreen which is easy to see and use.
With its multiple handlebars, it allows you to target different sets of muscles as you run or walk. It has large, easy-to-use buttons for speed and incline. It has a powerful 4.0HP Commercial Motor. It allows you to sync with Bluetooth headphones.
Despite all these features, we think it lacks in some aspects as it has a large footprint and is heavy it also doesn't fold up – requires a dedicated space.
Sole Fitness F80 Folding Treadmill:
The Single F80 treadmill is already remarkable in its ability to handle people weighing up to 375 pounds, as it has the maximum weight limit. Users that are around this weight or less can appreciate how silent the robust F80 is even when running under a heavy load.
We measured the following decibel levels on the Sole F80:
67 Decibels: 3mph, belt on only
72 Decibels: 3mph, with a person walking
75 Decibels: 6mph, belt on only
80 Decibels: 6mph, with a person running
Sole treadmills are known for their quiet running, which helps to reduce the noise generated by the F80. There are fewer sections that need to be connected with bolts because Sole treadmills are welded together. The F80 can remain silent and not vibrate loud metal parts because it has fewer bolted components.
Along with the robust chassis, the Single F80 has a powerful 3.5 CHP motor under the hood. While some of the budget Sole models can produce a whine at higher speeds, the F80's powerful motor runs smoothly with no noisy sounds interfering with the steady hum of the motor.
The F80 has Cushion Flex Whisper Deck cushioning in addition to the majority of these sound-dampening treadmill features, adding both quiet and cushioning to your home. Though it is not as soft as a deck with adjustable cushioning, Sole claims that the cushioning on the Sole F80 will reduce the effect the body takes by up to 40%.
On the F80, there is no additional noise when changing speeds or inclines, which is fantastic because the incline range is 0 to 15% and the speed range is 0.5 to 12 MPH. When you press buttons to select one of the 10 built-in program
The chest strap is included with F80 for heart rate monitoring. It has a strong motor that operates rather quietly. With EasyAssist, the F80 makes it simpler to fold up this machine and save on space.
It has a wide treadmill belt of 22" in width and 60" in length. The F80 has a top user weight of 375 lbs, far more generous than many treadmills. Bluetooth speakers are built into the console of the F80. The F80 has excellent warranty coverage.
With all its marvelous features, it has some flaws
We think that being a very heavy machine it can be tough to move. The arm rails can be a bit on the short side and assembling the F80 can come off as a bit of a struggle.
5 Methods to reduce treadmill Noise further: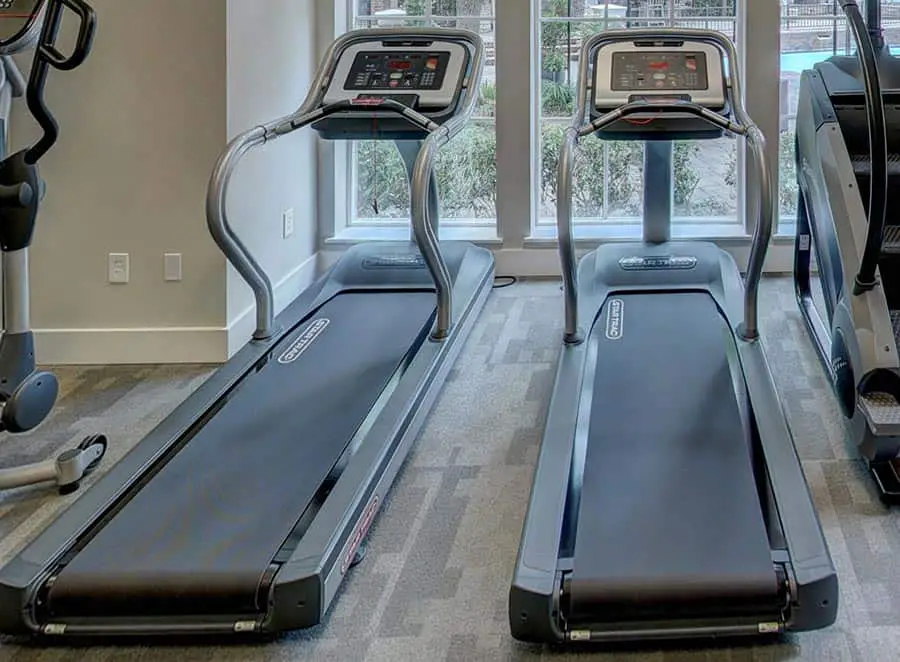 If you have a treadmill that makes too much noise and you're not in the mood to invest in a new treadmill, you can make your existing treadmill much quieter with few simple yet cheap steps.
Check the Bearings, Nuts & Bolts
When the treadmill is running, loose nuts and bolts allow it to rattle; making sure they are securely fastened will help reduce treadmill noise.
Motorized treadmills run on bearings. If the bearings are tired out, they can make a lot of horrible squeaky noises!
When this happens, they must be replaced.
It's not always straightforward to get to the bearings, and it could require removing a large part of the treadmill. If you don't know how to do it, ask the provider for a referral to someone who does.
Use a Treadmill Matt
The noises generated by running on a treadmill are the primary source of treadmill noise. These vibrations are transmitted through the computer, your board, and your walls.
You'll need to dampen the sounds coming from your treadmill to make it louder.
Fortunately, this is a quick method.
Simply purchase a high-quality treadmill matt, such as the one seen below, and position it underneath your treadmill.
Lubricate the Treadmill Belt
Treadmill owners can lubricate their belts regularly. This will help the treadmill last longer. The mechanism for lubricating the belt varies depending on the kind of treadmill you have (curved or electric motor).
It's easy to lubricate motorized treadmills:
Get any WD40 or other silicone mist.
Lift the treadmill's belt by sliding your fingertips under it and lifting it to make a narrow gap.
Underneath the belt, spray the silicone.
This can be done on both sides of the belt.
Switch on the treadmill and let it run for 5 minutes at a low rpm.
To keep the treadmill running smoothly, repeat this process every four months. Treadmills with curves are a bit trickier. Manufacturers use different lubrication processes, so read the user manual before you start spraying. Lubricating the treadmill will make it run more smoothly, which will make riding more fun.
It would also reduce any noises that could have been created by the treadmill belt being stuck.
Adjust Your Running Style
Treadmill noise is caused by heavy footfall, as we've already discussed many times in this post. There are some things (listed above) that you can do to reduce the effect of your moves, but the easiest way to do so is to correct your running gait.
When you run with your foot on the deck, you'll make a lot of noise (almost like someone hitting the treadmill as hard as they can) when your whole body weight strikes the treadmill without any cushioning.
When you strike the ground with the mid-part of your foot, you will make a major noise reduction, to the point that your running will be nearly inaudible.
When you run in a midfoot style, your foot acts as a suspension mechanism, cushioning the force of your weight.
It takes time to adjust your running style, so it's well worth it to learn how to run with your midfoot hitting because it's safer for your feet, your treadmill, and it makes a lot less noise.
Use Suitable Footwear:
Since there is no cushioning in shoes with small rubber soles, the treadmill absorbs the maximum force of the moves, resulting in a louder noise than it would otherwise.
Shock-absorbing heels are popular in running shoes, which reduce the effect of the feet touching the ground. They also lessen the pressure on your feet, allowing you to sprint for longer periods without risking injuries.
Investing in a good pair of running shoes with a thick shock-absorbing sole can help minimize the noise you create on the treadmill, particularly if you work on improving your running gait as well.
Summing Up:
As life turns more practical every day, more and more people are switching to home workouts to save their time and avoid going to the gym. Treadmills are an essential component of home workouts but not all treadmills are worthy to be brought home. We have listed some of the quietest treadmills available in the market. So, now, you have an idea what to look for when you go treadmill shopping!