Car tires are a crucial part of buying a car. The tires you choose can regulate your whole driving capability. Tires determine the accuracy of braking, handling, driving speed, and driving conditions.
But most prominently, tires have a huge impact on the protection and safety of your car. Using some defined standards, you can decide which tires will be most suitable for your prerequisites.
Tires are divided into three categories, i.e., All-season tires, Winter tires, and summer tires. So, if your driving path is more of a dry surface, you can decide on summer tires, or if you witness winter season most of the time, then winter tires are more of an appropriate choice.
The specs to be considered while choosing: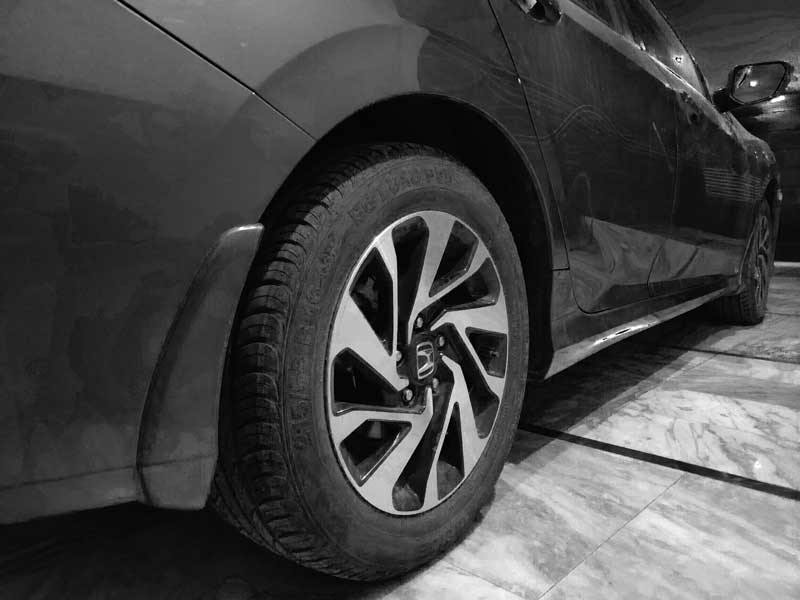 Tire profile- A high profile tire provides more protection while a low profile tire is more susceptible to impairment.
Tire width- A wider tire performs better on wet roads because of its extensive contact with the road, while a narrower tire provides less grip
Tire size- It's essential to select the tires which fit best in your vehicle; otherwise, there is a risk of tires coming-off while driving
Tires age- The rubber of the tires can get too soft if they are too old. They should not be more than six years old
Michelin Defender and X tour are all-season tires created by Michelin. They are designed for vehicles to drive in all conditions.
Although some specifications make these two products differ from each other, which are is given as follows.
Michelin Defender VS Michelin X Tour:
Michelin Defender is an all-season tire designed to fit into family crossovers, minivans, coupes, sedans, and other types of vehicles with the cutting-edge tire technology
Michelin defender guarantees safety regardless of the weather conditions. The silica tread compounds in its construction and Green X standards make it eco-friendly, while Michelin's IntelliSipe technology increases the no. of sipes on the tire.
View Michelin Defender on Amazon
Michelin X Tour borrows most of its technology from Michelin Defender T+H, and it is made only for Costco members.
Costco wholesale corporation takes pride in getting tires manufactured specifically for their members, which is not so different in manufacturing than Michelin's other all-season tires.
It also offers intellisipe technology, MaxTouch construction, and specialized material and architecture.
Based on Dry Traction:
X tour offers its dry traction value based on its enhanced all-season tread compound, emphasizing improved wear features and permanency compared to the previous generation. The compound also consists of a high silica content
Michelin Defender series of tires provide exceptional durability and toughness by virtue of an innovative tread compound referred to as the EverTread compound. EverTread has been designed to provide maintenance significantly in rough conditions while offering skillful performance in all seasons and advanced fuel efficiency. It has gained a rating of 8 out of 10 in most of our tests.
Based on Wet Traction:
Michelin X tour wet Traction is based upon the utilization of four wide circumferential grooves that stretch across the tread of the tire. These grooves drain the water away through the notches present on the lateral sides of the tire. These features reduce the chances of hydroplaning occurring, even when it pours heavily.
The Michelin Defender has four circumferential grooves present, which provides you a firm braking performance. By using its sipes, it minimizes the risk of hydroplaning occurring even in heavy rain.
Based on Snow Traction:
Michelin X tour tread pattern includes the IntelliSipe technology, which makes most zig-zag sipes in the tire's tread blocks. These sipes produce more biting edges than straight or waved sipes, enhancing snow traction and braking and helps in rainy conditions.
The Michelin defender tire's Intellisipe technology improves its snow traction. Additionally, the friction is also enhanced by its biting edges present on tires. These characteristics intensify its Traction on snow and ice.
Based on Tread life:
Michelin makes the most of its MaxTouch Construction technology, which enhances the tire forces' distribution evenly throughout the contact patch and dispenses wear evenly for a better tread life that lasts 15% longer than the earlier generation Defender XT tire. This minimizes the chance of the tires wears asymmetrically, which increases the tread life longevity.
The Michelin Defender tire ever treads technology helps them to survive 10% longer in extreme weather conditions. They have proved to be very long-lasting with maximum tread life due to their IntelliSipe technology.
Based on Fuel Economy:
Michelin also can be entrusted with the idea that the X Tour enhances the fuel economy on any vehicle. The tire contains specialized materials that decrease the rolling resistance, conserve fuel in the long run.
Michelin Defender offers low rolling resistance and lowers the fuel economy by virtue of its IntelliSipe design and Green X technology, which consists of a high-class interlocking action that makes the tread block more firm and rigid.
Based on internal construction:
The internal construction of Michelin X Tour is customary for an on the road all-season tire. It includes two wide steel belts, strengthened by a single layer of polyamide for improved receptiveness, and a two-layered body casing for a better riding experience.
It consists of two steel belts and a polyester cord body along with MaxTouch Construction. This offers an added power and sustainability at all ranges of speed by augmenting the tire's connection with the road while cornering, braking, or accelerating.
Based on Ride comfort and noise level:
Michelin X Tour did a great job of reducing road noise. Actually, this is one of the quietest touring all-season tires available right now. Moreover, the X Tour also drives splendidly, both on the highway and over rough surfaces.
Michelin defender tires consist of biting edges present with sipes to increase the vehicle's snow and ice traction. Michelin's comfort control technology provides sustainability and stability, and its ever tread compound provides wet Traction right through the whole life of the tire. Treads are robust and long-lasting.
Based on warranty:
Michelin X Tour tire has excellent tread life, established both by manufacturers and by the exceptional warranty. Michelin gives an 80,000-mile/ 6 years treadwear warranty, which is among the very best in the touring category tires as compared to its rivals.
Michelin Defender gives 90,000 miles tread life warranty for T & H speed-rated tires, and it gives a six-year, or 80,000 miles tread life warranty for V-speed rated tires
Tire regularity is guaranteed for the first year of tire wear or the first two by thirty-two inches of tread wear.
Michelin Defender gives the warranty of Materials and workmanship for six years and provides free flat-change during the first year or first two by thirty-two inch of tread wear
Based on off-road driving:
The Michelin Defender tires have been manufactured to accomplish frequent off-road duty while maintaining the vital features the buyer is looking for in a top all-season tire.
This makes the Defender a great choice for the farmer, tradesman, or recreational user who needs to get the knowledge that the tire will be sustainable enough to go through rough trails, dangerous construction sites, and tackling off the beaten path
Based on Cornering and handling:
Michelin X Tour Maxtouch construction, along with the intellisipe technology, offers a decent cornering and handling performance.
It further consists of the rubber compound, which is shaped into an unsymmetrical tread design, which has been manufactured to reduce road noise, improve the ride quality, and maintain handling and cornering ability.
Michelin Defender's tires form a contact surface that counterattacks treadwear by the consistent distribution of acceleration, braking, and cornering forces. The ever tread compound of Michelin tires favors it is holding up during the extreme weather conditions.
Michelin X Tour Pros And Cons:
PROS:
Outstanding handling and braking on a dry surface
Exceptionally responsive for a touring tire
Very nice Traction and firm braking on wet surfaces
Exceptional hydroplaning resistance
One of the most comfortable and quietist touring tires around
Excellent tread life
Decent and long treadwear warranty (80,000-miles)
CONS:
High-priced, specifically within the category
Snow and ice traction aren't as good as compared to the other competitors in this category.
Michelin Defender Pros And Cons:
PROS:
It has an effective all-season Traction
Steering is durable and quite receptive
It comes with a sustainable, comfortable, and noise-free ride
It provides very lower rolling resistance.
Decent snow traction for an all-season tire
CONS:
Development is required in tread life.
Cornering, handling, and performance can be enhanced.
Conclusion (Michelin Defender is Better)
View Michelin Defender on Amazon
So, this brings about the end of comparison between Michelin defender vs. Michelin X Tour and concludes that If your traveling pathway is more dry or wet, you can choose from either of these as both seem to be an appropriate pick for your vehicle.
Though Michelin X Tour takes after the specifications of Michelin Defender, there are still many considerable differences between the two.
Since both of them are all-season tire while Michelin Defender is expected to provide the noise-free and comfortable ride quality with remarkable dry and wet Traction.
While, Michelin X Tour gives exceptional Dry traction braking, outstanding braking, and acceleration. Furthermore, the tire's cornering stability and steering responsiveness are quite noticeable features.
Michelin Defender's winter traction is quite remarkable, despite it being an all-season tire. Its all-season Traction, including snow traction, is equally amazing.
Meanwhile, the X tour requires upgrading when it comes to snow traction.
X Tour ride is comfortable, and quiet is minimal and provides a great riding experience when it comes to a noise-free ride.
Michelin defender also surpasses the X Tour in terms of mileage, and it's a better option for a non-member of Costco wholesale corporation.
So, if you want to choose an all-season tire which is capable of providing you a comfortable ride in wintery and snowy conditions, then Michelin defender seems to be a better option; Though, if snow is not a matter of question, then you can opt from either Michelin Defender or X Tour as they both offer a nice mileage and are an apt choice for dangerous tracks and construction sites.
Please note here that all warranty claims and prices mentioned here were available at the time of writing this post and may change in the future.