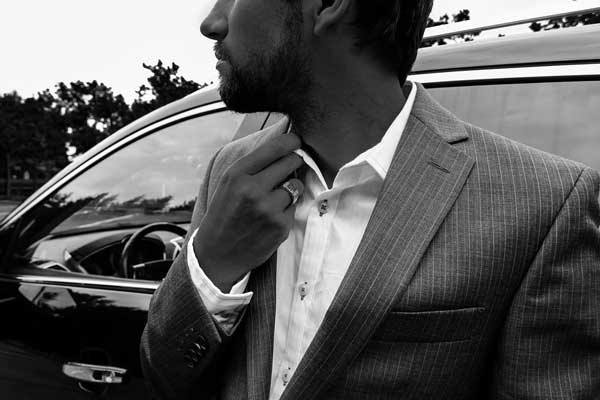 So how can one find men's suit for wedding reception? When it comes to a wedding day, it all comes down to her.
I know all guys will agree with me here (I mean married ones of course).
You have a little say in the wedding reception, the decorations and the dinner rehearsal and all. She has been dreaming about it since she was 10 and well you, you still can't figure out how you got trapped in it.
And let's just not forget about the dress.
The bride is so finicky about her dress (and she should be) but same is for guys.
If she needs to look perfect, so do you.
You don't want people to say that she got the wrong man for her, do you?
Moreover, if everyone gets drunk at the wedding, they still will talk about how good or bad you were looking, whenever their hangover goes down.
If it is a big day for her; so it is for you!
So what is a wedding day for guys?
Perfect Wedding Suit
And if you have the right suit in your hands; nothing beats you.
So my perfect advice here is that grab the best suit for you and make it worth it.
And if you have no idea about how to get that amazing suit for your wedding day; we are here to help you for sure.
Here are some tips that will make you buy the perfect wedding suit ever.
At least you will have something to look forward to as well.
1. No Renting:
A lot of people do this and they should not.
I mean, I know you just need to wear it for like some hours but that is your big day as well; it is no school prom.
Take my word; rented suits never suit your just perfectly and they appear to be quite cheap as well.
They don't have that shine in them at all.
And don't forget that someone else also wore it on their wedding day.
So just break through this thought and buy a suit.
2. Cut the Culture Down:
Just remember one thing; you aren't heading out for a presentation, it's your wedding.
Cut that typical formal look. You can go all black (three piece) and do something different.
Don't wear your suit the way you wear it normally at your friend's wedding; bring something different to it.
Maybe if you are hiring a designer for this (he will help you the best in standing out).
Otherwise, you will have to get a bit creative with yourself on your own or research a bit about wedding suit looks also.
3. Fit it Well:
I know a lot of people prefer purchasing a readymade suit. But gave you ever thought of a tailor?
Why do they even exist? It might cost you a bit more (if you aren't going for a designer one) but it will be worth it.
Your perfect measurements will make your suit fit you well and that is what brings out the grace in you.
Don't you want her to admire you?
4. Fabric:
If you have decided to get your perfect fit suit ready from a tailor, you need to pick the best fabric.
I know we guys literally suck at this but you need to look dashing as well.
If the fabric ain't good, your look will be 99.9% destroyed!
The wrong fabric leads to a slouchy and shapeless suit which destroys the look in all.
Try purchasing a fabric which has weight so that the suit doesn't get slouchy at all.
5. Keep it Special:
This is not a tip to get you your perfect wedding suit but this is much more of an advice.
A lot of guys would just mix and match that suit after some days and start wearing it at the office or a funeral.
Make sure that you don't do that!
Keep that suit special. Wear it at special occasions like some friend's wedding or maybe your wedding anniversary.
Wearing it to an office meeting will certainly put it to waste.
Conclusion:
Even though weddings excite ladies more, men have complete right to make themselves look equally (or even more) good looking than her.
Don't you want to compliment her? I mean all the praises are for the bride (like I don't know about that) but you can still get yourself look handsome.
Make sure that you look eye-catching on your wedding days. Make all the single ladies regret that you are finally being taken for a lifetime!
Nothing beats those desiring eyes of all the wonderful single ladies.