Looking to make your very own MasterChef worthy steak or that Gordon Ramsay-styled juicy beef burger? Having the right meat thermometer for smoking can make the job so much easier and elevate your dish to the next level. With the many meat thermometers out there in the market, its hard to know which one can truly cater to your needs, and help you cook your meat to perfection. Luckily for you, we went through some of the best meat thermometers to see which ones truly standout, and which ones would be just right for different customer groups. As a result of our reviewing, we compiled a list of 5 of the very best, each with its own specialty.
Continue reading to dive in deeper into how each meat thermometer performed in our review.
ThermoPro TP08S Wireless Digital Meat Thermometer
At number 5, we had our best option for those looking for a meat thermometer for smoking on a budget. Here's how our experience with it went:
One of the first things we noticed about this meat thermometer was how easy it was to use, we got familiar with its settings in no time after unpacking, and we found the backlit screen to be very easy to read.
The range we got was decent (considering the price range), about 20m with no walls in between and 10m with a wall. We liked the option of setting maximum and minimum temperatures for the smoker, once these were breached, we were met with an alarm that was reasonably loud. We also liked the fact that it was wireless and allowed us to remotely monitor our meat.
What we didn't like about this meat thermometer, however, were a few design issues. It is worth mentioning that this thermometer is not waterproof, so we had to be wary of that. There were no magnets to stick the thermometer to the side of the grill and the clip that holds the sensor didn't held it very firmly. We also found the overall design to be clunky and a bit old-school, and the material used for the sensor and the probe didn't exactly seem premium.
Overall, a theme we found to be consistent with the ThermoPro TP08S was the ease of use. Most of its design issues seem minor when compared with the price, and we found this meat thermometer to offer excellent value for money. We would recommend the ThermoPro TP08S for those who are just starting out on smoking meet and are looking for an affordable and reliable option to get them going.
Inkbird WiFi Grill Thermometer IBBQ-4T
At number 4, we had Inkbird's IBBQ-4T; an excellent option that offered something beyond the standard wireless connectivity. Here's how we found it to be:
Easily, two of the most impressive features about this meat thermometer for smoking were its Wi-Fi connectivity and the fact that it came with a rechargeable battery. We found its Wi-Fi connection to be stable, and it allowed us to remotely monitor the temperature of our meet over longer distances when compared with some of the Bluetooth options, via the dedicated app.
We liked the fact that this thermometer was waterproof, unlike the thermometer at no. 5. The preset modes appeared to be very useful on paper and they were just that; allowing us to effortless cycle between our preferred cook ranging from rare to well done. We also appreciated not just the option of calibrating our thermometer, but also how easy it was to do so; by far the easiest out of all the thermometers we tested. We also like the trend of being able to set preset temperatures, and receive alerts on our phone, these were a very useful feature with this thermometer.
We found the backlit screen to be very usable, especially when prompted through the app. And speaking of the app, we thought it was fairly well designed with a simple yet serviceable UI, but we did run into a few issues mentioned later. The rechargeable battery was a particular favorite of ours, and we were impressed by how long it lasted us; we got regularly beyond 35 hours and up to 45 on a single charge!
Moving on to what we didn't like- we weren't provided with a data log of any kind so for those of you looking for a graphic representation of your cooking history, you won't be impressed. For a meat thermometer packed to the brim with new features, we expected a decent user manual but we didn't get any, maybe it was just a problem with our package but we couldn't find any online either. We mentioned the app issue earlier, we ran into bugs quite frequently, and many times the app would just freeze; so the temperature we were being shown was quite far off from the actual temperature of the meat. We would have liked it to be a little more reliable as the whole point of getting meat thermometers such as these is remote monitoring, which is only possible through a reliable non-buggy app.
Overall, we found the Inkbird IBBQ-4T to be very impressive, especially in terms of connectivity and battery life. If it weren't for the app issues, we'd have placed it much higher on our list. Nevertheless, we recommend getting this thermometer if you want a stable remote monitoring connection at a longer range than your standard Bluetooth thermometers.
ThermoWorks Thermapen Mk4 Instant Read Thermometer
Moving on to our top 3; we found the ThermoWorks Thermapen to be worthy of our third spot, a meat thermometer that offered lightning quick measuring speeds.
With a name that said 'Instant Read Thermometer', we expected this meat thermometer to give quick readings and we weren't disappointed. We regularly got readings in less than 2 seconds! You might think that this could only apply to rapid cooking situations, but from our experience, it is just as usable for slow cooks. We were able to lift the lid, get out temperature quickly, and close it back, all the while not losing too much heat.
Apart from the speed, we found this meat thermometer to give a pretty solid performance overall, here's what else we liked:
We were impressed by its ease of use, even more so than our option at number 5. The design was very functional and we could tell a lot of thought had gone into making temperature readings easy to see on this meat thermometer, one glance and we were set. Another thing we liked, was that we were able to use this meat thermometer for relatively thinner cuts of meat. We thought that this came down to its functional design that placed the sensor very close to the edge, so the thermometer didn't have to inserted all the way into the meat to get an accurate reading.
Speaking of accurate readings, we found this meat thermometer to offer accurate and reliable readings. It was fully waterproof, and an additional nice quirk we found, that was actually helpful in preserving some battery, was that as soon as we set it down on a flat surface, the thermometer would turn off automatically. Kudos on the functionality Thermoworks!
What we didn't like however, mostly had to do with the price. This meat thermometer sits at the high end of thermometers and definitely wouldn't be recommended for those on a limited budget.
Overall, we were very impressed by the speed and the ergonomics of this meat thermometer. We thought its use case to be kind of niche, so the price could be justified if these are exactly the things you're looking for in your meat thermometer.
FireBoard FBX11 Smart Thermometer
At number 2, we had a thermometer that offered 6 probes- at least 2 more than any of the other meat thermometers for smoking on this list. FireBoard FBX11 ticked just about all the right boxes to earn our second spot, but missed out on the first due to some main unit functionality issues that we mention later. Here's what we liked:
The most impressive thing about this meat thermometer, were its 6 probes. The added number of probes came in very handy when cooking thicker portions of meat, where we wanted to know the temperature at the surface and the center. Another thing that particularly impressed us was the app design. Earlier we mentioned that graphic monitoring of your cooks is a valuable feature to have, and the app that came with this meat thermometer provided just that.
Like our option at number 4, this meat thermometer even had Wi-Fi connectivity, as well as the Bluetooth option. With Wi-Fi, we were able to monitor the temperature of our cooks from rooms away. We found each of the probes to be very accurate, and the app showed us the measurements for each probe separately, which was a nice touch. One of the things that we found very useful, was the handsfree alerts feature. We were to command Alexa to read out the temperature for us, and we got temperature measurements without even lifting a finger. Talk about convenience!
Just like our option at number 3, this meat thermometer was fairly high priced, which might put some of you off. That wasn't what we disliked the most about this meat thermometer, however. We mentioned the poor functionality of the actual thermometer earlier; the screen was very small, and the buttons were fidgety. It was clear that this unit was designed to use along the app, so if you're not all that into using the applications you might find this meat thermometer to be quite underwhelming, especially considering its price.
But that can be pretty much worked around if you intend to use the app. And though the price is high, with the added number of probes and impressive app features, we can safely say that the FireBoard FBX11 Smart Thermometer is worth its price and offers a good value for money.
Thermoworks Smoke BBQ Alarm Thermometer
Next up, we had our best pick. This Thermoworks Thermometer did a plethora of things right and ticked all the right boxes, comfortably earning it our top spot. Here's how it did:
The first thing we noticed about this meat thermometer was its significantly larger backlit screen, almost the size of those mp4s back in the day. We were able to monitor the temperature directly on the unit, something its competitor at number 2 didn't do so well. The design was executed very well, and we noticed a common theme of making the thermometer as functional and as easy to use as possible. The maximum and minimum temperatures were very easy to set, and we were met with a loud beeping alarm when these were breached. It even came pre-paired in the package, a huge relief considering that some of these thermometers can take up to 7 or 8 steps just to pair initially!
One thing we'd like to mention was that this thermometer gave quick measurements, but not nearly as quick as the Thermapen. We regularly got our measurements in about 4 to 5 seconds. The readings were very accurate too, down to 1.8 Farenheit which was the most accurate on our list. Though the main unit only had Bluetooth connectivity, we worked around that by ordering the 'Smoke Gateway' and voila! We had Wi-Fi.
Additionally, for professional chefs and teams participating in cooking competitions, we found some professional features that might be of use. Apart from the durable and reliable build quality, these were the options to manually tweak the configuration of each probe according to your needs, and the option to pair with multiple receivers. It was evident that a lot of thought had gone into making this thermometer easy to use for a beginner, while also adding extra customization features for those who know what they're doing.
Perhaps the most impressive thing was the value for money this meat thermometer offered. It sits comfortably at the middle price range of such thermometers but we were pleasantly surprised at how Thermoworks managed to fit all these features into this meat thermometer without cranking up the price.
There were just a few things we didn't like, and most came down to nitpicking for the sake of reviewing. These were the inability to make adjustments remotely, we had to get up and fiddle with the transmitter whenever we had to do so. And secondly, for smart features like the 'Smoke Gateway' we mentioned earlier, you'll have to pay an added cost since it doesn't come with the main unit.
But with the aforementioned features, design qualities, and the overall ease of use while still maintaining extra customization features, we can say that the Thermoworks Smoke BBQ Alarm Thermometer sits comfortably at the top of our list; a must have for those who truly look for value and premium performance at the same time.
Frequently Asked Questions and Conclusion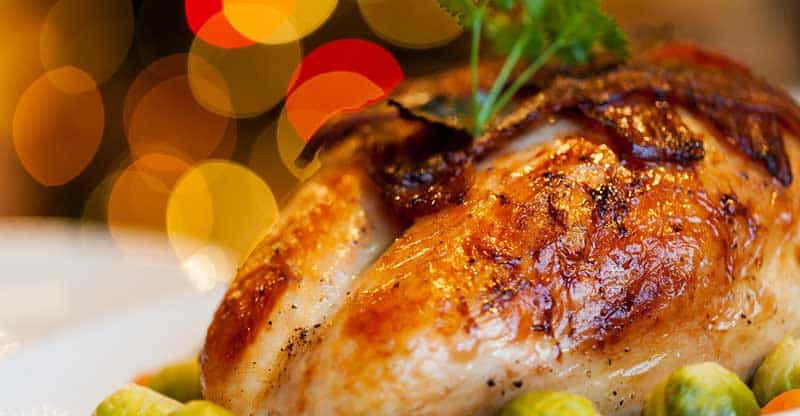 How to use a meat thermometer for smoking?
To use a meat thermometer, insert the probe deep into the middle of the portion of meat you're cooking. You should receive a temperature reading within 10 to 30 seconds depending on the speed of the thermometer you're using.
Take care to ensure that you don't touch the bones, because then you'll be left with an inaccurate reading. Additionally, don't push the thermometer too far in that in perforates the portion of meat and comes out the other side.
Is the thermometer that comes installed on the grill or smoker accurate?
No, it most certainly isn't. The thermometer that comes installed on the lid of the grill or smoker are frankly very cheaply built and not of very good quality. When you're cooking meet, you really want the most accurate measurements possible so we wouldn't recommend relying on these. Instead, if you truly care about the cook, get a dedicated meat thermometer for grilling or smoking meat.
Final Thoughts
Whether you're cooking for yourself or a bunch of friends, there's no compromise on properly cooked meat. It'd be simple if it were one temperature that fits all; but there's a variety of cooking temperatures out there, all the way from rare to well done.
The only way to get it right 100% of the time, is through the use of a reliable meat thermometer for smoking. You can use either of the options we've listed above, as per your budget, use case scenario, and preference. We can safely say that you'll be impressing your friends on the grill in no time!
To summarize, for those looking for an affordable option, ThermoPro TP08S would be a good option. To those who value remote connectivity and wireless features, we say get the Inkbird IBBQ-4T. For those who desire speed and accuracy in their meat thermometer, we recommend getting the ThermoWorks Thermapen.
For those looking for a meat thermometer that offers more than the standard number of probes, for added consistency of cooking, the FireBoard FBX11 might be worth checking out. And finally, for those who want a meat thermometer for smoking that is truly the best and caters to every need, we recommend our top pick; the Thermoworks Thermometer.