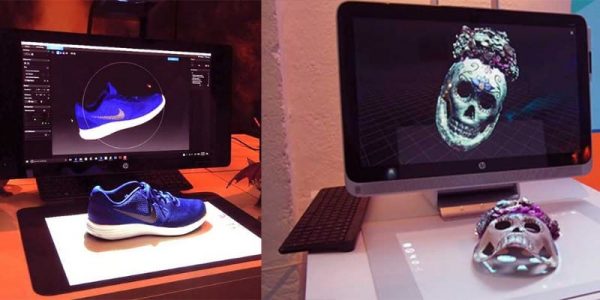 HP 3d scanner review – Everyone knows that the PC industry today is suffering from a creative delay. Sales are declining and traditional desktops are losing ground to mobile laptops, tablets, and smartphones. HP Sprout is a tough selling point for the computer industry – a creative 3D workstation that offers more futurism than functionality, as most new innovative products do – but its quirks are a big part of its appeal. Showcasing what Sprout can do to create custom jewelry, fashion designs, and greeting cards, the HP Sprout shows off its creative abilities by giving your imagination free rein, which your normal desktop just cannot.
The HP Sprout is a hybrid computer. It's a great all-in-one desktop PC with Intel® Core ™ i7 processor, 8GB of RAM and a NVIDIA GT 745A graphics card with 2GB of dedicated video RAM for the 23 "Full HD display There is also a 1 TB hard drive with 8 GB flash cache, two USB 3.0 and two USB 2.0 ports, an HDMI output, an Ethernet jack, an SD / HC / XC card slot and a wireless keyboard and mouse all The outstanding feature of the all-in-one devices is the integrated HP Illuminator, which is powered by the HP DLP projector and features an HP high-resolution camera with a resolution of up to 14.6 megapixels combined with an Intel Real Sense 3D camera. Enables instant capture of 2D and 3D objects (it also acts as an LED desk lamp).
Magnetically attached to the base of this all-in-one device is a 20 "touch mat that also acts as a second screen you can even watch Netflix movies on the touch mat, which is pretty silly but fun at the same time Suck helium out of balloons and then recite colorful lines of Pulp Fiction, leaving the primary screen open for other features, such as a collaborative workspace, where you can connect with colleagues or clients and check your work. It's strange that more people did not come to this system – the possibilities to engage in creative dialogues and collaboration seem endless – but part of the problem is that it takes some getting used to and the learning curve in using the system HP Sprout can sometimes be intimidating.
HP Sprout is both intriguing … and potentially annoying for a dedicated techie, who unfortunately has little design abilities. The HP Sprout is all about futuristic ease of use. You can take something out of the main display and paint it on the bottom mat, which is essentially your virtual workspace. Then you take every picture, snap, and you use your fingers to change it in real time.
What is included?

The HP Sprout is a monster of a machine. It has a 23 "touch-screen monitor attached to a very heavy base on which the core machine is located, and at the top of the Sprout is a strange-looking device that projects from the monitor to the user includes mirrors and a series of cameras that allow Sprout to project an image onto the touchpad, which is flat on the screen monitor, as well as capture 2D and 3D images of objects on the mat. The capacitive touch mat adheres magnetically to the base of the Sprout with a satisfying click and is almost immediately usable.
The touch mat is basically a second screen for the Sprout, and apps can easily be moved between the monitor and the projected image. A heavy metal pen is included for use with the touch mat, and you can use any choice as you like. A wireless keyboard and mouse are also included, allowing the user to seamlessly switch between a variety of input options. Overall, you have a very large and powerful all-in-one computer with a novel second screen that introduces a new way of interacting.
The Software
The HP Sprout used for the review included Windows 8, which works well with Touch, and proprietary software from HP called the Sprout Dashboard. In practice, the Sprout dashboard is essentially the home screen of Sprout, providing users quick access to up-to-date files and apps, as well as shortcuts to recently downloaded apps or personal favorites. The capacitive touch mat in conjunction with the overhead projector and the camera makes an interesting use possible.
For example, the Sprout can perform a 2D scan of photos or objects or documents lying on the mat, using a combination of ceiling lighting (from the projector) and a built-in camera that seems to emulate a very high-quality scanner. In addition, Sprout is able to perform 3D scans of objects lying on the mat, creating a dazzling visual representation that actually allows the object to be measured and dimensioned to create and model a 3D model, The HP Sprout App Store is also present, filled at the time of review with sample apps and proof-of-concept apps that showed the capabilities and capabilities of the Sprouts. For example, a virtual DJ app that allows you to queue up your music and scratch and mix using turntables projected onto the touch mat.
More on the 3D Scanner
One of the bigger features I wanted to try with the Sprout was the 3D scanner. On the HP website for the Sprout, there was a video with drone makers, where they took some of their prototypes and scanned them with the Sprout to share with their team members. I loved it and wanted to see what Sprout could do with 3D scanning. Unfortunately, the 3D scanner seems tricky and quite limited in its capabilities. Only the surfaces would be scanned, creating a 3D model that was more like a mask than a physical object, and I found no way to export the model that was immediately obvious.
Also, the scanner cannot handle the color black so that any objects that were black actually had holes in the camera's eyes. Theoretically, this feature would be incredible for distributed development teams. The ability to edit or print a part and then scan it again to show the team members would be fantastic. The ability to scan another product for inspiration and study is of great value to anyone working on products. Unfortunately, the execution of the idea is not there yet and in fact not a salable feature of the Sprout. Call it a personal disappointment, but if it's one of the bigger features announced in marketing, you'd expect it to work quite well.
The Bottom Line
The product is ideal for small format manufacturers who need an easy way to create, illustrate, design or collaborate on products, art, and designs. The Sprout is very large in terms of space and weight and needs an extra-large and strong table. The HP Sprout is an extremely bold move by HP to introduce something new into the world of technology, but they seem to have created something for a niche audience. Expensive, enormous and entertaining, the Sprout will find a home somewhere, but I guess most people want or need it.