In this modern world, technology has taken over most of our daily tasks and people have restrained themselves in an indoor environment. Even leisure time is governed by the electronic devices, we need the best technologies around us to get more amazing experiences. Here we would be talking about how you can optimize Windows 10 for gaming.
PC Gaming is no more a sport only for children. These days even adults are seen so absorbed in its charm.
To enhance the gaming affair we need better windows and intensified settings.
Adding to this, Windows 10 is so far one of the best Operating Systems.
However, many people run into problems when trying to optimize their computer for a smoother gaming experience.
We will list down 10 ways to improve or optimize your Windows 10 Operating System for better gameplay, as a bonus, we'll also talk a little about ways you can improve the FPS rate for better and smoother display and the part hardware plays in ensuring smooth quality gameplay.
Windows 10 is a great Operating system for gaming, streaming One Xbox, and even mixing native games, but the Operating System doesn't come all optimized for gaming straight out of the computer shop.
Tips to optimize Windows 10 for Gaming
1-ENABLE THE GAMING MODE
Every computer is working according to its defined settings.
For Windows 10 users there is given a gaming mode option.
If we enable that mode, the gaming episode becomes finer and helps us in experiencing better gameplay.
To enable the game mode:
Click on start.
Then search for settings and click on settings app.
Then click on gaming:
Click on Game mode: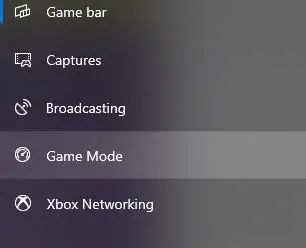 Turn it on.
2- DISABLE AUTOMATIC UPDATE
Every computer has been set for an automatic update. After a particular time, it starts updating automatically and reboots the computer.
It is no doubt good for the computer, but for a gamer, if the update starts without permission the game gets disrupted in the middle. So, two options are available to eradicate this problem.
Either a person goes to setting and decline the active update option or just set the computer to active hours update option.
You can do this by going to settings and then going to the "Windows Update" section.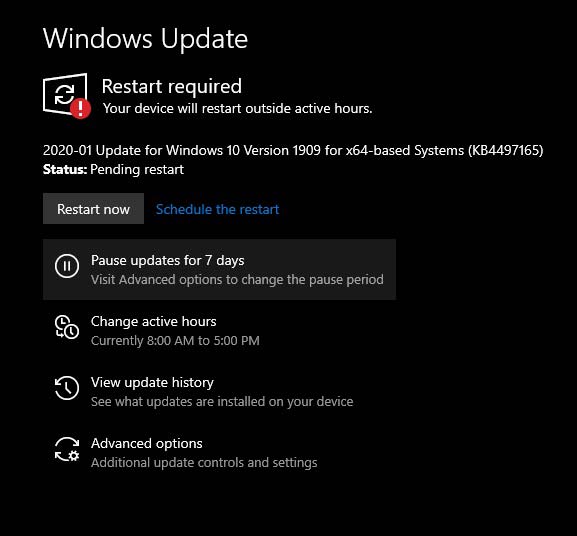 The computer would then ask for the permission of the user to either update or not and the computer would update without causing any hindrance in your games.
3- UPGRADE TO SSD
We recommend:
Every computer has an HDD- Hard disk Drive system in it but it could be upgraded to SSD- Solid State Drive to improve the processing speed.
There are many tools on the internet that will get you the SSD without data loss.
Once it is upgraded, the game loading time decreases.
Whenever the game is opened by clicking on its bar it opens rapidly and the user gets to have a swift and secure gaming experience.
4- GRAPHIC SETTINGS
Graphics play an important role during games.
But the use of high yield graphics for a relatively longer time decreases the processing power of the computer.
A lot of the graphics are even being used in the background to run other documents and things so the power required for loading the game is slowed down.
This is optimized by adjusting the best performance tool in the settings.
To do this, go to Start, search for control panel, after clicking on Control Panel.
Go to System.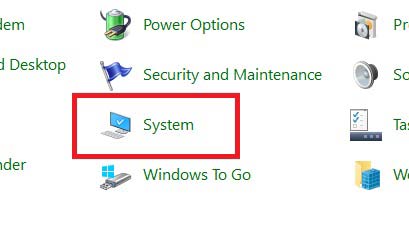 Click on Advances System Settings at the top left corner.
Open the Advanced tab and then click on settings:
Go to the Visual Effect tab, and click on "Adjust for best performance"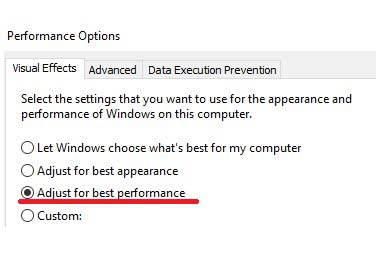 The computer then decides itself which graphic is needed for what particular game to boost its activity.
5- PREVENTION FROM AUTOUPDATE OF GAMES
This goes for games on Stream.
Click "Library" on the menu bar.
Right click on the game which you are playing and want to turn the update off.
Click on the "Updates"
Open the dropdown menu under Automatic updates.
Select Only update this game when I launch it.
Then just close it.
When the games are downloaded from the internet or even played online, the automatic updates across all the games cannot be prevented.
Usually, the upgrades are not visible on the screen but the upgrade in the background eats up the computer's memory and slows down the gaming conduct.
For solving this problem, you need to move to Settings and uncheck the option of downloads during gameplay, this will turn off the auto-upgrade.
6- BATTERY USAGE
Gaming takes so much of The PC's battery and slows it down making the gamers suffer from lags and glitches.
This could be eradicated by changing the power plan.
The computer is set to high-performance battery usage.
This may utilize more electricity and power but boost up gaming efficiency.
To do this, simply go to Control Panel. Click on "Power Options" and then click on "High Performance"
7- USE OF GPU
Just like CPU, we have GPU- Graphic Processor Unit. This is a drive-in computer that controls all the graphics.
This is very important to be updated.
We can get updates for it through the internet which magnifies the illustration.
Even if we make our way to the computer settings, GPU automatic update could be turned on so that in future the gaming experience gets augmented.
To update manually, simply right click on Start, and go to the "Device Manager".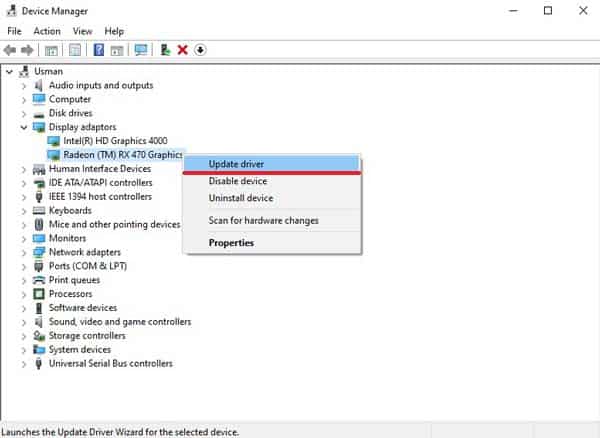 Find your Display Adaptor, right-click on it and click on "Update Driver" to update the driver.
8- INSTALL DIRECTX12
It is a very important and useful application for gamers who want to play on windows 10.
It helps communicate with the computer and create advanced features.
This brings into life the games with ultra-realistic visual effects and faster mode.
It is one of the best ways of optimizing Windows 10 for gaming.
9- DISABLE NAGLE'S ALGORITHM
Another tip to optimize your Windows 10 for gaming is to disable Nagle's algorithm which essentially improves TCP/IP network by the total number of packets sent over the server.
This means that data packets are clustered at the expense of a smoother internet connection.
To disable Nagle's algorithm, follow the below-mentioned guidelines:
Press the 'Windows' and 'R' key simultaneously to open the Run dialog and type 'Regedit' then click Ok.
After this, navigate to the folder HKEY_LOCAL_MACHINE\SYSTEM\CurrentControlSet\Services\Tcpip\Parameters\Interfaces in the Registry editor panel.
This will take you to a folder that contains many comprised folders with numbers and letters.
Match your IP address with that of the DHcpIPAdress in one of these folders to get access to the file.
After this, right-click on the right window then choose New > DWORD (32 bit) Value. Create 2 new keys and name them as TcpAckFrequency and TCPNoDelay.
Finally, double click each key and change their value to 1.
After these steps are completed, Nagle's algorithm will be disabled which will in turn improve your computer's gaming performance.
10- MAKE CHANGES TO YOUR VISUAL EFFECTS SETTING
It may come as a surprise but the graphical user interface may be a barrier to your computer's processing capabilities as a lot of background graphics are activated by default settings. For this reason, gaming quality will be hindered as less processing power will be available on the foreground.
To make small tweaks-in order to resolve this hindrance eating away your computer's processing capability-follow the below-mentioned guidelines.
Start by typing "View advanced system settings" in the search bar of windows and choose the most suitable one.
Switch to the Advanced tab in the pop-up panel.
After this, click on settings that are below the performance section to continue.
Another pop-up window will appear where you'll select the "Adjust for best performance" in the 'Visual Effects' tab.
Finally, click on 'Apply' and 'OK' to save the changes.
Improve FPS in Windows 10
To improve the gaming experience, gamers often want a greater FPS rate to experience more life-like graphics. For this purpose, follow the following solutions to tweak and improve your FPS rate for Windows 10.
1 – Adjust for best performance
Start by clicking on Settings and then clicking on Info, then select Advanced system settings from the left window.
After this, select the Advanced tab and then click on Settings in the Performance section. Check the Adjust for best performance option.
2 – Lower PC resolution
Another way to tweak and increase FPS rates is by lowering your graphics settings. By reducing your PC's display resolution, you may improve FPS rates depending on your hardware.
In simpler words, this isn't a legitimate solution for everyone but it may just do the work for you. Most of the time, lowering resolution only speeds up the gameplay, however, the most reliable solution is to adjust the resolutions using the games' graphic settings.
3 – Perform a malware scan
Malware is a software that installs itself on your computer without your consent with the intent of damaging or stealing your data and slowing down your system performance. Many free online malware removal programs can solve this issue.
Apart from removing malware, you can also delete real-time security software like Spybot Search and Destroy and Microsoft Security Essentials to boost your computer's processing speed.
This will also help to increase the FPS rate of your computer.
4- Check your disk for errors
Another way is to check the disk for errors utilizing Command prompt. Start the prompt as administrator and type chkdsk C: /f instruction and then press the Enter key.
After this, replace C with the letter of your hard drive partition.
If by any means, you do not use or forget to use the /f parameter, the instruction will display a message that the file has issues and needs to be fixed, however, it will not fix any errors.
The said instruction does deal with physical issues, for that, you will need to run the /r parameter as well.
These are some of the solutions that will boost your FPS rates to provide you with a better gaming experience which will, in turn, help you optimize your PC for gaming.
You may also look for other solutions on the net since every improvement is a bonus!
Hardware matters a lot
After discussing all of these solutions to increase gaming performance on your PC, exactly what performance can be expected? This question heavily depends upon the version of PC or laptop you're currently using for gaming.
It goes without saying that if you're using an older machine, the performance won't be good since your system is obsolete with regards to gaming.
There is a greater chance of better gameplay on advanced, more up to date laptops in which you'll feel an obvious difference in speed and loading times, particularly if you follow all of these tips to optimize your PC to become more gaming-friendly.
So you might want to check out the Alienware Products which are specially designed for gaming.
Conclusion
In a nutshell, Windows 10 is the leading and premier Operating Systems which could be trusted on uplifting the gaming episodes for every individual out there by just making few amendments and upgrades