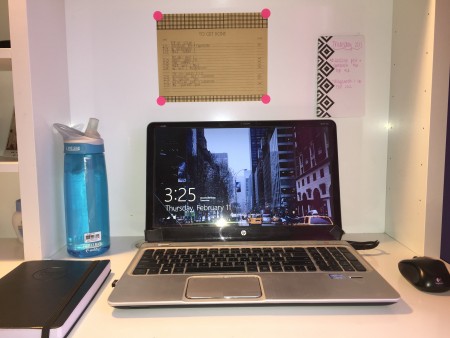 Online classes can either be a blessing or a curse. I never thought I would be the person to excel in online classes, but I've taken so many now that I actually prefer them over traditional classes. The key to doing well in an online class is to be organized. I cannot stress this enough because if you're disorganized and messy, you will never be able to keep up with assignments due, and you'll probably fall behind.
The easiest way to stay organized is to have a good system, and stick to it. I would recommend having a desk with either a magnetic or cork board on the back so you can hang things up. My desk is from IKEA and has an add-on unit with a magnetic back. All my work is done on my computer at my desk, with the exception of reading my textbooks because I like to sit on my living room couch for that.
I use the Passion Planner for everyday life, but also to organize things for my online school. I use the monthly view to write down when the unit or session for that class is over, so I know all the assignments need to be done by that time. This just ensures that as a whole, everything is finished. If you're in the market for a new planner, I highly suggest this one because of all the cool features it has. I especially like the "not to-do list" found on the left hand side, because it helps me see the things I tend to do that I need to stop doing!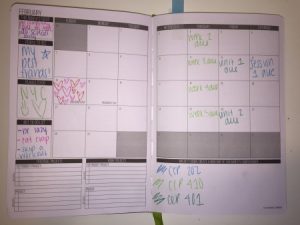 I keep a to-do list on this paper I got in a pad from the dollar spot at Target. In the middle section, I organize by class and write everything I need to do in that unit. I write the due date in the left column, and I cross it off in the done column when I'm finished. This helps me to make sure I'm not forgetting to do anything and everything gets done on time. You can use any sheet of paper or pad to do this if you can't get your hands on something like this. Since it's not magnetic, I just hold it up with some stickers I had laying around.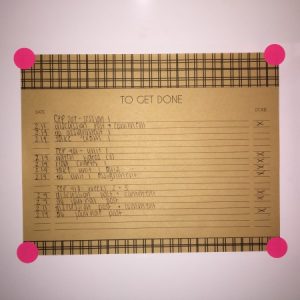 This next pad is magnetic, and it's where I write my daily tasks relating to my online classes. Also purchased from the dollar spot at Target, it's really convenient to keep me organized. Whether I need to read, watch a video, or start an assignment, I always write it here. This ensures that I'm actively working on my classes every Monday-Friday and I stay productive.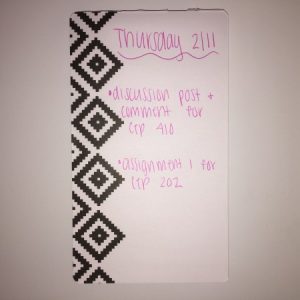 I'm a visual person, and I like seeing things written out on paper in front of me. I think this system could work for most people, especially if you've never been an organized person, to begin with. I usually only take one or two online classes a semester, and I'm able to organize those solely in my planner. I'm currently taking three online classes, the most I've ever taken, and this is the first time using this system. It seems to be working really well for me, and I hope it works well for you!
Hopefully, these little hacks are helpful and encourage some of you to go out of your comfort zone and try an online class. I tend to do much better in online classes, but you definitely need a good amount of self-discipline.