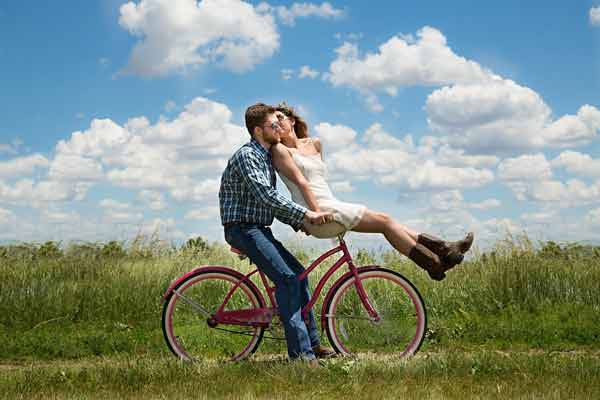 No relation can work without mutual respect, understanding, a healthy communication and above all forgiveness.
You need to be open enough to deal with all the possible downfalls any specific relation can encounter.
When it comes to marriage, nothing can be more painful and gnawing than a failed marriage.
People marry each other not just for the sake of it, but rather for making peace with life – marriage is one of the most brilliant and beautiful changes in one's life and it should be looked at the very same way.
Marriage requires a lot more than many people even bother acknowledging.
Healthy marriage secrets:
1-Sheer Love:
The foremost factor required for a successful married life is obviously nothing other than sheer love.
Your commitment towards your marriage decides in the first place how long it's going to go.
Marriages that happen or occur only due to surface level affairs tend to end up in divorce no sooner than they have begun.
Marriage is not all that is shown and depicted in fantasy songs and movies; it's way deeper than all that crap. It requires absolute commitment and affection. It's a lot easier to carry on when things are all good.
The real test is to stand by each other's side when the road gets rough.
2-Time:
Another key element in a successful marriage is time.
Partners need to take out time for each other. Everyone has a busy life and you need to be modest enough to accept the fact that a healthy marriage needs some workout. You can't just sit back and wait for things to turn out all bright and chummy when you don't put in any effort.
The more you make time for each other, the better it will turn out to be for your relation.
3-Communication:
No relation – be it marriage or a plain doctor-patient pair can make it without communication.
You need to talk about all kinds of things, from your daily chores to the depression you go through when things aren't turning out to be good. Open and smooth communication no doubt helps is enriching your married life in many ways. If you are not able to tell your partner about the problems you face or the things you can't cope – then you definitely need to rethink your relationship.
A lack of communication can trigger several problems ranging from small ones like useless arguments to bigger and more dangerous ones like utter aloofness and chronic depression leading to complete oblivion.
4-Forgiveness:
Don't overlook the power of forgiveness.
At times you have to forgive and let go in a marriage even when it is not the easiest things on the to-do list.
You should learn to stay silent because not every situation needs a comment or a remark.
At times you need to accept the stark reality that things cannot always go your way and move one. Believe it or not, it may seem difficult but it's worth it.
The peace you get by letting things be the way they are and settling yourself around them is beyond expectations.
5-Physical Attachment:
The sexual drive plays an essential part in keeping a marriage up and exciting.
What are the things that make your partner desire you?
Keep that desire alive and give it time.
Emotional and physical intimacy tends to bring people closer to each other. Your partner should look forward to coming home and spending time in the bed.
Don't exhibit gestures of pointless boredom or lack of desire. They do more harm than one assumes. Focus all your energy towards your sexual fantasies and make most of the time you have with each other.
6-Respect and Trust:
You need to give your spouse the same level of respect and trust that you want for yourself; at times even more than that too. When we talk about trust, it doesn't come that easy. It takes time.
You need to give your marriage space and time to let trust build over. Share everything and don't keep secrets. They can end up ruining your relationship. Respect each other's feelings. There are occasions when your companion only needs your presence not necessarily a long conversation in order to feel at home.
You need to differentiate between the two situations and behave accordingly.
Conclusion:
Marriages are meant to enrich your life and provide you with that one person with who you can share all your dreams.
With that one person, you can have the privilege of being you without any restrictions and barriers.
So, shed all those preconceived notions regarding marriage and go ahead with all your dedication and honesty.
It is one of the best things that can happen to you and your life if you make the right decision and give it enough time to let it blossom.