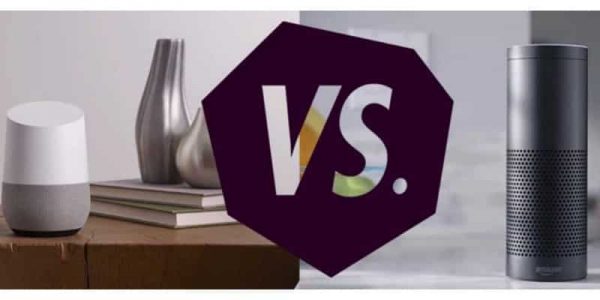 Google Home vs Home Mini vs Amazon Echo – Google Home and Amazon Echo are devices that are voice-activated speakers that you can speak to without your hands. The comparison between the Google Home vs Home Mini vs Amazon Echo, describes the complete analysis between these voice-activated smart speakers and it's become very helpful for the consumers to decide which one is the best.
The following table describes comparison in a true sense, Google Home vs Google Home Mini vs Amazon Echo.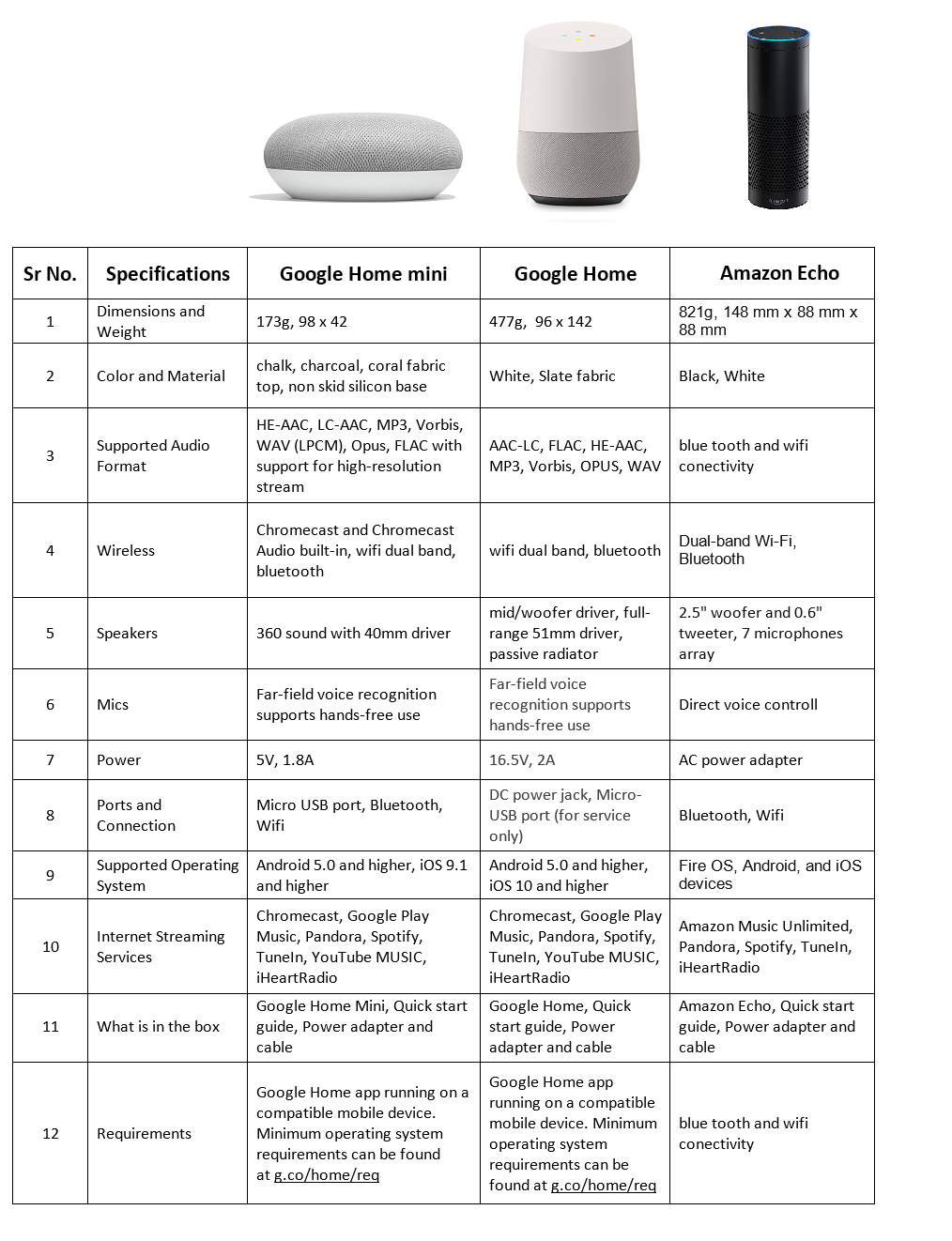 Google Home vs Home Mini:
Google home and Home Mini share many features but their contrast from each other makes them far apart from each other. While the Home Mini has more aesthetic, compact look, and light weighted and available in more colors and shades than its predecessor Google Home.
Home Mini is smaller in size and not having the same features as of its large counterpart just because of its size. Home mini not having the top touch controls like Google Home and also lacking the absolute volume and microphone sensitivity
Audio and Sound Quality (Google Home vs Home Mini):
As both the devices supported the same audio formats (HE-AAC, LC-AAC, MP3, Vorbis, WAV (LPCM), Opus, FLAC with support for high-resolution stream) but their sound quality differ from each other as Home Mini have the 360 sound with 40mm driver which sounds good but Google home sounds much better because it own bass generating woofers (mid/woofer driver, full-range 51mm driver).
But Home mini has built-in chromecast and chromecast audio where Home mini beats Google Home.
Battle of Good and Bad (Google Home vs Home Mini):
In the battle of good and bad both have their own pros and cons, in this battle the winner is user's choice and requirements. Home mini price is half of the Google home, if you have a large house you can buy two home mini in the price of single Google Home and your choice is obliviously Home Mini if you are going to work with Chromecast Audio enable speakers.
With the great balance of volume, perfect microphone accuracy, good sound and bass, Google home also becomes first choice of many.
Echo Dot vs Google Home:
Both Google and Amazon have chosen a large, rounded design. While the Amazon Echo looks more clinical and straightforward, Google Home's aspirations are somewhat more ornamental.
In essence, they're the same: pretty compact speakers with built-in virtual assistants that can handle everything from story-telling to answering random questions, streaming music, and controlling your smart home technology. But just the voice distinguishes the couple too.
The Amazon Echo is more minimalist, with a straight cylindrical shape and a single ring of light at the top. It comes in solid colors, with no room for customization.
Amazon's approach is completely mechanical, with a physical choice for volume and actual buttons for mute and activation. Google has opted for a capacitive touch panel. So you'll be swiping to control your music, but there's a physical mute button at the back.
In contrast, the Google Home is a bit fancier. It has a curvier shape that, according to Google, is inspired by wine glasses and candles. Its lower case can be exchanged for different trays to suit your interior – there are six fabric or metal trays. It has a sloped top, with four LEDs to give visual feedback.
Design and Physical Aspects:
Google has done a great job of designing Home to fit any environment. It is a relatively compact device that is only 142.8 mm high and weighs 477 g. It has an angled, white, matte upper plastic half and a colored mesh underside that hides the speaker. Fabric bases are available in mango, navy, and violet as well as metal bases in carbon grey, copper, and snow.
Audio and App Support:
The ability to connect external speakers via Bluetooth was added to Google Home after launch and is integrated directly into the Echo 2. The new echo also has an AUX port to establish a wired connection between the two.
While many aspects of the new echo have been improved, the new 2.5-inch speaker and the small tweeter actually offer a poorer sound quality than the original. It's not that crisp and lacks the bass, which is good for podcasts and news briefings, but the difference is remarkable when music is streamed.
Google Home has a 2-inch driver and two 2-inch passive emitters by comparison. It's pretty powerful and offers good audio quality.
Both devices are connected to music subscriptions – Google Home supports Google Play Music and Spotify (including the free version), while Echo offers Amazon Music and Spotify. And you can stream live radio over TuneIn.
Google Home also supports multiroom audio. This is a great way to fill your home with audio if you have more than one device.
Both devices feature remote-field microphones that pick up your voice from the other side of the room or hallway.
Digital Assistance:
The Amazon Echo contains Alexa's digital assistant, while Google Home is loaded with the imaginary Google Assistant.
Alexa is capable of understanding simple commands or even a series of simple commands, but they're pretty simple. And the default search engine is Bing.
In contrast, Google Assistant has the distinct advantage of Google. That's why it not only has a wealth of information – it's built into Google's entire architecture. Share your shopping list with Google Home, and the wizard can later reproduce it on your Pixel phone.
Google Assistant also provides bidirectional conversation based on Google's natural language natural processing algorithm. The wizard is context sensitive, so the conversation should look more natural and less like a list of styled commands.
The example that Google used was, "Where's Adele right now?" Followed by "How many Grammy Awards did she win?" The Google Assistant can be inferred from the context to which it refers.
Speaking of casting: Google Home lets you transfer videos to a casting-compatible TV. Say what you want to see at home, and a video will appear on the screen, just like when you cast from your phone. Casting is currently limited to YouTube, but Netflix is coming soon.
In addition to media, both services work with Nest, Philips Hue, and Samsung SmartThings. The echo works with Hive, but Google has IFTTT. This will be a close fight in which both companies use as many services as they can get.
Replacements and Additions:
Amazon has replaced the volume ring at the top with dedicated louder and quieter volume keys, more in line with the Google Home Mini design. Google Home itself has a touch-sensitive interface on which you can use your finger to draw a circular motion to adjust the volume.
The Amazon Echo features seven small holes, each containing a separate beam-forming and noise-canceling microphone. By comparison, Google Home only has two microphones, which should mean that the echo will better accommodate your instructions in a noisy environment. In practice, we find problems with Google Home only when it streams audio at maximum volume.
The search engine found on Google Home is six times more likely to answer the 3,000 questions raised by both speakers but reports that Google Home offers better overall search capabilities, but Echo is particularly popular in retail search.
Overall and A Bit More:
Google Home and Amazon Echo do the same when it comes to answering your questions, controlling your smart home technology, and streaming audio. But Google Assistant is the much wiser of the two, enabling more natural conversation threads and understanding most of the questions you might want to ask. In comparison, Echo's Alexa will often tell you that she does not know that.
Google also has the great advantage of its existing ecosystem: Gmail, Calendar, Maps, Android and other services. After you sign in to your Google Account, you can, For example, add medical appointments to a specific calendar, check traffic on the way to work, and find out what meetings you have that day. Google Home can also talk to other Google gadgets like Chromecast, Chromecast Audio, and other speakers like Google and Sony. If you're using a Chromecast, you can say to Google Home, "Show pictures of my vacation in Spain." Google Photos will be displayed and displayed on your TV. You can also ask for a specific video on YouTube or a broadcast on Netflix.
Like Amazon Fire tablets, you will not find any Google services on the Echo.
Amazon takes the lead in integrating services and your existing smart home kit. It's usually possible to connect services to Google Home through third-party app IFTTT if that integration is not already set up. However, the fact that the echo has been in place since 2014 means that developers have spent a lot of time creating their apps and hardware working with Alexa.
Alexa has a large collection of these integrations known as skills, which is broadly useful. However, we cannot help believing that a large number of these skills are things you'll never use – such as the ability to make animal noises – and it's annoying to add ability and then keep the exact command. Google Home often answers these questions without configuration and without phrasing.
Conclusion:
These smart speakers are of high quality and saying which one's better than the other isn't really possible since there is no definite answer. It all depends on what you're looking for and what suits you the best.