While a cell phone might be handy for finding directions while driving, it is especially better for truck drivers to depend on a device that is designed for their type of work. The best truck GPS lets drivers see the route ahead of them as well as the roads that are inaccessible.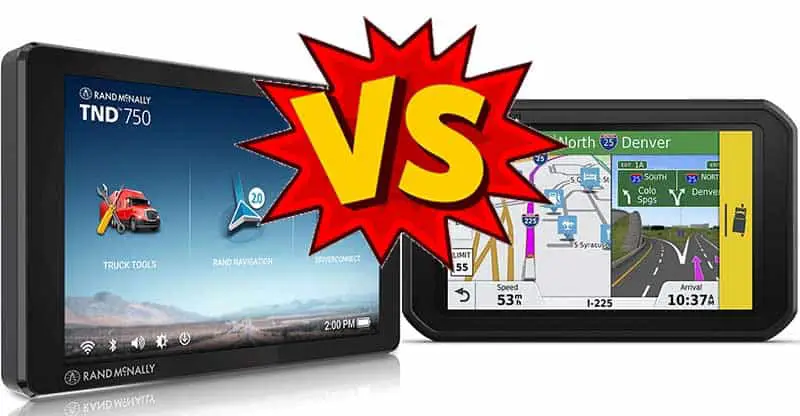 Are we all struggling to decide whether to go for Garmin or McNally truck GPS? I think yes! It's really hard to choose which GPS to purchase for your truck. So we will assist you by making a comparison between Garmin and Rand McNally and find what is best for you.
At a point when you start your quest for a truck driver's GPS, you will hear a great deal around two major names for example Garmin and Rand McNally. This will make you think which truck driver GPS is better Garmin or Rand McNally?
Since both are renowned GPS brands, they both have their advantages and disadvantages. For a first-class driver, the GPS must come in handy. Since it is primarily made for you, it helps you manage when an unknown road end occurs or if a road map has changed.
One can't pass judgment on an entire brand, as the two brands include new features and functionalities with each model released. This consistently benefits the purchasers.
Garmin Dēzl 780 VS Rand McNally 740
Lets talk about Garmin First.
Garmin Dēzl 780 is a versatile navigation GPS system for truck drivers with voice initiation features. The system also provides a free map guide and any traffic updates, for a lifetime.
Moreover, Garmin Dēzl 780 accompanies a premium 7" screen for an easy view while driving.
It makes it easy for the truck driver to remain cautious for any nearby, unexpected bridge heights, sharp bends, steep inclinations, and or more.
A few of its prominent features are mentioned below:
Customized truck routing
To assist you with taking advantage of its high resolution, tap and pinch on the screen to zoom display. Dēzl 780 LMT-S comes with maps that are pre-installed and likewise incorporate truck-related warnings for its route, for example, any nearby unforeseen bridge heights, sharp bends, steep inclinations and or more.
You just simply need to enter your vehicle profile data (adjustable by weight, height, length, width, and dangerous materials), and discover truck-related routes appropriate according to the size and weight of your truck.
It comes with break-planning 
To improve your life, Garmin Dēzl 780 LMT-S truck navigation device gives simple break-planning with timely warnings that help you take benefit of each stop on your route.
You must find key stopovers that most drivers care about, for example, restaurants, fuel stations, rest zones, lodgings, ATMs, or Wi-Fi availability.
It also caters your need to make stops as it is furnished with truck parking information that encourages you to find accessible 18-wheeler parking spots at truck stops and other stopovers.
Display and track 
Garmin Dēzl 780 LMT-S comes with a pre-installed basic truck monitoring resolution that lets Fleet-operators track your truck effectively and sends instant communication notifications, for example, an instant message having a delivery address.
Your driver can choose the location from inside the instant message and effortlessly drive to the shared address.
Voice command feature
The ease of voice-activated navigation allows you to control your Garmin Dēzl 780 LMT-S GPS truck navigator with basic voice directions. This is for your hands to remain on the wheel while your eyes remain securely centered on the road you are driving on.
Built-in Wi-Fi feature keeping you up to date
Garmin Dēzl 780 LMT-S GPS truck GPS device is anything but difficult to keep its programming and maps. This is because it uses its built-in Wi-Fi feature to keep you updated.
At any time when an update is available and you are associated with a Wi-Fi connection, you will therefore get an on-screen notification.
Then you can use the Wi-Fi on-screen icon to refresh your information without expecting to plug your Garmin Dēzl to a PC. You will be all set to hit your route again, without losing any more time.
The Garmin BC 35 wireless back-up camera
You must keep in mind the back end of your truck as you go in reverse by including a Garmin reinforcement camera, which is sold separately.
The Dēzl 780 LMT-S truck GPS device is viable with the Garmin BC 35 remote back-up camera, and when matched, Dēzl shows transferred footage, directly on its navigation display screen.
Rand McNally TND 740 Truck Navigation system also has a 7 inches screen but comes with an HD (High Definition) vibrant display. It offers free lifetime map updates and truck-related routes.
The built-in sound ability and adjustable alerts give you superior user experience. Its new advanced road direction with lane assistance helps you maintain a strategic distance from any wrong or sudden turn.
The Rand McNally TND 740 offers advanced route directions so that the driver can be ready for a nearby turn or heading through a confounded intersecting point. As a result of long hours of testing sessions by truckers, this GPS includes 35% more truck routine data than any other GPS device.
Also, as Rand McNally has been in business with the trucking industry for quite a long time, they have been providing great assistance in creating advanced routes for truckers.
The Rand McNally TND 740 is designed to effectively utilize those long periods of testings and experiments, by enabling drivers to discover and take the routes that are ideal for trucks.
Keeping in mind the need to fuel the truck, rest at appropriate stopovers, and maintain a strategic distance from roads and dangers. This makes it amazing support for drivers who need a straightforward device that is truly proficient.
A few of its prominent features are mentioned below:
Simple functionality TND 740
The Rand McNally TND 740 is based on the rule that it must look simple from the outside, despite internal complexities. The whole gadget is a solitary touch screen without any catches to press and no installation is required.
Its mount has a magnetic "hold and release" arrangement, making it extremely simple to keep away and store when not being used, and disposing of plastic braces which tend to stick or break after some time.
It is intended to require as little training time as could reasonably be expected. Although it offers numerous other functions than just navigation, what is truly important is to place it in your desired position and set your route and destination in it.
This makes the Rand McNally TND 740 ideal for drivers who are not very technically knowledgeable or who simply do not have any desire to invest a great deal of energy setting up or aligning their new GPS systems for navigations.
Phenomenal Route Planning 
Due to its Truck-Centric software, individuals will find that it can quickly pay for itself in terms of time and price charged. This is great for those who are happy to invest in the time to gain proficiency and working of the Rand McNally TND 740.
With external Wi-Fi access, which can be provided by the driver himself, it is fit for locating and showing nearby fuel stations, food stopovers, etc., and also letting them know if some places have the feasible truck parking.
This helps the truck drivers to examine their course and pick their stops ahead of time and also guarantees they do not have to change their travel plans since they can't get their truck into a pre-arranged stop.
Recording driving hours – E-logs
Numerous GPS devices offer this feature. Although, many smartphone applications are also offering the same features, therefore, Rand McNally has attempted to guarantee the Rand McNally TND 740 is better by allowing it to log information from any Rand McNally feasible ELD gadget.
This makes it a significant device for operators handling it independently, hoping to examine and limit their expenses. The case is similar for fleet owners too, as they need to get measurements on how their trucks are really performing.
E-Logs can be stored up to 6 months on the device and examined with locally available metrics, done promptly and efficiently by the installed programming and quad-core processor. This allows even the beginner truck drivers to rapidly decide the most ideal approach to run their truck to enhance performance and profit.
Strong performance overall
A few purchasers may feel that the proposed price of $400 is fairly high for a cutting-edge GPS; however, that sticker price comes because of the amount of truck-specific software on the Rand McNally TND 740, as well as good quality processors and other hardware running on it.
The Rand McNally TND 740 is exceptionally simple to use yet offers a ton of valuable information to allow the truck drivers to improve their route, limit their expense, and make on the correct choices accordingly.
Since Garmin is a much older brand than Rand McNally, it gives an exceptionally better experience to its users. In addition to that many users feel that Rand McNally's high price may not be justified in accordance with its functionalities and deliverables. For complete details and insights of the comparison, read the complete article above.