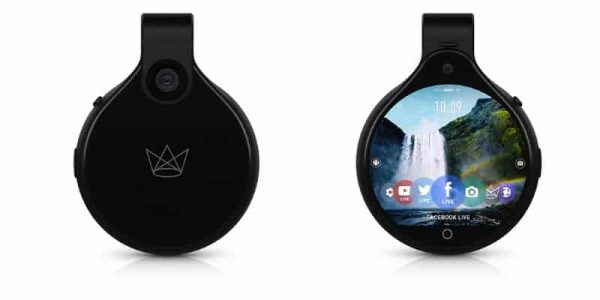 Bringing you a stylish wearable hidden camera. Reinventing the camera. Ubiquity labs have introduced the pioneering Frontrow camera. Front Row is a revolutionary wearable camera that allows you to both live in the moment and captures it like no other device. The stylish camera can be worn effortlessly in everyday situations to capture and share experiences in bold new ways -from vacations to music festivals or a day in your favorite city. Front Row offers a unique first-person perspective and integrates seamlessly with a smartphone for instant content sharing.
Unlike anything you have seen before
Like the brand says, wearable camera from the future, the main idea is to allow you to capture everyday moments handsfree and without making you look like a fool. A lifestyle action camera with a beautiful and alluring design with all the features of a professional camera.
What makes it stand out?
The fact that is actually the first wearable camera gives it the distinction in the world of cameras. This camera comes with a head strap, a chest mount and can also be worn around the neck with a chain or strap. The Frontrow camera has an elegant circular high-resolution touchscreen that looks its straight from the future.
It has a 2-inch display on the back side and it is android based which gives you the feel of using a limited smartphone. It has iOS and 2gb of ram and 32 GB of onboard storage. There are two cameras, one on the front which is 8 megapixels offering a crazy 140-degree wide angle coverage which allows you capture everything in the frame and one on the back which is 5 megapixels.
FrontRow shoots video in 1080p or a 4k at 4/3 aspect ratio with the idea of giving you an extra punch and sharpness so you can make the best videos. With the word wearable, you must be thinking that you are walking or running so your videos or images will be shaky, but not with this device. It works very well whether you walk or sprint thanks to its Optical and Electronic Image Stabilization. Optical Image Stabilizer (OIS) Stabilizes the recorded image by varying the optical path to the sensor and Electronic Image Stabilizer (EIS) Crops the viewable image from video frames through the imaging pipeline.The audio quality is very high as well, be it a noisy place as a concert or a rather silent class lecture you don't have to sacrifice the audio quality.
The front row APP
The frontRow camera is supported with an App that you can use if you want to. With the FrontRow app or on the camera, you can choose between three different modes — camera, video, and story. When you're in camera mode, you simply press the button on the side of the device to snap a photo. Recording video is equally as simple: Once you hit record you'll see a notification pop up letting you know the video is now recording. There is also a Story Mode, which captures a time-lapse of your experience. Using a built-in motion sensor, it takes a photo every 3 to 5 seconds and then puts it together to form a video once you're done. After you download the video from the FrontRow to your phone, you can use the app to edit parts of it, like cutting out a specific frame or adjusting the playback speed. You can share any of your content to social media platforms, whether it's Instagram, Twitter, or Facebook. There's also the option to send it to someone else through email or text messaging and store it on third-party cloud services like Google Drive.
One of the reasons that the FrontRow camera feels so close to an Android device is because it actually runs a form of Android. Don't get too excited, as the software is so stripped down that you're not going to be able to run your favorite apps. However, this does have an advantage.
With very little resources required to run the operating system, the software is extremely fast. Getting a live stream up and running is literally foolproof. It only takes two quick taps, and the video feed starts almost instantly. Although a small part of us would love to see more Android applications on the FrontRow camera (after all, it is technically a wearable device,) we do see the appeal of a simple, responsive, easy to use a device. Time after time we've tried out devices that felt sluggish and unpolished because the manufacturers simply tried to cram too many features into a device that wasn't quite powerful enough to use it. This design is much simpler but has the same level of polish that we'd expect from an Apple device
You can get it in $370 ish. With all the glitz and glamour alongside the immaculate features, it certainly is a camera for the millennials. This high end live streaming camera is a must-have for all adventurous and fun loving people.