Before picking out the tires to equip your car with, you need to first consider that what surfaces and under what surface conditions will you be getting them heated and rolling. Not every tire is suited to every driving condition, beware of that!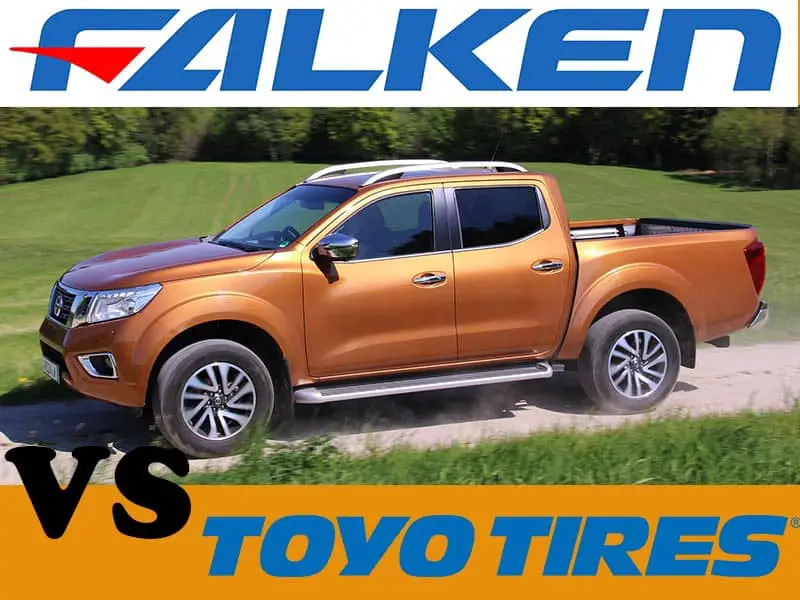 Most tires that come originally with new cars and trucks aren't usually good performers when it comes to most off-road conditions.
Especially, if you plan on going off-road, you must pay some serious attention to the tires you are going to use. While going off-road, you encounter almost every sort of obstacle going from sharp, rocky, and rugged landscapes to slippery and squishy muddy areas.
Serious off-roading asks for some aggressive and strong tires! In this article, we will be discussing two of the best tires out there if you plan on going off-road. We'll be talking about the Falken Wildpeak AT3 and the Toyo Open Country A/T III and comparing them.
This article will definitely help you pick out the tires that best suit your needs. You can rest assured knowing that you will come across some high-quality information to help you in making your choice.
So, without wasting any time, let's get our hands (and eyes, too) deep into this article.
By the end of this article, we are sure that you will be sure about which tire to buy and gear.
So, let's move on!
Comparison at a glance
Now that we know what factors and features we have to consider before exhausting our credit cards, we come to the comparison between the Falken Wildpeak AT3W and the Toyo Open Country A/T III. Let's now see what makes one better than the other.
The main differences between the two of these are as follows:
Wildpeak AT3W has fewer sizes available than the Toyo.
Hydroplaning is a bit more on Toyo Open Country.
Snow Traction is better on Wildpeak.
Both are equally good when it comes to dry traction.
Wilpeak has lesser noise and vibrations than Open Country.
Wildpeak is cheaper but Open Country gives out more warranty miles. (65000 compared to Wildpeak's 55000 miles)
These are only the main differences between these two tires summarized in a table. Don't make your decision already! There is more to it than you know currently. Before making the right decision, we must first gain in depth knowledge about these two bad boys. Only then we can make the RIGHT decision (emphasis on right)!
Falken Wildpeak AT3W
Brand Comparison
First let's speak about Falken. Who are they? Well, they are a known leader when it comes to high-performance tire technology in cars, SUVs, trucks, and crossovers. Yes, they are promising and they deliver!
Moreover, they have a prodigious standing in the market when someone starts to talk about some good quality, high-end tires. It is a significantly renowned brand that is highly approved by many pleased and content customers.
Over the years, it has grown to be a flagship brand that also has valued lines in Light trucks, Commercial Medium trucks, and Bus Radial tires. Talk about the perfect deal!
Also, it has a much-stretched history of providing its customers with the best there is in the market. The tires they manufacture are of premium quality and have a great amount of value for your money. We know that you thinking of buying them already, but wait, there is more!
With these tires on your ride, your vehicle is all set to satisfy all your adventurous off-roading as well as some serious on-road needs. Falken knows about your needs.
Putting this early, these tires are GREATLY endorsed by their users and are also Falken's most recommended tires.  If you are in a rush to select some good tires for your ride, these should be your go-to tires. End of story. They are that good!
These tires are suitable for all terrains. Their performance is just as good on rough and rugged surfaces as it is on smooth on-road conditions. You can even say that they are all-rounders!
Your vehicle will definitely stand out and will be the center of attention on the road because these tires not only perform well but also have that magnificent look that makes your vehicle shine. You have a luxurious ride, everybody is sure to envy you!
The Falken Wildpeak AT3W is also very season-friendly and performs well in all sorts of conditions. Be it freezing cold temperatures, extremely hot temperatures, or the rainy season.
If we talk about some truly gifted vehicles, the Falken Wildpeak AT3W comes as original equipment in them (the manufacturers know about their goodness). Light and medium-duty 4WD trucks, pickups, and utility vehicles make it in this lucky list.
Features
As mentioned earlier, these tires are very sturdy and are suitable for extremely rugged and rough terrain too. They can be harsh, yes! With these wheels on your truck, car, SUV or any other vehicle you don't have to go through much trouble while driving on mud, sand, or paved roads.
They come with 55,000 miles or 99000 km limited tread life warranty. This warranty is applicable to all sizes sold.
They also perform awfully well on gravel, mud, sand or any other sort of loose terrain. This is made possible due to the huge blocks of tread that are incorporated in these tires to provide a consistent and steady grip. Friction is our friend here, how can it not be?!
The silica rubber compounds in these tires vouch for their durability in extremely cold temperatures.
This features also make these vehicles less noisy and to have lesser felt vibrations. The silica rubber compound makes them a good option in scorching heat, there is no compromise on their elasticity.
More so, the tread blocks mentioned earlier are stepped and have gaps between them. Because of this mud, snow, rocks or other such pests don't get stuck between the treads and are ejected right away. This makes it possible for your vehicle to have a respectable grip on such surfaces and such hindrances don't compromise the tires' traction in any way.
The speed rating of the Falken Wildpeak is 'T' (This letter denotes the maximum sustainable speed and is found directly after the load index. For S-speed-rated tires, it's 112 mph; for T, 118 mph. Speed ratings for other tires include Q, 99 mph; H, 130 mph; and V, 149 mph.)
The UTQG treadwear of these tires is rated as 600 (UTQG treadwear, an index developed by the government, compares a tire's tread life with that of a reference tire graded at 100. A tire with a grade of 300 is predicted to last three times as long as one graded at 100. Treadwear grades are just one indicator of tread life, but actual tire life will vary due to a number of factors including road conditions, driving habits, vehicle, and maintenance.)
The UTQG temperature of the AT3W is classified as 'A' (UTQG temperature indicates the tire's ability to resist heat build-up under test conditions with Government grades of A, B, C, from best to worst.) whereas the UTQG traction is classified as 'B' (UTQG traction indicates the tire's ability to stop on a wet surface with Government grades of AA, A, B, C, from best to worst.)
These tires can also manage water pretty well and won't slip even on wet pavements, the wide grooves in these tires make this possible. You don't have to worry on a rainy day if your vehicles have these bad boys on! With these tires, you don't have to worry about hydroplaning AT ALL.
The A/T3W is packed with technology, from Falken's patented 3D Canyon Sipes to an all-new proprietary lower sidewall. Full-depth sipes and grooves maintain consistent performance and appearance throughout the life of the tire. The solid lugs on these tires ensure that the wheels are ALWAYS in contact with the surface below. Your vehicle starts to own the road because of these lugs.
Toyo Open Country A/T III
Brand Comparison
Toyo Tires has been focused on making tires absolutely admire and love since 1945. Their unique design and manufacturing technologies deliver high-quality, long lasting tires for nearly every vehicle on the road, from light trucks, SUVs and CUVs to sports cars, luxury sedans and hybrids.
Toyo's tires are proven in motorsports, both on the track and off the track. No matter what the driving conditions, Toyo tires win races, and over the years the company has experienced success in motorsports around the world, including the grueling Baja 1000, Baja 500, the Lucas Oil Off Road Series Pro 4 class, and more.
Toyo Tire & Rubber Co., Ltd. was founded in 1945 in Japan. In 1966, Toyo became the first Japanese tire manufacturer to establish a U.S. subsidiary.
Talking of today, Toyo tires are famous all over the world and have a great reputation. They also have a huge customer base that is content with the tires that they buy.
Features
The Toyo Open Country A/T III has gone through 3 vigorous stages of development and thousands of miles of testing to become the perfect all-terrain tire. The formula of these tires is sharp and unique, guaranteed to promise a great ride to you!
Toyo manufactures a great variety of badass tires but the Open Country A/T III tops them all. It is an all-rounder and won't disappoint you in any way!
This tire is intended for 4×4 light trucks, CUVs, and SUVs, and drivers who want to take full advantage of their vehicle's adaptability. That means plenty of off-road competence for just about any practical adventure, but also suitable for a luxurious daily drive, and traction through extreme weather conditions, too.
Looking at the AT III, this is very wild for an all-terrain so if you're going for a sharp look, on top of all of that, this is a great option.
Comparing it with its predecessor, the AT III comes with advanced tread compounding. The new tread compound and elevated tread design also boost cut-and-chip resistance, overall off-road grip, and improvements in road noise and ride comfort.
You even have an option to choose between white sidewall lettering or its savage black alternative. Talk about users' choice!
It is also very friendly and resistant when it comes to driving in the snow. All your snow problem won't be your problems from now on. With the Three-Peak Mountain Snowflake symbol on its sidewalls it promises to provide a good amount of traction on snowy surfaces.
We weren't joking when we said that these tires are savage. They will get you and your heavy loads home with ease. This applies to when you are hauling or towing weights, too! In certain sizes, the Open Country A/T III boasts some of the most impressive load ranges in the entire All-Terrain Tire category (with a load range of F)!! Let's look at an example of a tire size to prove this point.
Tire size: LT305/65R18 Manufacturer Part #: 355450
Approved rim width – 9-11
Ply rating – F/12
Load/speed rating – 128/125Q
Maximum Tire Pressure – 80
Run Flat – No
Maximum load – 3970@80
Sidewall color – black wall
Tread Depth – 16.8
Overall tire diameter – 33.6
Rim diameter – 18
If you don't know what a load range or ply rating is then, well, load range is a measure of a tire's maximum load capacity. Whereas, a tire ply rating is an expression of the tire's strength and capacity. The ply rating translates in a very direct way to tire capabilities and limitations, especially when it comes to inflation and load capacity.
These tires have brilliant warranty terms as well! The Open Country A/T III comes with a great 65,000–mile warranty for P/Euro-Metric sizes, and a 50,000-mile warranty for LT and flotation sizes.
Even users of its predecessors claimed to get a good tread life from their tires. These tires satisfy the customers even more!
These tires also come in a number of sizes and diameters. They have a wide range of sizes available to best suit the customers' needs. The brand and size of your vehicle won't be a problem here because they have sizes for all! They Available in freakin' 127 sizes in diameters 15-22-inch! The Open Country A/T III is available in numerous LT-Metric, P/Euro-Metric and Flotation sizes.
The tires maintain a good deal of contact with the road and do very well under hard braking. We haven't noticed any tread squirm, even on the relatively heavy trucks.
They have raised sidewall cleats that provides protection and grip to your tires.
The Toyo A/T III tires outclass in the rain, as well. Driving in near torrential rain with plenty of standing water on the roadway, there is no hydroplaning. They stop as early on wet surfaces as they do on dry surfaces.
Plus, with all of these multi-waved sipes in the tread blocks and shoulder lugs, you'll really be able to notice how well these AT III's will provide you with exceptional traction on ice, snow, or wet road conditions to really bite and grip when accelerating or braking.
The tread blocks are shaped into a sort of S-pattern. This is great because there is still a good amount of tread hitting the ground and there are fewer gaps between the blocks which will result in less road noise.
They have excellent traction on muddy and slippery surfaces, too! And the dirt, water and mud are removed from their treads instantly (due to tons of tread voids)! They perform even better on dry-graded roads and easy trails. Wondrous!
However, it is not made to fare well in deep mud or snow but it can get you through some rough situations.
Overall, we think that the Toyo Open Country AT III is a remarkable option for someone that wants a violent looking tire but needs the daily drivability of an all-terrain.
It gives you all of the fanciful performance of an all-terrain tire such as on-road traction, off-road capability, and overall comfort.
Comparing the Falken Wildpeak AT3W and the Toyo Open Country AT III
Now that we know about the features of these both. We now, compare the two. This is the moment we have all been waiting for so waiting wasting any time, let's move on!
Noise
The Falken Wildpeak have a lesser amount of noise when compared with the Toyo AT3, mainly because of Silicon rubber compound found in these tires.
With the Toyo Open Country, there is a noticeable hum on high speeds.
Vibrations
Both of these tires are awfully good when it comes to minimizing any sort of vibrations that your vehicle might experience and are more noticeable when driving on high highway speeds.
However, the vibrations experienced in our Falken competitor were a bit lesser than the Toyo tires. This again is due to the Silicon rubber compound found in the Falken tires.
Prices
The Falken Wildpeak AT3W are cheaper than the Toyo AT III and are friendlier on the pocket while delivering value at the same time.
The Falken Wildpeak start from US$137 and go all the way up to US$449, depending on the size. Whereas, Toyo AT3 go from US$600 to US$2000.
Hydroplaning
There's no hydroplaning in both of these tires and they deliver a great and outstanding performance on wet surfaces. They both stop as surefootedly on wet surfaces as they do on dry surfaces when brakes are applied.
However, the Falken Wildpeak AT3W perform a bit better than its competitor from Toyo. This is because of the deep starting tread depths, open shoulders, and wide, circumferential grooves in the Falken Wildpeak AT3W.
Traction in Snow
Both of these tires are snow rated with the Three-Peak Mountain Snowflake symbol.
However, the Falken Wildpeak are severe snow rated whereas, the Toyo AT3 are not. This means Falken can go deep in snow and you wouldn't be in any trouble. The snow stuck between the treads is readily ejected due to the greater tread spacing and the tread pattern, this vouches for their greater traction in the snow.
The Toyo AT3 perform well in the snow too but they cannot manage deep snow effectively.
Dry traction
Again, both of these tires have praiseworthy traction on dry surfaces. Both perform equally good on dry surfaces and have a good braking length.
However, the deeper gaps between the tread blocks of Falken tires allows it to readily eject any debris stuck for greater traction. Other than this minor difference, both provide some hardcore traction to your vehicle on dry surfaces.
Sizes
The Toyo Open Country AT III have a greater number of options available when it comes to sizes. They have 127 sizes in diameters ranging from 15-22 inches. Whereas, the Falken tires have only 69 sizes in diameters ranging from 15-22 inches.
Warranty
The Toyo Open Country AT III have a greater warranty – 65,000-mile warranty for P/Euro-Metric sizes, and a 50,000-mile warranty for LT and flotation sizes. Whereas, the Falken Wildpeak AT3W come with or 55000 miles warranty.
Coming to an end…
We have provided you with an extended list and details of the features and differences between the Falken Wildpeak AT3W and the Toyo Open Country AT III. In the end the decision is yours to take.
You know your vehicle the best. And you know about your needs the best. You need to consider every feature listed in here when it comes to buying the tires for your vehicle.
Off-roading can be a challenge, yes, but with the perfect tires on you don't have to worry about a thing. You only need to think of attaining the perfect adventure that you've been desiring for so long.
Both of these are very high-quality tires and are sure to satisfy you and your roadie needs. But obviously, one is better suited to your needs than the other.