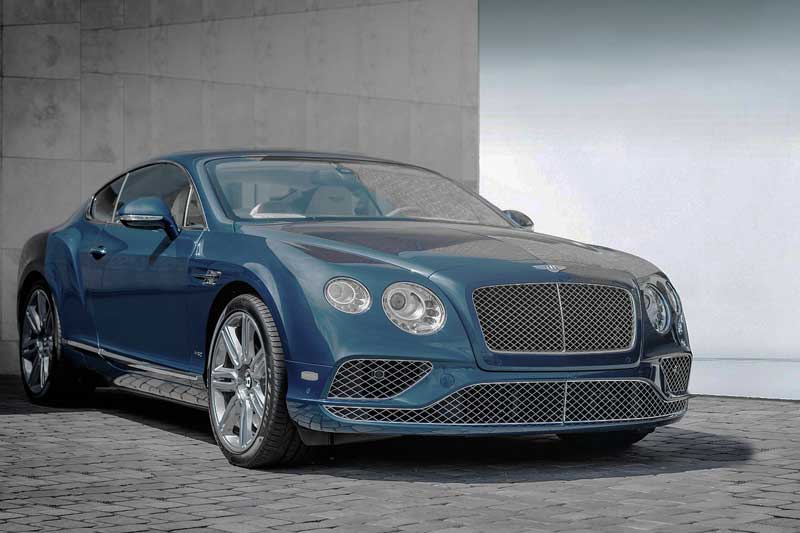 Man berries his Bentley: I was going through social media and there was some real hype about this crazy man who buried his Bentley. All I could think was, is this man insane? He could have just gifted that beauty to me.
Obviously, every man ever would have been wishing for the same thing. Until I saw the news catching fire within hours after the funeral ceremony was to be held.
As curious as the cat is, I decided to dig in for information. I mean, who would resist knowing the crazy man who just buried his Bentley.
But seeing various comments like his message is powerful and get something in your brains etc., I just knew that there was more to the story. And yes, there was!
The Crazy man berries his Bentley:
You know how much a Bentley costs? It costs around $450,000. I can never imagine myself pouring out so much money on a car first of all and if one day, by any miracle I do get there, I won't decide to bury it down.
But Scarpa didn't do that aimlessly as well.
Chiquinho Scarpa is one of the richest men in Brazil and he posted a statement on social media some days back, saying that he is going to bury his $450,000 worth Bentley so that he can enjoy the luxuries of it in his afterlife. He also accepted the fact that his visit to Egypt had inspired him greatly for this.
This is what his post on social media said:
I decided to do as the Pharaohs. This week I will bury my favorite car, the Bentley, here in my home garden.
And the next was expected; everyone bashed him for his thoughtless decision. That is what makes us all the "judgmental" humans, doesn't it?
There were endless suggestions on the social media as to how he could put his "off the edge" costly car to some use.
Some said that he could donate it to charity and others said that he could sell it and distribute the money amongst the needy. Anyone would agree with such ideas as one of the richest men in Brazil, wouldn't give a damn about one Bentley being buried in his home garden.
All I could think was that this man is out of his senses and maybe his visit to Egypt has left him out of the ability to think straight.
But even with the endless criticism and the overwhelming ideas, Scarpa did not postpone the funeral of Bentley and didn't post anything that made people feel that he might change his mind.
He was as stubborn as anything and I just wondered that how was he handling this ton of criticism, just for a lame decision?
What came next was even more surprising. For a lot of people who thought that this was some kind of insane joke, Scarpa posted a picture of him in a pink tie and he had a shovel beside him.
The Bentley stood with him and this further confirmed his funeral plans for the car. He didn't answer people for their amazing ideas instead he shot them back with questions.
Scarpa asked people that what did they think of his idea…was he trying to avoid paying the taxes for his eye-catching and beautiful car?
Never mind, I can't help call it beautiful guys.
And what did actually happen at the funeral?
The Bentley Funeral Day Arrived: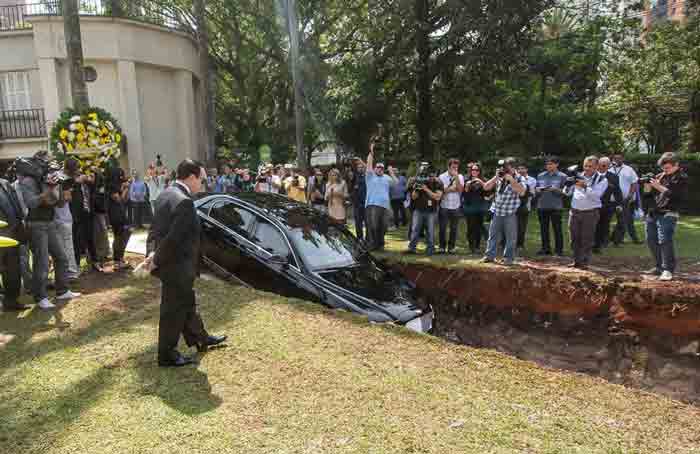 Picture credit: Dandad
Scarpa invited various media platforms and channels to the funeral of Bentley. And amazingly, even when the world thought of it as a stupid idea…a filthy rich man was doing it and so the media decided to pop in there. They had to showcase that a wealthy Brazilian man had just turned nuts.
So the procession started and just as the car was being lowered into the ground, Scarpa stopped it. He asked the media of what do they think made him do this? It would have been quite awkward, to be honest. But that is when the crazy guy revealed his main scheme idea behind burying his Bentley.
This is what he said:
People condemned me endlessly for burying a million dollar Bentley. The fact is, that a lot of people bury something that is way too much valuable then just my car. People bury their hearts, liver, lungs and kidneys etc. This is ridiculous. There are so many people out there who are waiting for a transplant and are in need of it. But you prefer to bury healthy organs which can actually save a lot of lives. This is the biggest waste in the world that I know of. My car, Bentley is worthless in comparison to life giving organs. There is no wealth on this earth that is more valuable than an organ because there is nothing more valuable than life.I officially announce today, that I am an organ donor this week. I am an organ donor, are you? Tell your family as well."
At first, all I could think was that this man could have simply talked about it on social media. But then, it strikes me…who takes it seriously?
What matters do we take seriously, especially when they are being talked about on social media?
We do talk about them but they lead nowhere. This is why Scarpa decided to create a great hype in order to pass his amazing message to the world out there.
Scarpa did not bury his car (obviously) but he left the world silent with this one, powerful and incredible message. He conveyed it to us all, in such a different and amazing manner, that left us all stunned.
His Speech:
There was so much hype about a single car that didn't even belong to any of us. But why don't we talk about lives, which are waiting for an organ?
At first, all I could think was; why would anyone donate their organ to save someone else's life? What about our own lives? And then it dawned on me; "we bury something more precious than Bentley."
All those people who die don't ever want to donate any part of theirs. They have this healthy heart that a 10-year-old might be eagerly waiting for.
That man, who dies in a car accident, has those perfect lungs that a woman with endless responsibilities might be wishing for!
The lady who knows she is on deathbed, doesn't want to donate those healthy kidneys to someone in need because she thinks that burying them is better?
Those eyes that your partner loves, why can't they be given to that blind girl in the NGO next to your house when you are dead? Maybe she can get a chance at seeing the world with your beautiful eyes?
It is not important that you have to donate your organs while you are living. You can do so when you die or decide it beforehand.
Scarpa has given us such a motivating and powerful message. We bury those healthy and beautiful organs with us when we die. Just like the Bentley won't benefit Scarpa after death, your organs won't be of any help either, or will they?
Will you be able to see anything once you are dead?
Do you need them along in your grave? Is your heart ever going to start beating again while you are buried in the ground?
Are your lungs going to provide you with any air?
Then why don't we think of it as a chance to help others? Why don't we see it as giving life to people who have no hope of a life at all?
VERDICT:
Scarpa seemed a crazy man to me and he still remains one for me to be honest.
All he wanted was an inspirational kick from within him to spread such a powerful message around the world and he went completely insane for it.
Do we have that power?
All I know is that you won't even get a sincere advice from anyone these days.
I have seen a lot of people hide some of the best tips that they know off so that the other person might not benefit from it more than they do.
We need to accept this fact that we are breathing in such a self-centered society.And we hardly have time to think about others around us or do anything to help them out.
We all have problems right? Who has time to ponder upon others as well?
But in such a selfish world, where people have buried their own hearts and brains, Scarpa stood out for something astounding.
A message that has the power to make people think and speculate about all that they have, can be all that a child, a young man or a mother of 3 children might be desired for. And what is the point of dying with it all?
Think and think deeply about it. Are we ever going to use our heart, eyes, lungs, liver or kidneys once we are buried under that heap of mud?
We have time to talk about a man burying his Bentley because it costs the awful amount of money to buy one. But we don't have time to talk about that actually makes sense?
Think about all the wonderful things that is a child waiting for a heart transplant might do with the heart that you donate to them? Think and take a step to change the world.