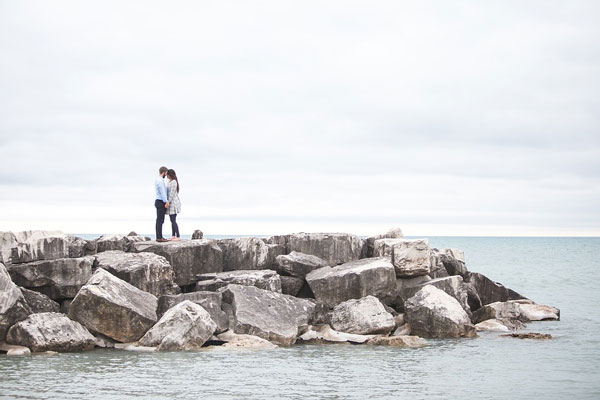 Relationship Myths: It is all so overwhelming; the décor, the wedding dress, the arrangements, the big day, the honeymoon and then what?
Then the balloon of excitement and ecstasy seem to be losing all the air in it. It's like you enter the actual practical phase of life.
The love story like scenario is only short term. You won't be living in the world of dreams for like forever. Even if you are leading a good, satisfied and happy married life, you are practical and you can't hope for the candle light dinner every other day, or do you?
Everyone who understands the fact that the valley is yet to arrive after the honeymoon period usually crosses it with stronger nerves.
So basically, if you are dreaming a fairytale like life after marriage; you need to wake up.
Do you want me to pinch you to reality? Well, let's just leave that duty up to life, shall we?
This why they say: getting married and maintaining it are two totally diverse things. You do get married and the wedding bells seem so amazing but what a lot of people fail to do is maintain those wedding bells.
And then, there come those rules and advice and tips and bitter truths that you search endlessly on the web to make it work and add spark to your life.
But not all of them are supposed to work.
What do I mean?
It is as simple as this: not all tips are tips; some are basically just myths.
Anyhow, coming back to the point; you don't always have to fall prey to these tips by pros and all. Sometimes, you just need to go with the flow and do what you feel like doing.
So here are some myths that actually make you pop into the burning fire and get burnt, when in actual, doing the opposite of these actually saves you from the damage. As I said, sometimes, the pros can make you go bonkers as well.
So go with what your heart and mind say.
Relationship Myths 1: NEVER go to Bed Angry:
Have you ever asked yourself that why can't you go to bed normally?
Why is it important to talk everything out?
Let me give an example, shall I?
My friend was the "I want to talk everything out" kind of girl. She wasn't married but she was committed to this guy who always preferred maintaining silence over different issues.
And she was the one who wanted to babble out everything and even her frustration, aggression and maybe her tears as well.
By the end, the silence from the other side used to bother her more and more, until one day, it was over for her.
She decided that it was okay for her to go to bed normally and just sleep even when she was angry or depressed due to some issues.
She became the silent one.
It changed her, but in the wrong manner.
What I always wondered after that was what if she had maintained balance and stayed quiet just like the guy?
Sometimes it just good to talk in the AM!
It is okay if you don't have the mental energy to talk things out and figure them out. It is okay if you go to sleep early and make yourself find the peace that you want.
It is completely okay if you don't want to beg or cry in front of the other person because you have had enough.
Sometimes it is okay to go to bed angry. It is proved that things are sorted out better in the morning when you have cooled down and your nerves allow you to talk with a calm mood.
Relationship Myths 2: Marriage Alters a Person Completely:
You should weigh out your lifestyles, differences and all that incredible list of your traits before you say I DO. I mean, after that, telling someone not to do this or that, just because you don't want them to is stupidity.
If she gets hot-tempered when someone tells you not to wear a short dress and you get angry when he gives all the attention to his mother; deal with it. Don't try to change it all because you already knew what that person did.
If you are committed to someone who is hot-tempered, get along with it as it is your choice to marry them.
And you always have scope before you tie the knot. You are never liable to marry someone whom you think isn't great for you. And if you believe that marriage changes a person; don't believe that.
It is just a myth fired into the air of marriage like a bullet to murder several personalities in the name of one love knot.
Relationship Myths 3: LOVE is Going to Heal Everything (Is it Band-Aid)?
When you are married, obviously all your problems are related to your partner and they have the power to make it all good or bad for you.
But it certainly does not mean that their love is going to do the magic for you every time?
Sometimes, your partner can be the exact reason why your wounds get worse…they just seem to tap into them perfectly.
Your partner has the ability to make your emotions drive out; they can be either good or bad. And after a while, your partner knows what triggers you and what doesn't. He/she know what will make you happy, sad or depressed.
So you know what? Love always won't heal stuff. Sometimes, a little space, in your own little head is all you want to figure things out for yourself. DON'T expect love to heal everything.
Relationship Myths 4: Relationships DO has to end in Marriage:
So you have been together for like 5-6 years or maybe considerably a longer time span, so the next sensible thing to do is to tie the knot. Why is that so?
What if you figure out that your married life won't be as perfect as you have dreamt of?
Are you still willing to give up your lifetime to such a relation where you will be heading for compromise only?
Think!
This myth has destroyed several lives than you would ever think of. If you have been together for years, it certainly doesn't mean that you have to get married at the end of it as well.
Sometimes, knowing all that you need to, jumping into the puddle can make you all muddy. And marriage isn't a small step to take, right?
Here is what a high school girl had to say about her marriage with her fiancé:
"He was such a smart guy. Like he loved me, gave me attention, was the smart ass kinda person. But I felt like I did not love him the way I should or someone should. It was like we were more of roommates than literal partners for a lifetime.
To be honest, I was a different kind of person and he was not that stable emotionally. He asked me about marrying him after my graduation and it seemed logical.
So I said yes. I felt like a perfect actress on my wedding day…could have gotten an Oscar for the perfect acting. And what I feared the most, happened after 3 years; we filed for divorce."
So you see, just because you are with someone with a long time, doesn't mean that you have to marry them or you don't have any other step!
Relationship Myths: Your Partner Must Know Everything (Is he or She WIKIPEDIA?):
If I could just find the person who generated this myth; if you are in a relationship or are married to someone, they must know everything about you or you should know everything about them!
NO, it is not important and it won't make your life easier.
However, if you will pretend that you do know everything, it will make your relationship suffer sooner or later.
You aren't Wikipedia and your partner is not an open book, that you can easily understand every move or every feeling of theirs.
Even after years, a lot of people cannot figure out what goes on in the mind of the other one.
And that is totally okay.
If you expect that your partner must know everything about you…then you are totally wrong here. You are only going to kill your inner peace with this stupid expectation of yours.
Conclusion:
All the truths, tips and advice about marriage or relationships on the internet or in books aren't going to help you if you won't be able to motivate your inner self to save your relationship. All it takes is your own capacity and willingness to make things better.
If you think that you won't be able to handle it all; leave it. Don't force yourself into or out of any relation. As I said earlier in an article that they are just like farts; the harder you force them, the stinker they will be.
Stop believing so hard in these myths that you fall blindly for them.
Make life easier for yourself and it will not go hard on you!
It's similar to the "tit for tat" mantra.