Rain is a camper's enemy. One of the worst things that can happen while you're out camping in the woods is the seeing sight of those dark gloomy clouds ready to pour on you.
Solution: Getting a tent that is waterproof so you keep yourself dry even in a storm or heavy rain.
So coming to tents, if you're looking for ease of use, go with the Ayamaya Pop Up Tent. If you're looking for a tent that is quick to set up, and easy to move around, then consider getting the Clostnature Backpacking Tent. If you're a solo traveler and are looking for a tent that specializes in catering to the needs of solo campers, the Kelty Salida 1 might be a good option. Alternatively, if you're looking for added capacity and storage space, and all-weather functionality, we recommend getting the Moko Family Tent.
Our standout favorites, however, were our top two picks: The Big Agnes Copper Spur HV UL and Eureka Copper Canyon 8.
Both these tents delivered something more than your typical waterproofing and camping experience; extra comfort and relaxation.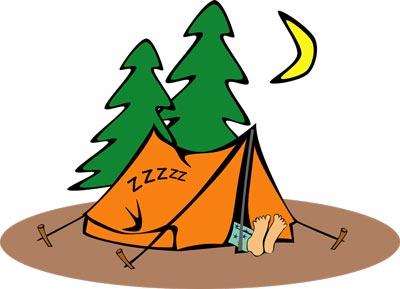 Below we reviewed all of these waterproof tents for heavy rain.
Core Instant Cabin Tent 10
For those looking to camp in large groups.
This truly waterproof tent came with an impressive capacity and we found that it lived up to its potential. We tested it under conditions of both light and heavy rain and found that it could withstand a good deal of rainwater.
The seams were very tight which meant that at no point did the insides of the tent get wet even with heavy rain.
We could easily accommodate up to 10 people with additional room left behind for kids.
Some of our favorite things about this tent were the high center height and adjustable ventilation system. Even the tallest among us had no issues moving around in the tent and the adjustable ventilation meant that the inside of the tent was breathable at all times; goodbye camp suffocation!
The other thing we appreciated were the option of charging our electrical devices through E-port hookups; not all of us wanted a complete electrical disconnect.
Though the tent had no issues in heavy rains initially, there were slight concerns upon repeated regarding its waterproofing, wind resistance and the durability of the seams.
Due to the high center height, the tent had a tendency to sway in windy weather and storms.
Ayamaya Pop Up Tent
The process of setting up a tent seems like a chore to you, looking for a hassle free, easy to use option? Look no further!
This tent came with the promise of hassle-free installation, thanks to the pre-attached pole design. We found this claim to be true to the word and were highly impressed by how easy it was to set up. Very ideal for those who don't want to stay rooted to one camping spot.
The tent was fully sealed and waterproof and held its ground in the wind.
We found that it handled both heavy rain and stormy weather pretty well.
It also allowed for easy entry and exit and it seemed like the main idea behind this tent was the ease of use; well done Amaya.
One downside we found was that the tent was small, only accommodating 4 people or 5 at best.
Storage was also an issue due to its low capacity. Also, for a small tent, this one was surprisingly heavy.
Taking the tent down was just a bit tricky at first, but with a little practice, we were able to get the tent twisted and put away easily.
It definitely took much less time and space than the other tents on this list
We'd recommend the Ayamaya Pop-Up tent for anyone who frequently changes camping sites, is looking for ease of use in their tents, and of course, wants a tent that can withstand heavy rain.
Clostnature Backpacking Tent
Built for those in a hurry.
The highlight of this simple, yet highly impressive, fully waterproof tent was how quick it was to set up.
A pleasant surprise from the other options on this list especially when we factored in its weight and how well it could keep water out even under heavy rain.
Other impressive features we came across were the completely sealed seams and bathtub floor; there were no instances where water seeped into the tent when fully sealed. The tent was also very rugged and withstood strong winds pretty well.
The only issue we had with the tent was its limited space.
It could only accommodate two people and even then, in some instances, it gave an air of suffocation.
That doesn't take away from the other impressive features of this tent.
If quick and easy setting up is your priority and you don't mind the limited space, then the Clostnature Backpacking Tent is the one for you.
Moko Family Tent
Storage space and all-season functionality; what more to ask for?
This highly durable and spacious tent was a particular favorite of ours, mainly because of the storage space it offered. Though it could only accommodate 4 people at best, there was ample room for ventilation and storage. It hardly felt like we were inside a polyethylene fabric bag.
The tent was advertised as being functional in all seasons, so we put that to the test; and found the claim to be true. It did well against wind, rain, and even snow. The tent even featured windows which were an added plus- we could appreciate the scenic views around us at all times.
A couple of things it had going against it were its inconvenience to set up and carry, and its fairly small sleeping space. The tent was too heavy to carry around on foot and took quite a bit of time to set up. With the capacity and breathability it gave, we were surprised by the sleeping space it offered.
If you're willing to look past that, or you want your tent to be durable and reliable in all weather conditions, especially heavy rain, with ample storage; then the Moko Family Tent is a highly recommended option.
Kelty Salida 1
Fret not solo venturers, the Kelty Salida will cater to all of your needs.
Though it was advertised with a capacity of two people, this option specialized for solo campers, and gave ample storage for that matter.
The sleeping area, storage, and ventilation were all top notch. The size was small too which made it a good choice to carry on foot. A disclaimer though, the tent was not as light as we thought it would be.
The sealed seams did their job well in keeping rain water out at all times; whether light rain or torrential.
The set-up time was impressive too thanks to the color-coded clips it came with; we instantly knew the place where each clip belonged.
All in all, each feature in the Kelty Salida 1 was tailored to meet the requirements of a solo camper.
One thing we noticed though, was the small center height which taller individuals might not appreciate all that much.
As mentioned earlier, the tent was heavier than expected too which was the only downside we could find in its claim of being solo-camper friendly.
A lighter tent would've been much appreciated.
Eureka Copper Canyon 8
Looking for maximum livability and value? Enter Eureka Copper Canyon 8.
A highly impressive option that very narrowly missed out on our top spot. This tent was fit for 7 to 8 people and had a long list of things going for it.
The most impressive being the comfort and livability it gave; we hardly felt like we were camped out in the middle of nowhere.
It was durable, easy to transport and gave enough storage for 8 people.
The ruggedness was particularly put to the test under stormy weather and it faired pretty well.
The bathtub styled floor did not let water seep into the tent when we camped on wet surfaces; a feature we appreciated very much might we add.
The couple of things that we didn't like, were its lack of vestibules and the tendency to sway under strong winds.
To sum it up, the Eureka Copper Canyon 8 has many impressive features that make it probably the best value for money any tent on this list has to offer. Both this option and the one that follows are excellent options, you can safely pick either of them depending on your budget and preference.
Big Agnes Copper Spur HV UL
The best waterproof tent that money can buy you; the Big Agnes was the standout!
Simply put, this tent had everything you would want in a tent. Fully waterproof, with the insides being as dry as a desert even under heavy rain. We were impressed particularly by the build quality; it was strong and durable, yet lightweight and easy to carry.
It was fully waterproof, sealed all the way around and stood its ground in all kinds of rain. Another feature we liked was the storage capacity. It accommodated 2 people and gave ample storage and space accordingly.
It also featured 2 vestibules for additional storage, a feature its main competitor the Eureka Canyon, lacked. We were able to convert the vestibules into awnings, when the weather allowed, for added comfort and relaxation.
With premium materials and experience comes a premium price tag, so you can expect this option to be a bit heavy on the pockets. One other downside we noticed, which frankly comes down to nitpicking, was the relatively low center height.
That did provide some extra stability under strong winds however.
If you're willing to bend the budget and spend on a premium quality waterproof tent, that gives the best experience any tent has to offer, then we vouch for this tent.
Final Thoughts
The list we prepared for you was the result of subjecting at least twenty tests to extensive use. Each of the tents in this list was fit to use under heavy rain though our top two delivered waterproofing that wasn't just better, but lasted longer too. Each tent has features that cater to a specific use case scenario and you can choose either of them based on your budget and preference.
While being all of them waterproof even for heavy rain, Ayamaya Pop Up was Easy to set up. Clostnature was quicker to set up  and the Moko Family Tent was very spacious.
Our Top picks still are: The Big Agnes Copper Spur HV UL and Eureka Copper Canyon 8.
Both these tents delivered something more than your typical waterproofing and camping experience; extra comfort and relaxation.
We can safely vouch for both these options, though the final decision has a lot to with how much you're willing to spend.