After our research, we have compiled all the pros and cons of every single shampoo on our list of shampoos for dry, frizzy hair. But, in order to make a wise decision, let's understand why our hair gets so dried out before we get into the details.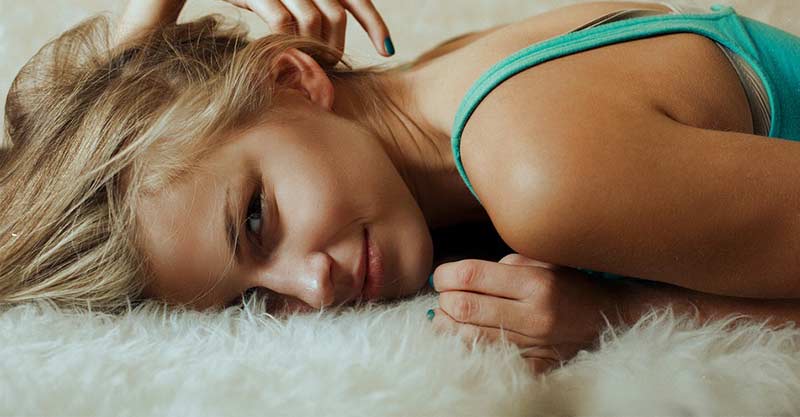 Over-washing can deprive your hair of all the essential oils and nutrition by over-cleaning the scalp.
You need to find out the shampoo that is meant for your hair type. For that, you need to know what is your hair type. Only then can you maintain a healthy look of your hair. The inappropriate shampoo will do more harm than good so, stay aware of that.
Applying heat on your hair is just another reason for your hair getting extremely dry.
Avoid using heat on your hair as it is the biggest enemy of all.
Just as your skin gets dried up and flaky during winter. Similarly, your scalp also loses all its moisture. This drying up of the scalp is linked to dry and rough hair.
Dove Nutritive Solutions:
If you have dull, shineless, and tight fibrotic hair strands, then this product is for you.  Don't use this if you have an oily scalp or if you suffer skin conditions like eczema.
Dove has served us for over many years now. It has always proved to be a professional choice not only in skincare but also in hair care.
Keeping your hair problems in view, this brand has formulated the product to help you gain that soft, shiny, radiant, and vibrant hair you've always desired.
The daily wear and tear our hair go through, leave it dry and brittle. Dove Nutritive Solutions is so formulated to help your hair regain all its bounce, shine, and texture. It has a Pro- MoistureComplex formula.
After the first wash, your hair will show a good improvement in its texture. Even after the very first wash with Dove Nutritive Solutions, Shampoo, and Conditioner, you will observe a 5X increase in your hair smoothness and shine.
Getting manageable hair after only one wash is not something that every shampoo will offer, this makes this Dove Nutritive Solutions Range a very healthy one to opt for.
Its formula forms a protective shield around your hair to ensure prevention against the daily damage. It is mild enough for everyday use by both men and women.
The perfume of this product may irritate your skin and eyes. Also, make sure that you buy the real product as fake replicas to this product are available and can be very harmful to your hair.
It is effortless to use. Just apply a generous amount of shampoo to your wet hair and massage it into fine leather. Work it through your roots and squeeze the shampoo through the lengths ofyour hair. Later, rinse thoroughly.
After the shampoo, you need to apply a liberal amount of conditioner through the lengths of your strands. Leave it for some time and then rinse off with water.
Pantene:
Packed with Argan and Avocado oils and Pro-Vitamins, this hair range not only provides nourishment and food to your hair but also helps it to fight humidity, frizz, dryness, and tangles leaving behind smooth, shiny, manageable, and healthy-looking hair.
If you have Dry and Kinky hair, you must consider using sulfate-free products. As if your hair is already dry, shampoo with sulfates will deprive it by removing even the essential moisture and sebum from the scalp.
Keeping this in view, Pantene has formulated a hair care kit which is packed with essential hair oils and has no sulfates.
As it is a sulfate-free product, so it has a very gentle cleansing action on the hair. It will cleanse the scalp without depriving it of its essential nutrients.
Smooth & Sleek Conditioner is sulfate-free. However, Smooth & Sleek Shampoo contains Sodium Lauryl Sulfate and Sodium Laureth Sulfate. This formulation is not harsh on hair. Still, if you have dehydrated and rough hair, then this product is not the right deal for you.
Therefore, it is safe to use on chemically treated or colored hair as it is very gentle. With its powerful Pro-V Formula, your hair strands get proper hydration, nourishment, and shine. This will leave you with beautiful, lustrous sleek and shiny hair.
It is simple to use Apply a generous amount on your wet hair. Work the product into your roots and massage gently. Rinse it off and apply conditioner from the same range on the lengths of your hair. Keep it in for 5-10 minutes and then rinse it off with water.
If you are allergic to aromas and perfumes, then avoid this product. Because, although it works fine, yet the fragrance is strong and overpowering. You can take a look at Tresemme shampoo on our list if you want a mild aroma.
If you have sensitive skin, and dry cringy hair, we suggest you take a look at the head and shoulders shampoo in our list.
TRESemmé Moisturizing Shampoo:
Tressemé is well known for its extensive and highly effective hair product range. It is a moisturizing shampoo enriched with Biotin and Vitamin E, promising to make your hair radiant, soft, and healthy-looking.
This Salon Quality product claims to lock moisture in your hair, combat dryness and delivers optimum moisture to all the targeted areas.
For best results, you need to use it with other products of the same range, like the moisture-rich conditioner.
Another good thing about this product is that it is a mild, gentle and light weighed product, so you can use it daily to convert your dry, rough and damaged hair into silky, smooth and vibrant hair.
Not only will it seal in the moisture but will also seal in all your lost shine.
This product is equally practical and useful for men and women.
According to experts, you should take a liberal amount of shampoo and work it into a beautiful leather. Massage it into the roots of your hair and squeeze it till the tips. Then rinse off with water. After shampoo, applying conditioner will ensure the best results and ultra softened hair.
Sodium Laureth Sulfate delivers maximum cleanliness with a very mild and gentle effect. The fragrance of this shampoo is also great.
Head and Shoulders Shampoo and Conditioner:
It is free of parabens and dyes thus will keep a closer check on your hair dryness. Moreover, it has been formulated to keep your hair dandruff free and your scalp healthy enough to fight all that is unhealthy.
Curly hair tends to dry out very quickly. If you have curly or coiled hair, this product is meant for you.
When our scalp dries out, we are more prone to dandruff and other unhealthy scalp conditions.
This range from head and shoulders will not only moisturize your hair and scalp but will also ensure that you have a healthy scalp.
Seborrheic dermatitis, and other irritable and itchy scalp conditions associated with dandruff and dryness can be cured using this range of Head and Shoulders. This shampoo and conditioner system is safe to use on curly, textured, color-treated hair.
This product has shown remarkable results on 9 out of 10 people. So, we suggest to use it if you have extreme dryness of hair, messy curls, and a dandruff prone scalp.
Like all other shampoos, you need to massage the shampoo in your scalp and squeeze it down the lengths of your hair. Rinse the shampoo off and apply a generous amount of conditioner. Work it through your hair lengths and leave it for approx 5-15 minutes. Rinse it off.
It is enriched with valuable oils, i.e., almond oil, tea tree oil, lemon extract, and peppermint all that ensures healthy, beautiful hair.
Moreover, it comes in a variety of scents and formulas. Free of parabens, sulfates, and dyes are simply the best choice for Kinky, Dry, and Damaged Hair.
Kenra Moisturizing Shampoo/Conditioner:
It requires good composition and moisture-balancing for a product to work on dry, brittle hair.
Kenra Moisturizing Shampoo/Conditioner allows you to get soft and manageable hair.
You need to be aware of fake products of this range. The real deal is not at all harsh smelling or watery. So, do make sure you buy a genuine product. Only then can you hope for exceptional results.
It increases the manageability by over 70% and balances the pH of hair, sebum, and scalp, thus restoring and locking moisture in your hair.
Both men and women can use it. It is a highly recommended product by the hairstylists.
This can indeed be the best choice to restore your confidence in your hair.
It is effortless to use. Just apply a generous amount to your hair and rinse it to leather. It has very creamy in texture and has a lovely tropical scent.
Summing Up:
Your hair requires as much care as your skin and nails, so don't ever compromise with products or hair care routines that you use and follow, respectively.
This article about the best products for dry, frizzy hair will give you a clear idea of what your hair demands.
We are mentioning some points to keep in mind when buying a product for dry hair so that you never end up buying the wrong product.
Don't just pick any random shampoo for your hair. Keep in mind that all shampoos are formulated with specific hair goals, and your hair needs the one that suits it.
If you are a dry and Kinky hair person, look for hair products that label hydration, moisture, softness, and shine.
Make sure that your product is free of the following:
Sulfates
Parabens
Fragrance
Triclosan
Polyethene Glycol.
It is essential to cleanse your scalp once a week thoroughly. This will help you get rid of the product build-up or dry and dead skin on your scalp. For this, you can opt for a diluted solution of Apple Cider Vinegar or a Clarifying shampoo only once a week.
If you ROcolouredred hair, you must choose a shampoo that is specifically designed for color-treated hair.
Always opt for mild shampoos that can be used daily.
You can also use no shampoo and only conditioner method once a week to ensure more
hydration and moisture. This is also known as Co-Washing.