It is time for you to stop moping around and let this robot start mopping. We have lined up some of the best robotic wet floor cleaners that will free you of any worries about spilling stuff on your floor. The Braava series have earned some fascinating response as a result of which we tried and tested them out for you and in this post, you will find a complete buying guide with all the details you need to know before buying yourself a handy best robotic wet floor cleaner that suits your preferences.
Our selection process
We made sure that the products we choose had the three key elements present in them which were:
Durability
Ease of use
Battery life
1- Braava 380t Robot Mop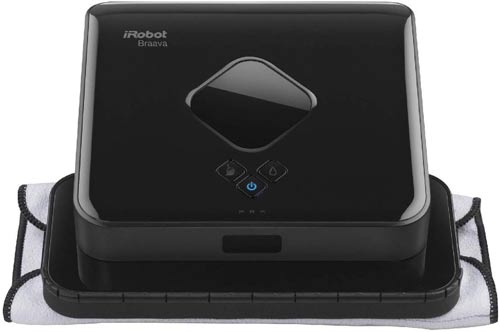 According to our synthesis, iRobot Braava 380t Robot Mop is the best robotic wet floor cleaner out in the market. It saves you a grand portion of your day cleaning and releases you of any worries that come with it.
Just like the Roomba and Samsung robotic vacuum cleaners, he iRobot Braava 380 is an ingeniously designed robot cleaner that mops and dust your floor saving you the trouble of doing it every day. The Braava 380t is super smooth when it comes to cleaning and without disturbing you or your pet the Braava 380t sweeps everything away. The product is black and has a stylish finish. It is square in shape and is of a perfect size to fit in any nook and crannies.
What is the best mop for hardwood floors?
The product landed as our top choice for many reasons. It comes from a company that is known for making some mean vacuum cleaners and now it has rebranded to give us the best mop for hardwood floors.
Although the Braava 380t is high in price its patent features and quality make up for it. After assessing the product through various test runs we saw that the Braava 380t has sufficient power to clean sticky substances.
Its ability to maneuver into nook and crannies is another plus and the reason everybody is gushing about this product. It can turn 360 degrees and sweep against edges of walls which makes it worth buying.
Moreover, the product is super quiet and pet-friendly too. It comes with two modes the sweeper mode and the mopping pad.
The maintenance of the product is also pretty cheap which is cool for a long-term investment. The iRobot provides a one year warranty whereas a 30-day return period from Amazon.
Why do we like it?
Smart Navigation System
The North Star navigation cube makes sure that the room gets evenly cleaned up by making sure where the Braava has been and where it hasn't.
Simple
The Braava 380t is simple to you use as it can get. Just attach the cloth and press the button for the desired mode and the rest is up to the iRobot Braava 380t cleaner. After it's done cleaning up it returns back to its initial position.
Clean
Braava is able to clean all types of hard floors. May it be vinyl, tile or even laminate it works great on all of them. You can even choose between the two wet and dry modes for the basic surface cleaning that you require.
Style
The unit is smartly designed that is aesthetically pleasing. It comes in a black outer that gives it a professional look. The blue button lights make it all the more pleasing.
Control
The top of the unit holds three buttons that summarize the overall use of the iRobot. A sensor receiver is also built on top which receives signals from the North Star navigation system used by the Braava that helps remember its path.
The three buttons are for the following functions:
Power button
Dry cleaning mode
Damp cleaning mode
Dry mode
The dry mode is the sweeping mode where the iRobot sweeps your entire space. No water or cleaning solutions are used in this mode.
Wet mode
The damp mode or the wet mode uses North Star cube for navigation and mops your house. Water can be filled into the reservoir which helps keep the pad moist as the Braava 380t cleans up the floors.
What accessories come with it?
North Star Navigation Cube: A small block that makes ensures even cleaning of the room.
Charging station: allows the unit to charge before cleaning.
Multi-Purpose Cleaning Pad: magnetic cleaning pads that attach to the bottom of the robot for easier cleaning cloth attachment.
Pro-Cleaner Cleaning Pad: damp mop and wet mop cleaning pad that magnetically attaches to the bottom of the Braava 380t.
Dry Cleaning Cloth: A dry cleaning cloth; only to be used dry and can be washed and reused several times.
Wet Cleaning Cloth: A wet cleaning cloth; should be used for damp and wet mopping and can be washed and reused.
Who is it for?
The combination of an advanced navigation system along with smart cleaning processes attracts a wide variety of users. We recommend Braava 380t for anyone looking to minimize their chores, or looking for a mop and sweeper in one concept or just are futuristic in general. Especially if you have been facing trouble looking for a maid or simply don't have time to clean up due to long working hours this braava is the solution you are looking for.
Pros. & Cons.
PROS:
The 380t has a long battery run time of up to 210 minutes while in sweeping mode and 150 minutes in mopping mode
This robot mop is compatible with third-party microfiber pads and disposable cleaning pads.
CONS:
The Braava 380t struggles with large quantities of liquid.
This robot mop is on the higher end of prices for mops.
2- ILIFE V5s Pro Best Robotic Wet Floor Cleaner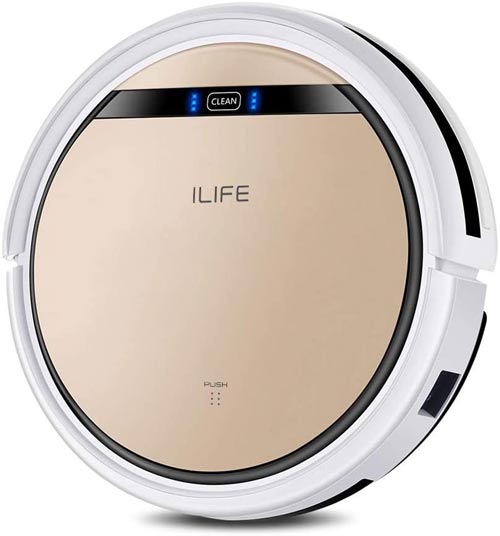 ILife V5s pro is another hybrid cleaner that is here to make your life easier. It's a beautiful looking robot that not only mops and sweep but can vacuum too. It is beautifully designed for hardwood floors and comes with an anti-bumping sensor. Its rounder, a lot more powerful and now has a longer runtime than the ILIFE V5 pro.
Why ILIFE V5s Pro is 2nd on our list?
When compared to the Braava 380t we saw that the iLife V5s pro has a few weak points that may not be found in the Braava 380t series.
We saw that the iLife V5s pro gets stuck in places and requires you to remove things that are prone to stop the ILifes V5 Pros way due to which the ILife struggles until it finally runs out of battery.
The scheduled clean option is unreliable too. Half the time even when fully charged it fails to turn on.
The dirt bin is a tad bit too small for the cleaner due to which it fills up pretty quick and fails to pick up any more dirt.
The navigation system is a bit faulty as well as a result of which the iLIfe V5s pro cleaner repeats cleaning some area multiple times while leaving the other half of the room dirty.
However…
It still holds some distinct features that are missing in the iRobot Braava 380t.
Three cleaning modes – automatic cleaning, spot cleaning, edge cleaning
Has two-in-one functionality – vacuum and wet/dry mop
New brushless motor improves longevity
Great for most bare floor surfaces – hardwood, ceramic tile, cement, etc.
Comes with an IR remote
All of these features make sure that the iLife V5s pro is worth purchasing and the best wet mop for hard floors.
Interested in commercial window cleaning robots?
Why do we like it?
Damp Mopping
Ilife V5s Pro is customized for hard floors. The in-built water tank keeps the mop damp to deep clean any dirt or grime off the floors and maintain a crystal clear gleaming floor. Make sure to clean the mop pad after every use for better performance
Dry Vacuuming Sweeping
The ILIfe robot cleaner comes with a dust bin installed inside it. Just remove the mop pad and start vacuuming without any worries. The high power mechanism allows it to pick up any dirt, debris or pet fur on the floor. The Edge cleaning function ensures that no dirt is left behind and the edges of the wall remain clean. The Ilife pro has dimensions such that it can fit under beds and any type of furniture giving a much thorough cleaning.
4 cleaning modes
The ILIfe V5s is the best robot for hardwood floors and these four cleaning modes are the reason why. The cleaning robot meets you requirements through a range of cleaning modes. There is an Auto-clean mode, spot clean mode, edge clean mode and finally scheduled clean.
Smart features
Front Obstacle Sensor with TPU bumper reduces shock and keeps your furniture secure.
The robot has built-in sensors that keep it from falling off the stairs.
Automatically docks itself to the charging station for recharge
Barrier-cross for the height of 10mm max, while climbing for 15-degree max
Extra Tips
Running the robot cleaner without the mop holder will minimize its chances of getting stuck
Remove any electronic cords, bar chair, pedestal fan before cleaning.
Take the water reservoir out before charging.
Don't use mopping mode on scheduled clean
Empty dust bin and clean filter after each use.
Replace a new filter every month.
What's inside the box?
V5S Pro robot with dirt bin inside
 Charging dock and plug (it is auto volt
300ml water tank
Two extra side brushes
Two extra HEPA filters
Remote (with two AAA batteries)
Mop bracket (with microfiber pad)
Extra pad
User manual and quick start guide
3 improvements from V5s to V5s pro
Advanced i-dropping technology makes mopping more efficient and reliable.
Larger road rover wheels with self-rescue technology freedom goes over uneven flooring.
Enhanced battery pack extends V5s pro' running time up to 140 minutes.
Who is it for?
The Ilife V5s pro is for a wide variety of users looking to maintain gleaming floors. If you are working and don't have time to clean this is the perfect secretary for you to maintain your home even when you are away. This robot cleaner best works in smaller settings so if you're someone who lives in an apartment this cleaner is the one.
Pros. & Cons.
PROS:
Improved battery improves run time
Brushless motor will last longer since it's more efficient
Water tank now has a valve that regulates water flow
Decent suction that is more than enough for bare floor
No motorized brush means there's one less part to maintain
Low profile design will be able to reach under a lot of furniture
Offers more value for money compared to the V5S (if you buy it in Amazon)
CONS:
Lacks a motorized brush so it won't be able to clean carpet
Small dirt bin
Does not have the true moping motion found in the iRobot Braava
3- iRobot Braava jet 240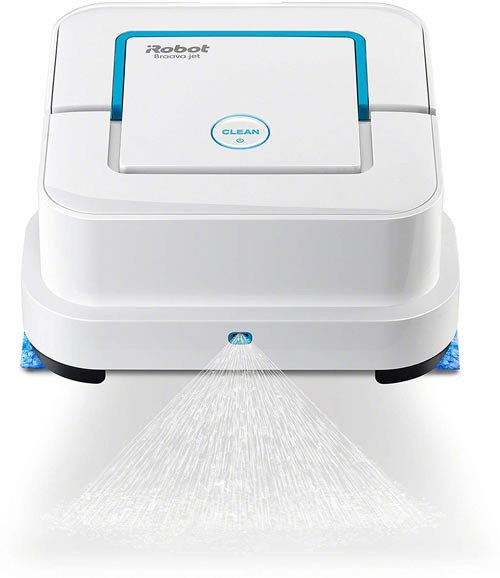 The iRobot Braava jet 240 ensures fresh clean floors for you to walk barefoot without any guilt. It is extremely compact and a little smaller than the other two robot-cleaners we reviewed that is to make it fit into nooks and crannies. It runs using the iAdapt2.0 Navigation system. It sweeps and cleans by reaching into hard to reach places giving you a neat and clean room without putting much effort into it. The design was specially made for kitchens and bathrooms as quoted by the manufacturers.
Why do we like it?
Cleans all hard floor types
The Braava jet robot mop is smartly designed to mop and sweep all types of hardwood floors including tile and stone.
Tackles dirt and stains
The precision jet spray uses the formula to ease up the dirt and stains and takes care of any furniture nearby before doing so. This jet spray works best when used in wet mopping and damp sweeping modes
Gently scrubs floors
The additional vibrating effect scrubs the dirt and stains off without excessive movements. This feature must also be used in wet mopping and damp sweeping mode.
Navigates hard-to-reach places
The Braava jet mops and sweeps kitchens and bathrooms in the most efficient way possible using an organized cleaning system. The square shape and sturdy design helps it get under and around the toilets and corners and even below the cabinets.
Attach a pad and just press Clean
The Braava jet automatically adjusts itself to select the appropriate cleaning method based on the pad type. Simply attach the cleaning pad according to your preference and press clean on the robot. A range of cleaning options includes wet mopping, damp sweeping and dry sweeping pads.
Never touch the dirt
This is the Eject button all the germophobes have been waiting for. With it you'll never have to touch dirt again. With a push of a button discards the Braava jet cleaning pad without ever having to touch it. Just press the easy pad eject button while aiming at the trash can.
Goes only where you want it to
You can create boundaries for your Braava Jet and limit its movement to areas only you want it to move in using the built-in virtual wall mod.
Cleans with care
Braava Jet remembers its obstacles and avoids them in the future by slowing down along furniture and walls. It also avoids stairs and riding up on rugs.
Who is it for?
If you have been on the fence or have never considered getting a robot cleaning pal, this would be a great starting point. This will either make you a believer or completely condemn the idea of letting a robot maintain your home.
Pros. & Cons.
PROS:
Works as advertised. Appropriate cleaning according to the mode used
Super quiet. Works without disturbing you in the damp mode.
Super Long Battery Life
Comes with refill cleanable pads
CONS:
Can't use your own cleaning solutions

The pathing algorithm has a few glitches that leave it confused.

If it bumps into things too many times it will auto-reset its path and start from scratch.

The cleaning pads get twisted halfway through the process affecting the edge cleaning process
To Wrap it up
There are a lot of robotic home cleaners to choose from. The Braava 380t can provide excellent cleaning services for day to day cleaning but still going to require deep cleaning once a month. It may not be a hundred percent replacement but it is known to ease out your day to day chores.
If your home lacks carpets and barefoot is your means of transport then Ilife V5s pro deserves a chance at providing you with the satisfaction. It has similar functionalities as Braava 380t or even more. The scheduling function is an amazing feature which is why it's a must-try.
As I stated earlier, if you have been on the fence or have never considered getting a robot cleaning pal, this would be a great starting point. This will either make you a believer or completely condemn the idea of letting a robot maintain your home. But after spending a week with this guy so far, he has been fantastic.
See our post on robotic lawn mowers.