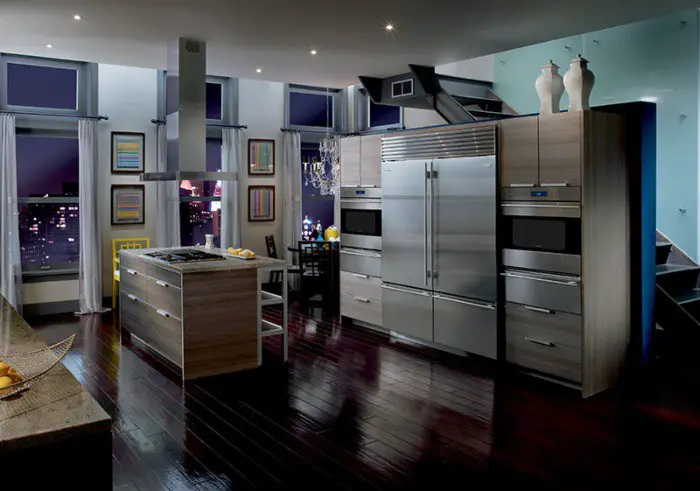 People seeking refrigerators for their garage usually fall into 2 groups. The first group seeks a refrigerator which operates rightly in the extreme temperature changes of a non-insulated garage.
It should not heat up in the summer or stop freezing items in the winter. The second group considers workspace.
They seek a model which blends well into their work environment. It is durable, rugged and flexible for standing up to the wear and tear most things in the garage undergo.
There are those who fall into both groups. Here, I mention 3 refrigerators which satisfy people in the first, second and both groups.
Please keep in mind that this short yet informative article is a culmination of very comprehensive and detailed research on the best garage freezers currently available in the market.
Summit FF1511SS – Stainless Steel Top Freezer Refrigerator
This model has a roomy but small design which was originally meant for small apartments but its design coupled with its capability for handling a cooler environment make it very suitable for a crowded garage.
Its manual claims you can install it in temperatures as low as 23ºF.
It features separate thermostats for the sections of freezer and refrigerator controlled by a panel on its wall.
Users think it is actually very spacious considering its size.
It has a big vegetable drawer, adjustable shelves, tall door shelves, frost-free function, and a reversible door.
Special features include LED lighting, a sealed back for easier cleaning, an open-door alarm, and vacation setting which turn-offs some features when you are away.
Frigidaire FFRU17B2QW Freezerless Refrigerator
As the title says, this model lacks a freezer which actually gives it some advantages over conventional models.
Firstly, without a freezer, additional space is available for things you want to be refrigerated rather than frozen.
With five shelves and five racks for jars, bottles and other items, this model is ideal to store your additional things out of the way.
Furthermore, there is no need to have separate thermostats. It can be optimized for functioning in a bigger temperature range which is what makes it very suitable for garage.
This characteristic ensures suitable refrigerator temperature even if garage temperature is as cold as 10°F or as hot as 110°F.
There are users saying that its door seal can be sometimes hard to open as a result of the vacuum produced by the difference in temperatures between it and the garage or room.
However, this is not something crucial or too pivotal in deciding whether to opt for it or not. One can easily get used to applying slightly more force while opening.
Gladiator Garage Refrigerator (single-door freezer-less)
This new design by Whirlpool Gladiator Garageworks removes the freezer which is a separate unit.
This expands its space for storage allowing other functions in this sleek black model.
The first quality which impresses you is its pedal at each unit's bottom. Are your hands full with too many things in them?
Just reach the fridge, step on the pedal and the door will open up for you to put all your stuff in it.
Its design is equally robust and heavy-duty as its previous model which makes it suitable for any garage.
Its wheels at its bottom permit you to move it around with full convenience.
With a width of 30 inches, this refrigerator boasts a storage space of 17.8 cu. ft. with adjustable thick glass shelves which handle the load of 8 twelve-pack of cans.
Slide-out heavy-gauge wire baskets make it possible to store items which are hard to store on the shelves of the freezer.
Kindly note that this model isn't designed for preserving food at sub-freezing temperatures.
As mentioned earlier, this new model of the same company separates the freezer and refrigerator into 2 distinct units. When putting together, these 2 completely black applications give a very striking look to your garage.
It looks cool and does stand out. Its freezer and refrigerator are sold separately but some retailers will give you a discount if you happen to buy both together.

Read some cool tips for keeping a garage refrigerator.
Conclusion
Thus, readers must have noticed that workspace, temperature as well as functionality are the factors I considered while shortlisting the top refrigerators for your garage.
But I hope that I have now been successful in at least making well-informed about how you can balance out these different aspects before you select and purchase a specific fridge.
I am very sure that these 3 choices will grant readers a nice beginning for being able to find the model which is most suitable for your own garage and conditions.
If you happen to have some questions or recommendations for other models for a garage, don't hesitate at all to share it with us.
We look forward to generating your interest in this topic.