Whether it's your driveway or your swimming pool, motion sensor lights are a great way to provide hands-free illumination. You'll be glad to know that in addition to providing illumination, these lights are also great for security purposes when the right mode is selected. They'll light up detecting a movement so you'll become aware that someone is there on your porch or wherever when they shouldn't be.
Unlike the other lights, motion sensor lights require no touch which makes them elderly, child, and disability friendly. They are totally hassle-free in the sense that once you've set them up, there's no need to worry any further, you don't need to push any buttons and stuff.
These lights conserve power by shutting off automatically which in the long run makes a huge difference in your electricity bill. They also allow you to feel safer as they activate if a burglar makes an unexpected appearance.
They are also better than other lighting options like floodlights in a way that they can be fitted at just the desired spots where other lights can't be fitted.
Our top 5 Motion Sensor Lights that we've picked for you
When choosing the best motion sensor lights for your home, there are many factors to consider before making a purchase.
You want to think about the design, brightness, light range, reactiveness, and many other things. Here's a list of our top picks if you are looking to invest in a long-lasting product, based on their illumination, their battery consumption, their functionality, the added services, and other different features and aspects explained.
LITOM 24 LED Outdoor Motion Sensor SOLAR
Name a thing that you desire in a motion sensor light and you'll find it in the LITOM 24. From great battery life to an LED system that lightens ups pretty well, these lights got everything.
LIGHT
The LITOM 24 LED Outdoor motion sensor solar light is our number 1 pick for you. Its great light comes in a beautiful design, is solar-powered, can be installed just anywhere, and has other magnificent features too.
LITOM 24s Design:
LITOM 24 comes in a very attractive design. From the design, it looks nothing like a motion sensor light in fact looks like a fancy glass decoration piece attached to your wall.
The shape and placement of LEDs are designed to work best when placed at a higher level so it will provide a better well spread light.
As far as the size is concerned, they come in a 6 by 4 inches which are neither small nor big and are just the perfect size one wants a motion sensor light to have.
The motion sensor with LITOM 24:
The motion sensor is located between the LEDs. It's placed at an angle of about 120 degrees so it's not a straight 180 but it is quite wide and gives you a wide range of motion detection.
Lights:
It has 24 lights all across and all of them are LEDs that are bright enough to lighten up the things very well.
Places where it can be installed:
There are so many places where it can be installed, you can install it on your wall, deck, fence, porch, work shed, or even in your house. It's also heatproof and waterproof so you really don't need to worry about anything here.
The Battery Timing:
The battery time it offers you after one time full charge of around 7-8 hours of exposure to the sunlight varies from mode to mode.
Mode 1 lasts for around 4 to 6 hours and the other modes rewiring more power make the battery drain even faster.
Lumens:
The lumens aren't mentioned by the manufacturers but this light is surely super bright.
LITOM's Sensor:
The LITOM 24 comes with a 120-degree angle detection. This consents up to a distance between 10 and 26 feet.
Lighting Modes:
The slide switch on the back lets you switch between three different modes available. In mode 1 is" The medium-light mode", this changes during the day and then turns too medium-light in the dark.
The 2nd mode is "The Dim Light Sensor Mode". The 2nd mode is designed to work at night, it provides you a dim light at the night which then turns into a bright light when motion is detected. On the detection of motion, it will stay bright until motion is detected and will turn to dim again after 20 seconds of motion inactivity.
The third mode is "The sensor mode". This mode doesn't emit any light at all unless the motion is detected and then it turns to bright for a good 20 seconds and goes out when there's no more motion.
In the box:
In the package, you will find a lot of screws, wall anchors, a manual, and the light itself.
LEONLITE 2 head LED Motion Sensor Flood Light:
Our second pick comes with a two-headed fixture that lets you angle the lights in whatever direction you choose and the ultra-bright led bulbs will ensure you can always see what's going on in the backyard.
Modes:
This light also comes with 3 operation modes, manual, auto and dusk to dawn. If you want it to act as a conventional security light then you should use the auto mode. In the auto mode, the sensors detect motion to turn on the light and unlike the LITOM 24, here you also get the option of adjusting the time duration of the illumination.
Waterproof:
The LEONLITE 2 head LED monitor light also has an IP65 waterproof rating. It can withstand harsh weather conditions.
Lumens:
LEONLITE comes with 1800 lumens. In addition to that, the LED bulbs last much longer than the standard bulbs that will save you money on energy costs.
Sensor:
The sensor with this light can detect motion up to 70 feet away making it quite reactive.
Dual Headed for lighting up selected areas:
The duo LED heads on the light make it great for lighting up a selected area of your yard and if the two heads aren't enough, the company also gives you another option in the form of a three-headed variant.
You'll need a corded wire:
Unlike the LITOM 24, these are 20-watt corded electric lights and will need electricity to operate that might be a negative point but we can say that particular option is an outstanding feature provided by the LITOM 24.
Warranty:
LEONLITE gives you a 5-year money-back warranty in case you face any issues.  The customer service center also provides you very friendly service.
Mr Beams MB 360 Wireless LED spotlight
Whether you are looking to enhance some security or add extra safety to dark entryways, MB 360 fits about anywhere. The look of this light and the specs make it a really great concept. Lets have a look at its specs and features.
Lumens:
It may be small, but the MR Beams wireless led spotlight provides up to 140 lumens of the bright LED light. Not only is it bright but it's also a pure white natural-looking light. So in addition to security, it will also make things look better.
LEDs:
This light also comes with an LED system which means that the batteries will last way longer even while producing a much brighter light than other traditional sets of light bulbs.
Sensors:
This light comes with two sensors, a motion sensor, and a light sensor. The motion sensor as it's supposed to, detects the movements up to 25 feet away. The box though claims the sensor to work from 25 feet, we found out that we even triggered it from much further back like a 35 or 40 feet. So the number given is more of a minimum than a maximum.
The light sensor is basically an energy-saving feature, because of this feature, the light only activates when it's dark outside. So even if you walk in front of this light in the daylight it won't turn on because it can sense that its day time.
Exceptionally Cheap:
This durable motion-detecting spotlight is so affordable, you may want to buy multiple for all your outdoor lighting needs. The company also provides you a discount on buying a pack of four.
Waterproof:
The company claims their lights to be waterproof, but we found corrosion inside the sensors due to moisture. So this is something to consider if you lie in a moist climate.
Battery:
Unlike the other motion sensor lights, this one is a battery-powered device that is bit of a downside. It uses 3d cells so you'll have to change them again and again. The company also recommends using the alkaline non-rechargeable batteries for better performance which then adds up for an additional cost.
Cordless:
The good thing about it is that because of its wireless, you will be able to set it up on trees or other places far from your house normally you couldn't get a light source easily.
Adjustment:
The upper part of the light is removable from the lower part and can go up and down and also comes with all these click spots, so you know how you want it to be adjusted according to your need which really is pretty cool and provides you just the desired adjustment.
Easy Installation:
While some lights are difficult to install due to their sizes, the base of this light comes off easily and all you need to do is to mount the base on the surface you want, drive the three screws in and you are good to go.
Networking:
Another great thing about this light is that if you have a setup of multiple lights, you can create networking.
So when a single light detects motion, all the others start emitting light too because of the wireless networking.
BAXIA Technology Outdoor Solar Light
The BAXIA Outdoor solar lights come with a simple design and in a relatively smaller size but are bright enough to light up your garage or yard. These lights are completely waterproof and weatherproof and have numerous other great features.
LEDs:
These lights use 0.2 Watt LEDs that save a lot of power. Each light consists of 28 LEDs each that make it bright enough to lighten up your porches and garages.
Cost-efficient:
They are cheaper than most other motion sensor lights yet are amazingly bright. You can also find a pack of four with an additional discount that makes it even cheaper.
In the box:
In the package, you get 4 anchors and screws with each light. You also get a pin with them and in case you are wandering what's that for then you'll soon figure out that there's an on-off switch whole that needs the pin.
The four screws can be used to fix the light into the wall and in case you aren't willing to use screws, it can also be attached to your wall using adhesives and will stick very well due to its lightweight.
Solar Powered:
The BAXIA lights come with 0.55-watt solar panels. Once the solar panel can't detect sunlight, the lights automatically turn on.
To save power, it automatically turns the light off after 30 seconds without the detection of any motion. Just remove the sheet on the solar plate, install the lights in a place where they can receive direct sunlight without any shelter and you are good to go
The battery on the BAXIA:
You get a 3.7V 1200mAh lithium battery with these lights. 8 hours of direct sunlight charging will help them work for around 12 hours which is pretty decent for any solar device.
A good spread of light:
The lights spread at an angle of 120 degrees and when installed at higher places ensure that all the desired area is well illuminated.
The Sensor:
These lights come with a PIR motion inductor sensor. The sensor detects motion from about 9 feet of the ground and around 17 feet away making the lights impressively efficient and economically in doing so.
Their sensor keeps on working for a long period of time and it will provide the same motion detection irrespective of the weather.
Modes:
Unfortunately, you won't get the facility to switch between modes with these BAXIA light. The lights will turn on automatically and last for 30 seconds when motion detected at night or in darkness.
Waterproof:
The BAXIA solar lights are ideally designed for outdoors as they are both waterproof and heatproof so you don't have to worry about bringing them in during severe weather.
Small in size:
With a size of 4.33×2.68×5.12, these lights are smaller in size yet bright enough to get the job done for you. These are lightweight and weigh only 6.77 ounces.
This is a great product for both home security and if your home needs exterior lighting.
MPOW 30 Led Solar Powered Light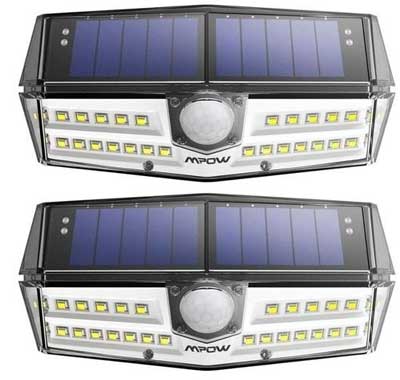 MPOW's beautiful design:
The company has really worked on its design to make this beautiful light which looks much way more beautiful than many competitors and even from its previous versions.
LEDs:
This light comes with 30 premium bright LED beads and the design makes them spread widely so you get a good outspread of light.
Modes:
This light doesn't come with modes and it will only lighten up for 20-30 seconds after detecting motion and then switch off. However, if you are more into modes then you should opt for the 24 LED version which comes with three modes.
Waterproof:
The MPOW led solar power light is not only waterproof but is also heat resistant and frost resistant which means no matter which season it is, these lights will continue to work well.
Motion sensor lights usually have operating temperatures between 40 and -8 but these lights work even under worse conditions.
Works under Water:
These lights are so highly waterproof that they can also be used under for a good 15 minutes in 0.5-meter deep water.
Coverage Area:
The bright LEDs make sure that that they provide you 270 degree light range.
Sensor:
The sensor headworks at an angle of 120 degrees detecting any person or animal or any moving thing that comes in their way. It can detect motion from 10 up to 26 feet.
In the box:
They come in a very colorful box with specs and instructions written on it. Inside the box, you will find the light itself, a packet containing some fixtures and fittings, and a user manual.
In the light, you get a solar panel on the top, the sensor in the middle, the lights pointing downwards and at the back, there's an on/off switch.
Easy Fitting:
These lights are the easiest to stick on to your wall compared to any other motion sensor light out there. They come with an additional holding hook which is very small in size and effortless to mount. The light comes on the hook very easily making the fixing part very smooth.
Cost Efficient:
They are cheap and because of being solar-powered, they are just a onetime investment that will keep on working for years without generating any sort of bills. The photovoltaic rate has the capability to achieve a 23% conversion rate to attain higher efficient charging.
These were our best Motion sensor lights for you. All of them are great lights having magnificent features, similar working yet somehow different from each other.