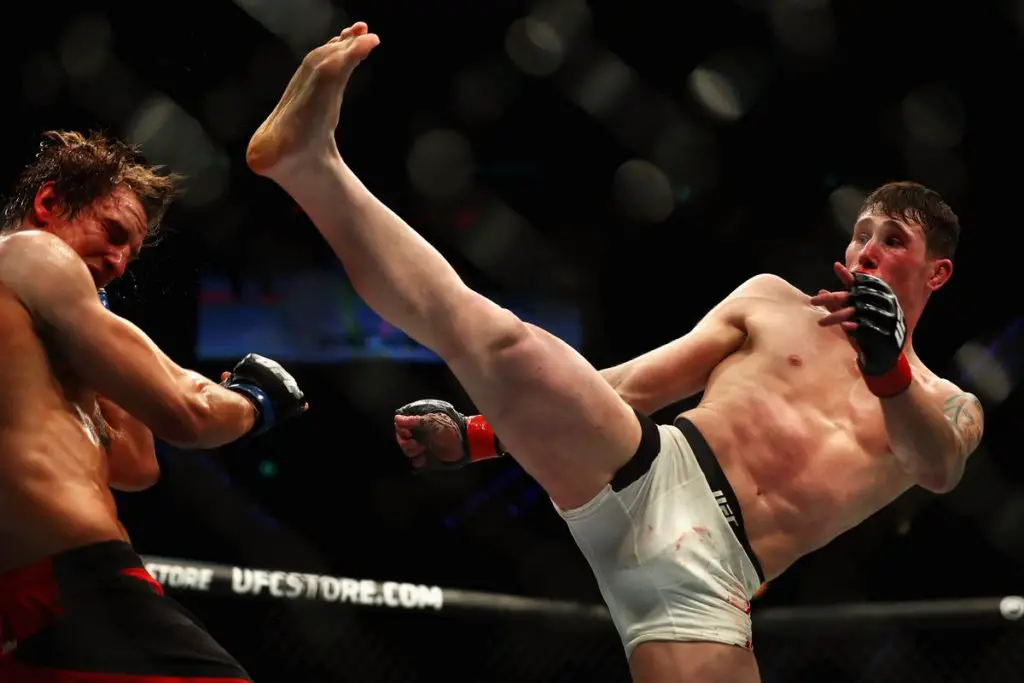 Buakaw Banchamek
Banchamek has perhaps managed to bring interest in Muay Thai on an international level more than any other fighter. His Youtube video of kicking down a banana tree has around 3 million views. His style of fighting is aggressive. He is renowned for his powerful KO punches and strong kicks. The way he constantly moves ahead makes him very exciting to watch in the ring. At 36, Buakaw's commitment to training is obvious with his brilliant physique and striking power. Technically, he is not the greatest Muay Thai fighter but his fame continues to spread. He is now not that active as far as ring appearances are concerned but remains engaged in training and promotion of his All Star Fight. No matter how you analyze him, he is undoubtedly a Muay Thai legend. That is what I call one of the best bare knuckle fighters ever.
Yodsanklai Fairtex
The Contender Asia was aired on TV stations which is how the world discovered this now popular fighter. The series featured 16 fighters with eliminating fights which gave way to the final that saw Yodsanklai emerge as victorious. He is most popular among fans for his favorite, power-packed left roundhouse kick besides his mastery of techniques in Muay Thai. His skills are very precise due to which he was nicknamed as the "Boxing Computer". In June, 2017, he said that he would retire due to getting affected with serious injuries but he made a comeback with two appearances on One Championship. A contest between him and Banchamek is what everyone wants to witness even if they are not at their peaks. Still, there is probability that the fight may materialize so we can continue to keep our fingers crossed.
Saenchai PkSaenchaimuaythaigym
Saenchai is another legend of our age. There is simply no one who fights like him; his style is completely unique. His short stature might appear as a shortcoming as far as clinching is concerned but his amazing capability of throwing down anyone who fights him is a proof of his skills. Technically, he is a genius in every aspect of Muay Thai and no wonder he does make everything look very easy during fighting. Due to his armory of quick movements, wild kicks, crazy leg sweeps and popular cartwheel kick, he is the most interesting fighter to be watched fighting. Despite having an age at which most fighters would be retired, Saenchai still fights regularly and entertains fans all across the globe. Since few years, he has been training and fighting out of Yokkao Gym, Bangkok. He contests almost solely on Yokkao and Thai Fight promotions.
Namsaknoi Yudthagarngamtorn
With a nickname of "The Emperor" for his Wai Kru Ram Muay and unspoiled career, Namsaknoi has among the best fight statistics in Muay Thai with victory in 285 out of 300 fights in an illustrious professional span. He also held a six year undefeated run at Lumpinee which is almost unimaginable in a brutally competitive sport like Muay Thai. Unfortunately, he had a row with his gym on his earnings due to which he retired returning to his hometown without any money in his bank or pocket. In an amazing twist of fate, he was hired for teaching Muay Thai at Evolve MMA Singapore in which he served for five years. He initiated his own gym at Koh Phangan but quit after two years of operating. Namsaknoi returned to Evolve MMA for a brief time afterwards joining Rattachai Gym as a trainer.
Petchboonchu FA Group
Petchboonchu is an exceptionally outstanding clinch fighter. In his career, his record stands second to none. Combined with his brutal knee strikes, he has as many as fourteen titles under his belt which make him the most decorated fighter in the history of Muay Thai. Formerly, he fought outside FA Group gym in Bangkok well known for its stress on clinching training. He is a classy Muay Khao who managed to dominate his fight with high caliber clinching as well as aggressive knee strikes. This champion took retirement from the elite circuit teaching Muay Thai at Evolve MMA Singapore in 2016-17. He was training for One Super Series when injuries made him retire permanently. He is currently working for One Championship hiring Thai fighters for promoting in Bangkok. He is sometimes still present at his previous home at FA Group gym.