As with all things made and sold, you will find that not all handheld ham radios are made the same. Luckily for you, we went through about a gazillion of these portable communicators to try and see which ones were truly the best.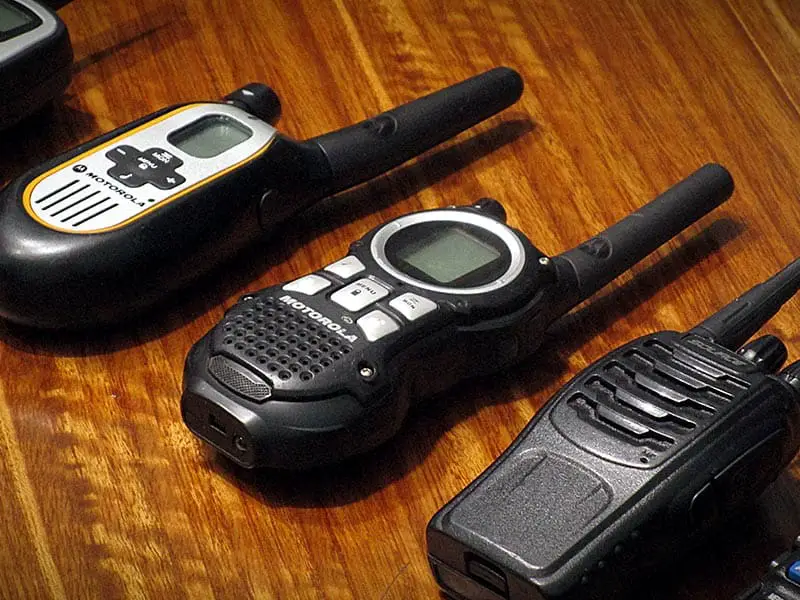 We've compiled a comprehensive list of some of the most impressive handheld ham radios the market has to offer in 2021, each with a description of what we liked, and what we didn't.
The best devices we came across were handheld ham radios by Yaesu, Anytone, Whistler, Baofeng, and Kenwood. Continue reading below to find out how we ranked them.
Of all the handheld ham radios we reviewed, we found 5 to be particularly impressive. Here's how they did:
5- Yaesu Original FT-2DR
Starting off at number 5, we had the impressive Yaesu FT-2DR. This device offered a 1.7" high-resolution screen with a backlit display, and offered 66 channels and promised excellent audio quality; but did it actually deliver?
It sure did, the immaculate sound quality compared to its price point meant that we found this handheld ham radio to be well worth its value. What we liked the most were its impressive sensitivity, especially on 2 meters and 440 MHz bands, and the fact that the option to choose from a wide range of frequencies was available.
With a smart navigation system and a built-in GPS, we could wander deep in the woods, all the while maintaining communication with our fellow-trekkers and never really losing sight of where we were.
Another feature worth mentioning is that this device was very easy to set up and the overall ease of use was something we particularly liked.
The Yaesu FT-2DR did have some issues however. The 2200mAh Li-Ion battery, although solid on paper, failed to impress us probably because of the high-resolution touch screen and backlit display. We found it could only last 2 days on a single charge and it took quite a long time to charge too, 7-8 hours on average. Additionally, through our extended use we ran into quite a few bugs; screen getting stuck when scanning for frequencies, and getting a buzzing noise on reception were some of the more annoying ones.
Overall, we found the Yaesu FT-2DR to be an impressive device, but its battery issues coupled with a few bugs cut down on its potential. Still, it can be an excellent option for those looking for an impressive display, with built-in GPS, and ofcourse premium audio quality in their handheld ham radio.
4- AnyTone AT-D868UV GPS Version II
Keeping in line with our theme of trekking, hiking, or getting lost in the woods; at number 4 we had AnyTone's popular AT-D868UV GPS Version II. This handheld ham radios had one of the most impressive spec sheets any radio has to offer; with over 10,000 talk groups, 4000 radio channels, and 150,000 contacts! Here's how the numbers actually panned out:
The numbers were equally impressive to use. Though it wasn't in our use case scenario to test every single frequency, the added feature of having so many options was a big plus. We also liked the large, colored display. The fact that this display was supplemented with a lithium-ion battery of 3100mAh capacity, meant that we had no battery issues whatsoever even with 3 or 4 days of use.
Like the option at number 5, this handheld ham radio also had built in GPS plus the added option of choosing from either analog or digital functions was nice to have. The audio quality was good, and the speakers were surprisingly loud too.
The loud speakers are not for everyone though, some might find it to be a little too distracting. Other issues we ran into were that its GPS was slow and not as responsive as we would have liked it to be, and some minor inconveniences in use such as not being able to directly enter talk groups on the go.
Overall, we found this handheld ham radio to be well worth its value and would recommend it for anyone looking for a reliable ham radio, with a reliable battery, and the option of having a truckload of contacts!
3- Kenwood TH-D74A
Rugged build quality, with a waterproof rating, multiple output settings, and a long battery life; this handheld ham radio by Kenwood had a lot going for it, earning it a spot in our top 3.
Speaking of that rugged build quality, this isn't your average handheld ham radio that can withstand minor falls and splashes of water. The Kenwood TH-D74A is a military grade radio with waterproofing and dustproofing that meets IP54/55 standards. Though we didn't exactly go swimming with it, the added sense of security of having an absolute military grade device was quite the experience.
The audio quality was pristine, as you'd expect, and so was the bright colored display that was easily visible even during daytime. We liked the full APRS support, allowing us to send texts and GPS data in real-time. We also liked the long battery life and IF filtering feature that improved the reception we got.
With a plethora of features, we expected Kenwood to provide us with a comprehensive manual to put this handheld ham radio to its best use.
As it turned out, the manual that was provided with the device lacked many key details that we had to work out on our own; such as how to set up the device's popular APRS feature. Another thing worth mentioning is that this unit does not come cheap, but we didn't expect it to, considering the features it had.
Did we find this handheld ham radio to be good value for money? That's difficult to answer. But with its military grade build quality and the impressive features, we believe this device is perfect for handheld ham radio enthusiasts, though we wouldn't quite recommend it if you were just starting out on one of these radios.
2- Baofeng BF-F8HP
At number two on our list, and very narrowly missing out on the top spot, was Baofeng's BF-F8HP handheld ham radio. We found this device to be particularly suited for people who are just starting out in the world of ham radios, here's what we liked:
This handheld ham radio had exceptional sound quality and impressive battery life, despite the small 2000mAh battery. We could use it for up to 3 or 4 days! In our experience, both the transmission power and the reception quality were very impressive, thanks to the latest chipset.
Much to our delight, Baofeng was kind enough to provide a comprehensive manual even a beginner could follow. That, and considering how affordable it was, makes it an ideal option for beginners.
The things we did not like about this handheld ham radio, and those that ended up costing it the top spot on our list, were its slightly less impressive build quality and a few performance issues.
Though we wouldn't quite complain about the build quality, considering the price it came for, we were a bit annoyed by getting no significant increase in signal at higher power settings.
The higher power settings felt just a gimmick honestly. Also, we weren't particularly fans of the fact that to operate the unit, we needed a USB cable that Baofeng did not package with the ham radio itself.
These issues, although not deal breaking, did mean that Whistler's product edged this one out, albeit narrowly. But don't let the ranking mislead you, Baofeng BF-F8HP is still a highly impressive handheld ham radio, particularly for beginners, with the best value for money you are likely going to get on any of these devices.
1- Whistler WS1040 Handheld Digital Scanner Radio
Coming in at number one in a highly competitive list was no easy task, nevertheless, Whistler WS1040 was up to the task! This handheld ham radio impressed us in more ways than one and here's how it ended up bagging the top spot:
Convenience of use seemed to be this radio's forte. With impressive features like free-form memory organization, that allowed us to quickly switch between the frequencies we used the most, we had a seamless experience with this device. It also allowed us to store up to 1800 frequencies.
The aforementioned features coupled with early weather warning systems, and data cloning options (for seamless transfer of data), gave us the impression that Whistler really thought hard and deep about features that really matter to a handheld ham radio user, and then proceed to incorporate them into this device.
It offered incredible reception, and pristine audio quality. It had the option of using two batteries. It had impressive storage capacity and before we forget, a USB cable was provided with the ham radio!
Though the interface was very user-friendly, this handheld ham radio could hardly be called fit for beginners.
Due to it being frankly overloaded with features, we feel like those who are just starting out might have a hard time using it and this is just about the only downside we could find about this impressive handheld ham radio.
If you're a true ham radio veteran, and you're in the market for a truly premium handheld ham radio packed full of features, the Whistler WS1040 will be just the thing for you!
FAQs and Conclusion
Q: What is the range of a Handheld Ham Radio?
Theoretically, you should be able to get a range of about 2 to 18 miles with a handheld Ham radio. This range can be extended significantly, up to even hundreds of miles, if you have a large antenna and a capable base station.
Q: Do you need a license to use a Handheld Ham Radio?
No, you wouldn't need a license to buy a Handheld Ham radio or to listen to amateur radio frequencies. But if you were to transmit on amateur radio frequencies in the United States, you would need an FCC license.
Q: How many levels of licenses are available for Handheld Ham radios?
Currently, there are three levels of amateur licenses for Ham radios; the Entry level license, General license, and the Extra class license. The more advances licenses are tougher to acquire but give you more privileges when operating on additional frequencies.
Q: What is the penalty for using a Handheld Ham Radio without a license?
For every violation of using a Ham radio without license, the FCC can fine you $10,000 and, in some countries, you might even face the possibility of going to prison.
Q: What can't I do with a Handheld Ham radio?
Generally speaking, one-way broadcasting with a Ham radio isn't permitted. This means that you cannot start a new radio channel or cannot use your Ham radio for commercial purposes. Additionally, the use of obscene language or profanity is also not allowed and so is regular communication with any unlicensed individuals
Q: Can Handheld Ham Radios be traced?
Yes, Handheld Ham Radios can be traced and can potentially lead to leaking of vulnerable information or in the worst case scenario, give away your location to the prying party.
Q: Can I use a Handheld Ham Radio as a walkie talkie?
Though walkie talkies are used for two way communication, a Ham radio could well be used instead of a walkie talkie.
Final Thoughts
Handheld ham radios can be considered a very niche device. For those who truly want the best that this niche market has to offer, the five products we listed down in this review will not disappoint. Each has its own pros and cons, and either of them can be used depending on your preferences.
To sum it up; if you're on a budget, or you're just starting out, and aren't quite sure what the complex buttons will do then Baofeng BF-F8HP would be the best option for you. If, you're looking for a military grade rugged handheld ham radio, Kenwood TH-D74A would be the way to go. Looking for a big battery and heaps of storage? Consider getting the AnyTone AT-D868UV GPS Version II. Does the screen and display matter to you? Yaesu Original FT-2DR might be the one.
Alternatively, if you're a veteran and you know your way around a handheld ham radio device, and you're looking for a radio that offers just about every feature you can think of, then look no further than our number one pick: Whistler WS1040 Handheld Digital Scanner Radio.