You have an excellent crew ready to shoot for your video, the camera is in place and ready to roll. Everything seems to be going in the right direction. Just as you planned it. But when the first footage of the shoot is reviewed you are heartbroken to find your cinematography too shaky. The result is that you cannot use any of this footage in your video. This happens to many of us. It is frustrating and annoying. Makes all your efforts go down the drain and you have to re-shoot everything again. You have to bear a loss of money, time, and effort.
It does not matter whether you are a professional filmmaker, a YouTuber, or a Vlogger, we all understand the importance of good quality video content that is required for our businesses to go pro.
It is one of the most difficult things to keep your camera steady and stable while shooting in motion.
So, is there any way to solve this problem? What can you do about this shaky issue?
You can find your answer if you buy the best gimbal for the DSLR camera from our list.
Gimbals are not the latest addition to the video making equipment but they made a splash in the industry in the past couple of years. They are now available in a wide variety and range including the mirrorless gimbal models, specialized gimbals for DSLR cameras, gimbals for smartphones, and high quality customized gimbals for fast action scenes.
The secret of making professional quality videos is not just buying the top of the line DSLR camera but you will also need to invest in a gimbal stabilizer for this camera.
Both of these together can make your cinematographic ventures much more stable and steady. Although there are several options available in the market, we are here to help you and reduce your trouble of surfing through the entire range. Our 10 top picks of best gimbals for mirrorless and DSLR cameras have been selected after careful consideration and research.
This list includes Zhiyun V2 Crane, Glide Gear Geranos VII, Letux Helix Jr., Moza Lite 2, and Beholder DS1 gimbal stabilizers just to name a few.
Select any one of these superior quality gimbals and make your video making experience more professional. Let us now go through them one by one.
Zhiyun Crane V2 – 3-Axis Gimbal Stabilizer for Mirrorless Camera and DSLR
Key Features
Can hold cameras up to 3.96 Lbs
3 Axis Handheld gimbal
Brushless Motor
Lithium-Ion Batteries
Aluminum Alloy Frame
Light Weight
Camera Control Interface
360 Degree rotation
One of the best DSLR gimbals in the industry, the Zhiyun Crane V2 is known for its versatility and superior quality. The gimbal is equipped with 4 modes to control the gimbal including selfie, lock, following, and pan. It has a 360 degrees rotation capability which helps the user in capturing their video in the smoothest way possible.
The frame of the V2 Crane is made from high-grade aluminum alloy. The design is sturdy and strong but it is still not very heavy to carry.
The battery time of this model is also quite remarkable. You can use the pair of lithium-ion batteries for almost 18 hours in one full charge.
The V2 Crane is powered with a brushless motor. It is less noisy and does not hamper the video sound quality in any way.
A very useful feature of this amazing model is that this gimbal is supported by a smart app as well. All you need to do is download an app in your smartphone and the gimbal becomes controllable through this app. No wires needed.
Some cameras this gimbal works well with…..
Canon M series
Nikon J Series
Sony a7
Panasonic Lumix.
Glide Gear Geranos VII – 3 Axis Gyro Motorized DSLR and Mirrorless Camera Stabilizer
Key Features
Can hold cameras of up to 2.6 lbs
Lightweight
Lithium-Ion Batteries
5-way analog joystick
3 axis motor
Wireless control through the app
Tool-less adjustment
Encoded Motor
One of the most unique and differentiating features of this gimbal is that it comes with an arm mount or vest. This feature enables the user to keep the gimbal strapped around his or her neck. It helps enhance the stability and control of the gimbal.
The product has a weight of only 2 lbs, which is very less compared with other models in the industry.
The gimbal is powered with two lithium-ion batteries that can run up to 6 hours of video making in one full charge cycle.
It allows you to select between the 5 way analog joystick.
The gimbal has a 3 axis motor that can rotate for 360 degrees. It is compatible with the Zhiyun smart app and hence can be controlled wirelessly through a smartphone.
For the ease of storage and portability, the product is paired with a hard case. It allows you to pack everything inside the case with safety and protection.
Some cameras it works well with….
Sony A7sII
Sony A7RII
A8
Nikon D3200
D819
Nikon D899
Samsun NX1
Beat Grip iPhone cage
Letus Helix Jr. – 3 Axis Gimbal Stabilizer
Key features
3 axis motorized gimbal
Two hand grips on either side
Flat bottom
Handheld, wifi, and Bluetooth capabilities
1 lithium-ion battery
Suitcase mode with 180-degree rotation
Metallic frame
High weight carrying capability
This is another very compact sized gimbal that is made from the superior quality aluminum frame. It is very popular among videographers around the world because of its extra stability and steadiness. It weighs around 4 lbs.
The model is designed to have a flat bottom portion. This enables the user to place it on a surface for shooting for long hours without interruption. The design also includes hand grips on left and right for more steady and stronghold of the gimbal.
This is a much heavy-duty gimbal that can hold cameras having a weight of up to 12 lbs. It has the capability to balance the gimbal on the optical center of the camera.
It is motorized with 3 axis built including a pan motor, roll motor, and tilt motor. There is also a suitcase mode that offers 180 degrees rotation capabilities. It can easily be considered as the best gimbal for walking or running.
The lithium battery life of this model is also quite remarkable.
Beholder DS1 Handheld Stabilizer – 3 Axis Brushless Gimbal
Key Features
Pan and tilt control stick
USB Port
3 operational modes
Smartphone app android only
Lightweight
Maximum load capacity 3.8lbs
This amazing product works with a 3 axis motor stabilization process. It is simple and convenient to balance with a professional or mirrorless camera. The gimbal has the capability to keep the camera in motion like a glide cam. It allows the device to move organically.
With a very lightweight you can easily hold the gimbal with only one hand. It comes with a remote control mechanism that allows usage for long hours without any extra effort or fatigue.
Three operational modes include briefcase, lock and inverted. It can rotate 45 and 90 degrees.
It can work for 4 hour almost in one charge cycle.
The DS1 system is fast and responsive. It has dual sensors and is super stable and accurate for professional video making.
It is suitable for cameras weighing up to 4.0 lbs. The gimbal itself weighs around 2.2 lbs.
Ikan MS1 Beholder Gimbal
Key Features
Brushless less noisy function
Maximum load capacity of 1.9 lbs
Aluminum frame
Bottom Thread Mount
Eco friendly and low maintenance batteries
5-way joystick control
USB Port
Pan and Tilt Control stick
1/4″-20 Tripod Mount Socket
This is a very durable and long-lasting gimbal made from the all-aluminum frame. It is lightweight and compact. The gimbal is suitable for a wide range of cameras and mirrorless devices.
The versatile design of the gimbal allows it to be attached to a slider with the help of a thread mount at the bottom. You can use the same mount for attachment with a monopod or tripod making it ideal stabilizer equipment for video graphing.
The gimbal works with a brushless mechanism for smoother movements and noiseless functioning.
It can hold a maximum load of 1.9Lbs, which is quite less than other gimbals.
The battery power is lithium ion-based and is environmentally friendly and low maintenance.
Some DSLR And Mirrorless Cameras that are suitable for this Gimbal…
Sony a7S
Sony RX-100
NEX series
Panasonic GH4
Samsung NX500
Blackmagic Pocket Cinema Camera
DJI Ronin M – 3 Axis Gimbal Stabilizer
Key Features
Magnesium Body
Light-weighted
3 Axis Brushless motorized function
Smart app compatible
Bluetooth connectivity
Dual operation capabilities
Both Hand handles
This gimbal comes from a renowned brand of camera-related equipment. DJI Ronin is well known and trusted by top-notch video and filmmakers across the globe.
The design and structure of the gimbal is quite strong made from the magnesium alloy frame. It is known for its durability and sturdiness. The gimbal is lightweight yet very stable. It weighs around 5 lbs and can hold cameras of around 8 lbs.
The gimbal is powered with 3 axis brushless motors for enhanced stability and steadiness of the video. One axis is responsible for keeping the camera stable horizontally while the other two are used in the pan and tilt modes.
One of the differentiating features of this gimbal is the dual operational shooting capability it has. This allows manually panning and tilting the camera while the gimbal is in motion. This feature is functional through a proprietary receiver and transmission system that has a frequency of 2.4 hertz. A third party transmission is also possible with a D Bus port that enables you that installation of your selection of receiver.
The gimbal is compatible with a smart applicable available for both iOS and Windows devices. Controlling the gimbal is possible through wireless Bluetooth capability.
The gimbal can function for almost 6 hours in one full charge cycle of the batteries.
Some cameras that work really well with it
Sony A7S
Canon 5D
Nikon D800
Panasonic GH4
Came TV Optimus – 3 Axis Camera Gimbal
Key Features
Small size
Use with Single hand
Long-life battery
Mounting Screw Holes 1/4″ and 3/8″
USB Port
Lightweight
This gimbal is ideally suited for small and medium-sized DSLR cameras only. You can also use this with smartphones. The gimbal can hold a camera weighing up to 2.6 lbs.
The size of this product is very small and has lightweight to be handled with ease and comfort. You can easily maneuver this gimbal for different video angles and shoots. Due to its lightweight and small size, you can work with this gimbal with just one hand.
The gimbal can operate in both inverted as well as underslung positions and has a rotational capability of 360 degrees.
The batteries of this gimbal are very long-lasting. They can work for up to 10 hours with a single recharge of batteries.
The batteries on this gimbal work for up to 10 hours. You can recharge them using the gimbals USB port.
The weight of the gimbal is 2.2lbs and it can carry a camera weighing up to 2.6 lbs.
Pilotfly H2 – 3 Axis Handheld Gimbal Stabilizer
Key Features
IMU Sensors
4 Way Joystick Controller
Long-lasting batteries
CNC Aluminum Frame
The design of this gimbal has one-hand operation capability. The differentiating feature of H2 is its 3 motorized controlled operations with a pair of integrated IMU Sensors. These are ideal for smooth shooting.
You are provided with a pan function of 260 degrees, up tilting of 220 degrees, and down tilting of 100 degrees. The gimbal also helps in a left roll of 100 degrees and right roll of 240 degrees. This is pretty impressive in the DSLR and Mirrorless gimbal category.
It can carry a payload of 4.8 Lbs.  It weighs around 2.8 lbs.
The product function is based on a 4-way joystick controller.
This gimbal has one of the best battery power in the entire industry. It can work for up to 26 hours without needing a recharge.
The frame is constructed with superior quality CNC aluminum alloy.
The gimbal is most suitable for….
Sony a6300 Mirrorless Camera
Sony A7
For most DSLR cameras
Feiyu Tech AK 2000
Key Features
Weighs only 2.8lbs
Payload capacity 6lbs
Touch Panel Control
Anti-shake algorithm
Can be used with SLR cameras as well
A very highly sophisticated product in the gimbal industry, the AK2000 is regarded as a pioneer in gimbals. It features a specialized anti-shaking algorithm mechanism that is backed by a chip.
It has a payload holding capacity of 6lbs. You can utilize this capability for both professional video making projects and adventure cinematography activities.
It is unmatched in its versatility and design. You have detailed control of the camera and gimbal through a touch panel system. It is also equipped with a magnetic induction knob for enhanced control.
The gimbal is not very heavy having an average weight of 2.8 lbs. It has efficient batteries that can run for up to 12 hours once charged fully. This is the best gimbal for mirrorless as well DSLR.
There you have it. These are the top 10 gimbals available in the market for DSLR and mirrorless cameras.
Gimbal as an Essential Tool for Video and Film Maker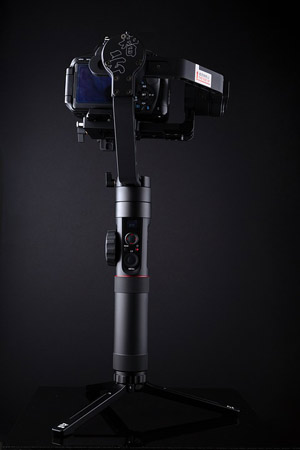 If you are still thinking should I buy a gimbal or not, then go through this detailed information about the importance of using gimbals.
These gimbals can help you in improving the quality of your video shooting while in motion. The gimbal stabilizer is not just an enhancement tool but it has become an essential need for most video makers across the world.
If you are a travel Vlogger or YouTuber or you are shooting for your Instagram page, your shooting equipment will include gimbals and stabilizers along with cameras and drones.
This tool provides enhanced support in addition to a tripod or monopod and allows the filmmaker to maneuver his movement. It is ideal for shooting while walking or running. It makes your video steady without unnecessary shaking. The use of a gimbal in making videos can add the much needed professional touch in the quality of your videos.
Keeping in view the importance of this gadget, you must understand its various characteristics and features to make a wiser decision while making a purchase.
For this purpose, the next section of this post will focus on some of the details and information that you need to know before investing in the best gimbal for DSLR or Mirrorless cameras.
For those of you who are new to the filmmaking world and its allied equipment, a gimbal is a rotation based supporting mechanism that allows the user to move his or her camera in various directions. Cameras of various types may be mounted on this gimbal in order to prevent and remove any wobbling and shaking of the video. It helps in the provision of clear and very steady footage.
In structure and function, you may think of a gimbal as an alternative to a tripod or a monopod, but it has different advantages and properties. It is very light in weight and compact in size. These features allow the user to carry it along for long periods without any tiredness or physical stress. The gimbal is mostly handheld and does not require to be stationed on the floor or surface like a tripod stand. This makes it easier and convenient to move even when you are on the run.
Some gimbals do have flat-bottom which enables them to be placed on flat surfaces.
Gimbals are not only suitable for handheld video graphing but they can also be mounted on drones, vehicles and other moving objects. The advantage of using a gimbal on a drone or other moving vehicles is that it does not allow the camera to change position or move while in motion.
Most of the gimbals available in the market are powered with sensors and specialized motors that are used for motion detection and ensure camera adjustments to ensure steady functioning. These motors are mostly brushless, making them quieter for video shootings and does not hamper the audio quality of the video that you are making. The brushless nature of these motors is also beneficial for shooting at events and ceremonies where the noise does not attract or distract the audience or act as an interruption in the proceedings.
Types of Gimbals to Use with Your DSLR
If you run through the models available in the market, you will see that there are two types of gimbals in general. Gimbals with 2 axis and gimbals with 3 axis. Now what does that mean? A gimbal with 2 axis has the automatic correction capability. This allows the gimbal to correct the camera angle whenever it moves backward or forward. It also ensures correction in roll position.
The gimbal with 3 axis design provides correction of not only rolling but also the pitch of the camera. Yaw is also taken in account while using the 3 axis gimbal. Now you must be thinking that what is yaw? Well yaw is a vertically oriented movement. The 3 axis gimbal will correct the camera position even in upward and downward motion.
Because of its advanced features and functions, the 3 axis gimbals are mostly preferred over the 2 axis ones.
The type of gimbal that you choose for your DSLR will mostly depend on your project and video graphing needs and requirements. We hope that our list of the top gimbals will be helpful for your selection process.
The gimbal function is based on the principle that no matter how you use the camera, the center gravity will be kept the same by the gimbal. It will automatically correct the camera positions to achieve the given center of gravity. It will offer corrections in tilting position, different types of motion and movements.
Reasons for using a Gimbal with your DSLR
There are a number of reasons, why you may decide to invest in a gimbal for your camera.
Anyone looking for some perfection in their video shooting can use a gimbal stabilizer. It ensures shake-proof and steady moving footage and can function in different environments and weathers.
Professional photographers and cameramen use gimbals for recording clearer and blemish-free images.
Shaky and bouncy videos can be annoying and physically stressful for the viewers also. It can give you a feeling of nausea at times.
While functioning on the same center of gravity all unnecessary wobbling and jerks are eliminated.
You can choose between various modes that are effective in keeping the camera for moving and ensuring the required focus.
The professional cameramen can use this gimbal in various directions and all types of movements while keeping the camera focused and still.
Other Benefits of Using Gimbal Stabilizers Include:
Quick and easy to set up without any extra help or tools involved
Lightweight and compact to allow easy portability
Does not provide physical stress when using for long hours
Requires very little effort to move directions of the camera
Motorized movements reduce time consumption
Allows mounting of other video graphing equipment and devices like microphones.
Safety of camera is ensured with a strong and firm grip
Can be used with drones and in underwater setups as well
Connected with smart apps for a greater variety of functions and enhanced wireless control.
Buyer Guide – Things to Consider
If you are buying your first gimbal stabilizer, then you must understand the factors that need to be considered when selecting the best gimbal for DSLR and Mirrorless Cameras.
It does not matter which camera you use, the following things are important to assess.
The Balance
A key factor to consider in a gimbal is the balance. Many professionals consider it the most important thing to look out in the product. This factor is the measure of the gimbals' ability to balance the camera. One should look out for its ease and convenience along with the accuracy of the balance.
The Weight
It hardly needs any explanation of why this factor is important while choosing a gimbal. With more weight of the gimbal plus the camera, your physical effort is increased. For this reason, most of the gimbals manufactured in the industry are made from lightweight materials.
The Batteries
Most of the gimbals that are powered by brushless motors utilize batteries. Some brands are compatible with simple alkaline batteries while others work with rechargeable lithium-ion ones. Battery life is important because it helps assess how long the gimbal can be used without needing a charge.
Diversity and Versatility
Gimbals are designed for smartphones and cameras. But the former is limited to smart devices only. When we talk about DSLR and mirrorless gimbals, they mostly can work with a variety of cameras. They provide diversity and versatility in shooting modes, actions, and the size of the camera. The best gimbal would be suitable for a variety of shooting situations.
Get Ready to Make Shake Proof Videos!!!
For someone looking to enhance the quality of the videos they make, the gimbal is a must-have piece of equipment.  A handheld gimbal stabilizer for DSLR and mirrorless cameras is an essential component of the professional videography and cinematography kit.
If you do not have a gimbal your efforts and movements will be restricted and this would mean settling for less when you can do more.
You will have video footage but it might be shaky and wobbly, a niche that some may want deliberately but not everyone.
A motorized gimbal can help you do wonders with your video and photography skills. It can make a good videographer an excellent one.
It should be kept in mind that the results of the gimbal will depend on the user. In the beginning, you should find out what is best through the trial and error method. Find out top tips for using a gimbal. You need to work on your movements with gimbal, the shots, and the angles to consider and overall usage of the gimbal will get better over time.
So, what are you waiting for? Analyze your needs and requirements and select the best gimbal for DSLR and Mirrorless cameras from our shortlisted models.