Normally, a snorkeling kit consists of a mask, snorkels, and fins. Full face snorkeling masks are a recent invention and snorkelers are really adapting to the full face masks because they include two pieces of gear into one. Whether you are a first-timer or an experienced snorkeler, you should really consider using full face snorkel masks.
We have compiled this guide to make it easy for you to choose the best snorkel masks available out there and the facts that you should consider before buying a full face snorkel mask.
Snorkeling is an interesting sport through which you can explore what is beneath the surface of the ocean. Snorkelers have to make sure that they have the perfect gear for it so that they can truly enjoy their experience and discover new things.
Difference between a full face and a traditional snorkel mask?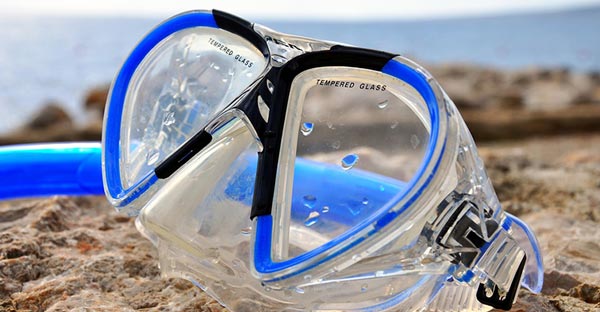 A full-face snorkel mask is used for optimized underwater viewing. It allows you to breathe while you are floating on the surface of the water. The main difference is that a full face snorkel mask offers a more natural experience.
There is a misconception associated with the full face snorkel mask which is that you can breathe underwater with it, which is not true. You can only breathe when you are floating on the surface of the water.
These masks offer a relaxed experience and a wider range of vision. With the help of a full face snorkel mask, you can enjoy a 180 degrees vision whereas with a traditional snorkel mask you are only able to see what is in front of you.
The main benefit of using a full face snorkel mask over a traditional snorkel mask is that you can breathe out with your nose as well as your mouth. While using a traditional snorkel mask you can breathe through your mouth. Using a full face mask also eliminates jaw fatigue because you do not have to worry about keeping a mouthpiece in position.
Another benefit of using a full face snorkel mask is that they do not fog up as much as the traditional masks. It is nearly impossible to entirely eliminate foggy masks but it can be reduced by using a full face snorkeling mask. Full face snorkel masks are said to be perfect for beginners.
Now, lets talk about the best full face snorkel masks available in the market and why you should prefer those over the other masks.
8 Best Full Face Snorkel Masks
When you are buying a full face snorkel mask, it is very important to buy the mask from a well-reputed brand because there are a lot of cheaper masks that have not undergone proper testing. This can create serious risks when using these in the water.
The following are some of the best full face snorkel masks that we chose :
Ocean Reef Aria
The most important feature that this mask offers is its anti-fog lens. The breathing experience is uninterrupted and natural in the bottom chamber. The company claims that it has the largest field of vision as compared to other masks. Snorkelers can enjoy a seamless viewing experience underwater.
It is made from durable and lightweight materials. It has a detachable snorkel which makes it really practical for travel. This mask will give you an incredible snorkeling experience with as minimum problems as possible.
It is an excellent full face snorkel mask that goes a long way in overcoming many pitfalls of traditional masks and snorkels. It offers a number of optional accessories and it is available in a wide range of sizes.
The straps of the mask are elastic and they do not get caught up in your hair. It is very easy to put on and adjust and it very comfortable to wear. It is one of the best snorkel masks currently available.
Ninja Shark Full Face Snorkel Mask
The main reason that this mask made to our list is that it allows you to pinch and touch your nose for proper equalization. It means that you can comfortably dive to around 25 feet with this mask, whereas other masks only feel comfortable to around 10 feet.
It comprises of an improved anti-leak waterproof seal. This seal is comfortable for periods of snorkeling. This mask is also outfitted with a custom-designed action camera mount.
It is available in two sizes. One is for kids below the age of 12 and the other sizes should fit everyone from ages 12 and above. it has a general one size that fits around 90% of the snorkelers who are above 12.
It is a good quality mask and it helps snorkelers to dive deep and equalize. Even if you enjoy snorkeling at the surface of the water, this is a comfortable choice for a full face snorkel mask.
Tribord Easybreath
This mask is available in various sizes for the perfect fit. It ensures that the individual using the mask gets the perfect leak-free fit. They offer a sizing chart fr you to choose which one suits you the best.
It features a shatterproof 180-degree lens, providing a seamless viewing experience of the ocean below. The snorkel on this mask is longer than the other masks which allow users to look further and see more without uninterrupted breathing.
It is powered by a dual airflow system, this mask is fog-free and offers you the brightest exploring experience. It comes with a secure lock snorkel.
The camera mount on this mask provides the snorkelers the best way to film their adventures. The camera mount is designed in such a way that it keeps the camera underwater at all times, unlike other camera mounts in which the snorkelers have to tilt their head to get the camera underwater.
This mask does not require readjusting again and again. It is super comfortable to wear and it does not fog up as much as the other full face masks.
HEAD Sea Vu Dry
This mask is officially safety tested which makes it a good option if you have concerns about mask use. It offers a constant airflow circulation which helps with breathing and keeps the lens of the mask clear of fog.
It also features wave guards that further keep water out of the mask and also has a purge valve on the chin that helps to get rid of anything that gets in the mask. It is made from high-quality silicon creating a comfortable and firm seal around your face to prevent leaks.
This mask lets you breathe naturally and the mask covers the entire face. Full face coverage mask keeps the face dry and provides a wild view of aquatic life. It features a dry top float that closes the tube when submerged preventing water entry.
It is made from a durable polycarbonate lens and snorkel tube. It has a surgical-grade silicone skirt with a wide seal edge. It is comfortable to wear. This mask reduces jaw fatigue. The full face mask provides a crystal clear view, unlike any other mask.
Seaview 180 V2 Full Face Snorkeling mask
This mask is made from an innovative patent-pending flow tech technology. This mask is designed with dual side chambers to optimize flow. it creates a breathing experience that is on average 50% easier than other masks in the market.
It has 4 chamber air intake valves. Each valve helps control the flow of air and limits exhaled breaths from getting back into the upper chamber. this mask is specially designed for optimal facedown positioning in the water. The mask also consists of a chin drain valve to get rid of water from the mask without removing it.
This mask is comfortable to wear and breathing is comparatively easier wearing these masks than other masks. The mask is made from high-quality materials and it is super durable. Because of its added features, the mask is a little expensive than other full face snorkel masks.
Deep Blue Gear Vista Vue Full Face Snorkeling Mask
This full-face snorkeling mask has two innovative features that help to deliver ease of breathing. The dry top snorkel features an extra-wide, single chamber tube that has a multi urge valve. This valve increases the incoming airflow by up to three times in comparison to other full face masks.
There are two additional valves at the temples that provide a separate exit path for exhaled air instead of pushing it back into the snorkel tube. CO2 buildup is also reduced because air has less length to travel and escapes faster.
It is a fog-free mask, as fresh air is continuously directed across the inside of the polycarbonate window. It comes with a colored frame and a crystal silicon skirt that offers a clear panoramic view. The mask comes in two sizes: S/M and L/XL.
Seabeast Full Face Snorkel Mask
The main reason that this mask made to this list is that this mask is a great space saver. if you are traveling overseas then this is the best choice for you because it comes with a foldable snorkel tube that can be neatly locked into place.
It is also equipped with a dry top that prevents water from getting into the mask. The viewing window of this mask is flat instead of being curved which helps to eliminate distortion.
It has a hydrophilic anti-fog coating that is bonded with polycarbonate and cannot be washed away. It also features a GoPro mount that is attached to the top of the mask. it has soft thick elasticated straps. It comes in two sizes and two colors.
It is an affordable full face mask. It is well known for its secure fit, crystal clear vision, and ease of breathing. It is also super comfortable to wear.
Aqua Lung Smart Snorkel Full face mask
This full-face mask has the lowest resistance breathing as compared to any other full face masks.
The mask is designed in such a way that it offers crystal clear vision. it consists of a dry top snorkel with a valve that prevents water from getting into the mask.  the snorkel tube is integrated into the top of the mask.
This mask is a fog-free design.
It also offers a 180-degree field of unobstructed vision. it has a special shatterproof polycarbonate design. It also has a hypoallergenic skirt and a strap.
It is a little expensive but all the features are worth it. It is super comfortable to wear is made from durable materials.
What to look for in a full face snorkel mask?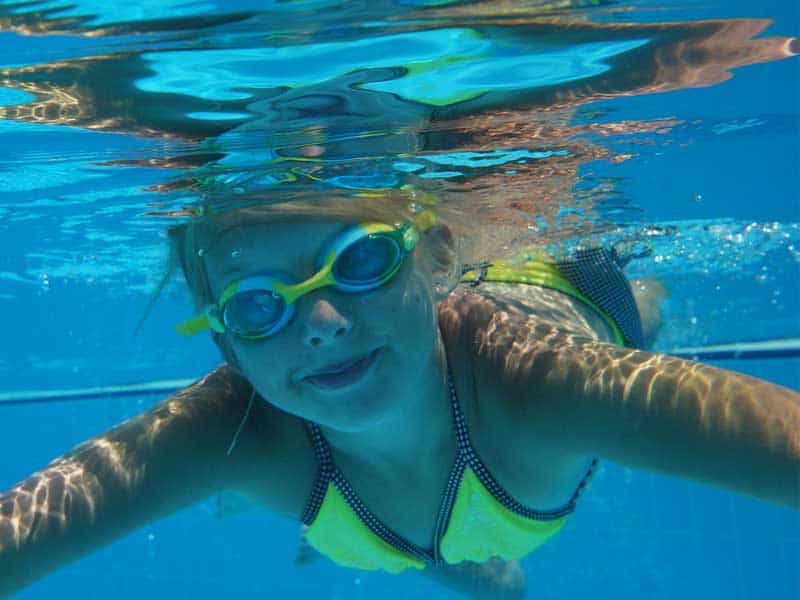 Here are some of the qualities that you should look for while buying a full face snorkel mask.
Field of View
When buying a full face snorkel mask, always look for a mask that offers a complete 180-degree field of view. The best masks have a lens that extends past the size of your eyes, with frame extending as far to the side of your head as possible. This will give you a seamless viewing experience of the world below. Traditional masks are designed in such a way that you can only what is right in front of you, whereas full face snorkel masks offer an unobstructed viewing experience.
Anti Fog
While looking for a full face snorkel mask, it has an anti-fog lens. Most of the masks have an anti-fog lens but some of these masks are more prone to it than others. A lens that is not prone to fog can ruin your snorkeling experience. It is very important to find the clearest lens possible.
Skirt
A full-face snorkel mask should have a silicon skirt to keep it sealed tightly around your face. A tight-fitting skirt on a mask is a key to keeping water out and your vision clear. There are cheaper masks feature plastic or rubber skirts but its advisable to go for a mask that is made from 100% silicon. skirts that are made from other materials aren't as comfortable and they do not create a tight seal around your face.
Wave Guard
You want to purchase a full face mask that has a wave guard on top of the snorkel. a wave guard helps to keep the snorkel free from water when a wave comes. Not every full face snorkel mask has a wave guard so you need to look carefully for the one that has a wave guard.
Straps and Buckles
When comparing different masks, keep the straps and buckling mechanism in mind. It is better to get a mask that has thicker straps that won't lose their form and stretch out as easily as the thinner straps. Thicker straps are more comfortable so you won't have to adjust them again and again while in the water. It is advisable to find a mask that has a push release button so that it is easy for you to get in and out of your mask.
Dry-Top Snorkel
Almost all full face snorkel masks have a dry top snorkel, but it isn't necessarily guaranteed. When you are purchasing a full face snorkel mask, double-check that the dry top snorkel is in place. snorkeling without a dry top snorkel makes it difficult and gives you a salty snorkeling experience.
Are full face snorkel masks dangerous?
There is a misconception about full-face snorkel masks that they are dangerous, but there is a slight danger that CO2 can build up in these masks, so while buying a full face mask always consider the ones in which the air can escape easily.
Is a full face Snorkel mask better for snorkeling?
Yes a full face mask is better for snorkeling as it offers natural breathing. you can breathe from both your nose as well as your mouth.
How long can you breathe underwater with a full face snorkeling mask?
Normally, most snorkels allow you to swim underwater for 2 minutes before you have to surface to gasp for air but with new snorkeling gadgets, you can snorkel for longer periods.