If you have been tending to your body hair for quite a while now, you must know how frustrating it can get to try and use a dull razor. Not only can these low-quality razors irritate your sensitive skin but they can also cause cuts and razor burns. Am I right, ladies?
Honestly, you don't have to achieve smooth and supple skin at the cost of hurting yourself.
Electric shavers will meet all your hair removal needs because they provide a close shave with far fewer chances of burns and drawing blood if your hand accidentally slips. Also, if you require something quick and on-to-go, these electric shavers are the perfect travel companions.
For all the eco-conscious ladies out there, using these electric shavers instead of the disposable plastic ones is an environmentally friendly option.
They are also very cost-effective. You just have to invest in a good unit when you buy the electric shaver. But after that, you can use your electric shaver regularly without worrying about the replacement costs. However, the question now is, Which one to get?
Electric Shavers You Should Consider: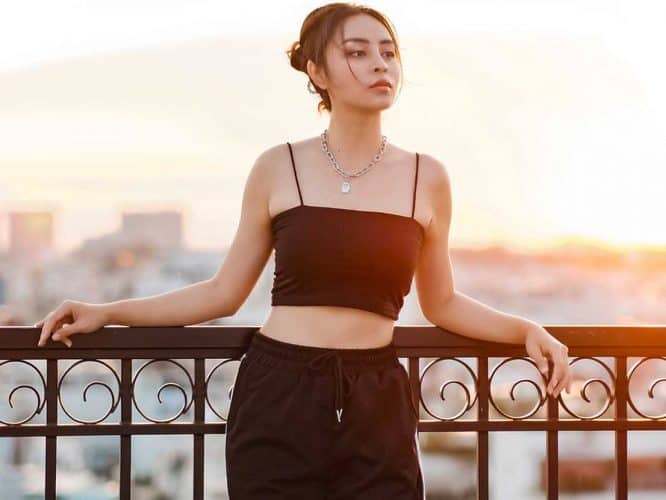 With such a vast variety of women's electric shavers on the market, the buying process can become a rather intimidating one.
From design, battery life to portability and sharpness levels, many things have to be considered before you invest in one. Well, guess what? We have done the job for you.
Whether you are purchasing an electric shaver for the very first time or you are just looking to replace your current model, the following guide is all that you will need. Here we have listed a few of the best electric shavers for women that will cater to all of your needs and requirements.
Angel Kiss Women's painless Electric Shaver
Featuring an eye-catching display, the Angel Kiss shaver is one of the best women's electric shavers for removing your peach fuzz.
For those of you who are drawn to pretty things, the Angel kiss shaver has a very stunning lipstick-tube design.
You won't have to fret over ugly razors accidentally falling from your purse. There will be no need to invest your time or money in expensive salon visits for threading or waxing.
Additionally, you also won't have to go through the agonizing pain of waxing or threading.
The best thing about Angel kiss electric shaver is that it is completely hypoallergenic and gentle on the skin.
So if you are someone who has extremely sensitive skin, this device is perfect for an everyday shave without irritating. Weighing only 2.4 ounces, this electric shaver is extremely lightweight and travel-friendly.
You can just put it inside your makeup case and you are good to go. During our tests, the Angel kiss shaver helped shave the entire face in under two minutes and was also compact enough to take on vacations with us.
One of the best ladies' electric shavers, the Angel kiss shaver will get the job done without harming your skin.
It is designed with an anti-allergic material that cuts hair from the roots with no harm to your pores. Touching your face afterward will feel as smooth as a baby's bottom.
If you don't like the noises that many other electric shavers make, the Angel kiss electric shaver will be perfect for you.
It will get the job done without making much of a noise.
A downside to the angel kiss electric shaver is that it can only be used to remove fine to coarse hair on your lips, cheeks, chin, or arms.
If you want to buy an electric shaver for your legs or elsewhere, you will do better with a few of the other shavers on our list.
Panasonic Electric Shaver – ES2207P
One of the best women's electric shavers, the Panasonic electric shaver utilizes a three-blade system that will give you the smoothest shave of your life.
With this device, you won't have to worry about ingrown hair as the three blades will ensure that the hair is removed from the root. You also don't need to concern yourself about getting the shaver wet.
The Panasonic electric shaver is fully compatible with shaving legs, underarms or your bikini line in the bath with lather on or for a quick dry shave as well.
One of the best features of the Panasonic electric shaver is that it works wonders for sensitive skin. It features a hypoallergenic razor blade and foil that will ensure that your body is hair-free with zero irritation. The shaver comes with a compact charger, a cleaning brush and a travel bag too.
The battery life on this device is not that impressive.
You will have to charge it for 12 hours for only 20 minutes of cordless power.
Cleaning will not be a problem. A quick rinse under warm water will suffice in most cases.
However, you can also use the cleaning brush for removing foam build-up.
It also comes with a convenient pop-up trimmer that will let you create the perfect bikini line and remove any stray hair.
Additionally, the Panasonic electric shaver features a three floating head system that will glide seamlessly across the body's contours to provide a smooth shave.
Portable and lightweight, it is the perfect shaver for using when away from home. It will comfortably fit in your luggage for on-the-go shaving.
Finishing Touch Electric Shaver
One of the best electric shavers for legs, the Finishing Touch electric shaver utilizes a palm perfect and ergonomic design.
The handle is manufactured to fit your palm perfectly similar to a computer's mouse.
The built-in LED light will illuminate your skin to carefully shave those hard-to-reach areas around your knee and ankles without nicking yourself.
It features four 18K gold plated heads that will provide a comfortable and flawless shave on all the different body angles.
Featuring a charging code within the package, the unit will last your for an hour of shaving time on a single charge.
This is better than most of the other electric shavers that allow only 20 to 30 minutes of shaving time.
Plus, the batteries are rechargeable so you won't have to replace them regularly.
Although the Finishing touch electric shaver comes with a larger price tag compared to the other shavers on our list, the premium and ergonomic design make it well worth the investment.
Keep in mind that it is only suitable for use on your ankles, legs, or arms.
You cannot use the unit for facial hair or underarm areas.
The finishing touch shaver is extremely hypoallergenic and gentle, making it one of the best electric shavers for sensitive skin.
For those of you who like having pretty things in their bathroom, the stunning rose-gold and white design are very appealing.
The best thing about the flawless touch electric shaver is that you will not require soap or water.
So if you require a quick leg shave, this is one of the best women's electric shavers to use.
However, considering that it weighs 13.6 ounces, it is not very travel-friendly. It will be kind of hard to fit in your bag and use it on-the-go.
Remington WSF4810US
If you are on the lookout for an electric shaver that is compact enough for those emergency shaves, the Remington solar electric shaver is one of the best women's electric shavers on the market.
It features three blades to capture hair at all angles.
Furthermore, the Remington solar electric shaver also comes with dual trimmers that will let you cut those flat-lying hair for a smooth and silky bikini line.
Weighing a mere 5 ounces, you can easily throw it in a bag and travel with it.
The risks of irritating your skin with the Remington solar electric shaver are minimal, It comes with a hypoallergenic foil that will protect your sensitive skin.
Whether you like the shaving in the shower with lots of lather or prefer a quick, dry shave, the Remington solar electric shaver can do both.
However, if you have very coarse and thick hair, you might dwell better with some of the other electric shavers on our list.
The rounded, ergonomic shaver will fit the curves of your hand perfectly for shaving with ease and great comfort.
It doesn't require a cord, so you don't have to look for a power outlet when using it.
If your daughter has just begun to get used to the art of shaving, this electric shaver is the best way to go about it.
In short, if you want something economical and cute for removing not-so-coarse hair, the Remington solar electric shaver is a good choice. With such amazing features, you will not regret investing in the Remington solar electric shaver.
Braun Electric Shaver 5280
If you have ever waited for your hair to grow for a couple of weeks before you can remove it with an electric shaver, you will know how extremely frustrating it can get.
With the Braun silk 5280 electric shavers, this is not the case.
One of the best electric shavers for ladies, the Braun electric shaver can be used to remove even the tiniest hair.
Featuring a close-grip 40 tweezer technology, it can catch hair as minute as 0.5 mm. This is 4x shorter than what waxing can remove.
Braun 5280 will make your skin as smooth as a rose petal.
So what are some of the other features that made Braun 5280 a part of our list for the best electric shavers for women?
With Braun's soft lift tip, all the fat-lying hair will be carefully lifted and guided for further removal by the built-in tweezers.
If you have a low tolerance pain, with Braun 5280 you will be in for a painless shaving experience due to the high-frequency massage rollers.
However, the epilation process is a little slow. It also comes with a shaver head, a trimmer cap, an efficiency cap, and a cooling cap.
As it doesn't feature a separate face cap, you cannot use the Braun 5280 for removing your facial hair.
Weighing 1.3 pounds, the Braun 5280 is not a very travel-friendly option. Plus, you cannot use it without a cord.
It comes with a pivoting head that will follow every contour of your body for improved and gentle performance. With the built-in smart light, no stray hair will be left unattended.
Once you shave using the Braun 5280, you can go a good couple of days before finding the need to reach for it again. For best results, consider applying a body lotion after shaving with the Braun 5280 electric shaver. You will wake up to a supple, smooth and hairless skin in the morning.
Philip BikiniGenie Electric ShaverBRT383/50
Designed especially for the hard-to-reach areas, Philip Bikinigenie is one of the best women's electric shavers for keeping your bikini line in shape.
Whether you want to shave short or long hair, the electric shaver can do a good job for both as it comes with trimming combs of different sizes.
This combined with the mini shaving head will give you a flawless and smooth shave in your bikini area. Extremely easy-to-use, you can use the Philip Bikinigenie.
One of the best women's electric shavers for traveling, the Philip Bikinigenie comes with a travel pouch, cleaning brushes, and 3 attachments.
Powered by AA batteries, you will not have to charge the cords. The Philip Bikinigenie comes with two trimming combs with sizes of 3 and 5 mm respectively.
Depending on your preference, you can use either of them to achieve a quick and smooth shave. After using the trimming head, you can use the mini shaving head for removing the stray hairs. Shaving those sensitive areas of your body requires careful precision and care.
With Philip Bikinigenie's ergonomic design, you will have extra control in those areas. This will also reduce the risks of accidental cuts or bruises.
The cleaning of this electric shaver after use is super easy. Use the included brush to dust off any excess hair and rinse it under warm, running water.
Once in a while, you can clean it using liquid soap for keeping it completely hygienic.
While conducting our tests, the unit did not last as long as it claimed to.
And you might have to replace it sooner than you think. An important thing to be mindful of is that the Philip Bikinigenie is not intended for use on face, legs or arms.
Schick Hydro Silk Trimmer
One of the best and cheap electric shavers on our list, the Schick hydro silk is a 2-in-1 product with a hydrating razor on one side and a waterproof bikini trimmer on the other end.
If you prefer the feel of a razor but want to have the added benefit of an electric trimmer as well, this Schick hydro silk will work marvelously.
Formulated with hypoallergenic moisturizing shea butter serum, your skin will remain hydrated for up to 2 hours after shaving.
Plus, it works wonders for sensitive skin types.
It features an adjustable comb with 4 settings that will allow you to set the trim length or remove the hair completely.
Additionally, the Schick hydro silk shaver also comes with 5 curve-sensing blades with unique skin guards which will ensure a close shave without any accidental nicks, cuts, or burns.
Weighing only 3.4 ounces, you can easily put it inside your bag and use it on-the-go.
However, it does not with a plastic cover. So you might nick yourself while searching for something in your bag.
Also replacing the razor blades can get expensive and time-consuming.
The built-in trimmer is completely waterproof. So you can comfortably use it in and out of the shower for maintaining a perfect bikini line.
Our tests concluded that the product will do a detailed job of cleaning the lady parts without any injuries.
However, the shaving process might be slightly longer as it can only catch a small portion of hair at one time.
But, when the result is as good as with the Schick hydro silk trimmer, who cares about a little extra shaving time, right?
Benefits Of Using An Electric Shaver For Women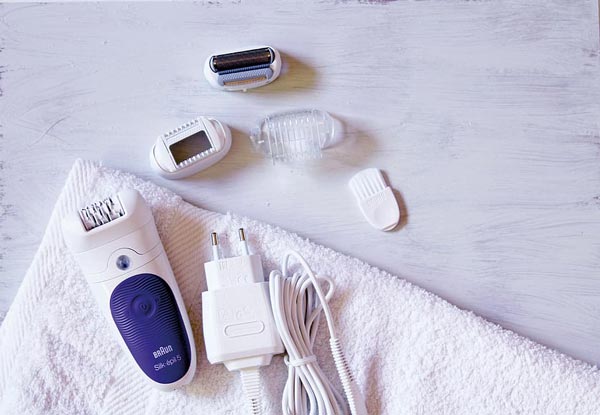 The million-dollar question: Why should a woman prefer electric shavers over the disposable, plastic razors? Well, to name a few benefits, electric shavers are non-irritating, easy-to-use, environmentally friendly, and a very cost-effective option.
Choosing a device for removing one's body hair is a very personal choice for all of us.
Although the razorblade is still very much in use today, it is the electric shaver that is quickly gaining popularity among the masses.
Not all of us will agree that electric shavers are compatible with everyone.
However, the fact remains that there are some undeniable benefits of using electric shavers for women over other hair removal methods. So without wasting any more of your precious time, let us dive into a few most important ones.
A very cost-effective choice for women
If you have been shaving the traditional way till now, you will be familiar with the several things one requires.
From water to shaving cream or soap, you need all these things together for the traditional method to work.
Plus, you have to replace the disposable razors after every use. Even if you try to hold onto them, you will be forced to throw them away after a couple of uses as they will get dull and rusty.
With electric shavers, you might need to invest in the beginning.
However, you will save more money in the long run. You won't have to rely on buying extra shaving creams or soaps.
An electric shaver is all that you will need for getting the smoothest skin of your dreams. You will be hair-free in a couple of minutes and out the front door in no time.
Furthermore, you also won't have to replace them regularly. With careful use, a good electric shaver can last you for a couple of years.
Highly portable and travel-friendly
When it comes to the traditional methods of shaving, you will need access to a  bathroom, a sink, shaving cream, water are the shaving essentials.
Say you are in your car and find the need to shave but don't have these essentials.
In such a scenario where the bathroom is not an option for shaving, using an electric shaver is the safest way to go about it.
Other than being extremely travel-friendly, electric shavers are also very portable.
You can easily fit one inside your bag and carry it while on-the-go.
Having an electric shaver closeby will give you the consolation that should a situation arise, you can comfortably attend to some quick personal hygiene.
In our fast-paced world, everyone is on the lookout for quick and accessible things.
An electric shaver can easily be carried along with your other personal items and will remain within reach 24/7.
Extremely easy-to-use
An electric shaver is a super easy and straightforward way of eliminating body hair as well as facial hair for women.
All that you have to do is recharge it from time to time. And then it is just a matter of switching it on and off when you have to use it.
Whether you are on the road or just need to tidy up that 5 o'clock shadow, you can always rely on the electric shaver to get the job done efficiently.
Far fewer chances of cuts, burns, and bruises
Nothing hurts more than those burns or nicks caused by the traditional razor.
Right, ladies?
They take forever to heal and sting a lot. And when the cuts are made on your face, there is the added work of covering it up with makeup.
You can save yourself from all this and more by opting for an electric shaver.
The electric shavers for women are usually manufactured with a foil that will protect your skin from accidental cuts and burns while being exquisitely gentle on your skin.
Provides a clean and seamless shave
Many will argue that electric shavers don't give as clean of a shave as the traditional razors can.
However, this is simply not true. An electric shaver will lift the hair before cutting it to give you the smoothest shave of your life.
Many of the popular electric shavers are manufactured with a double-action feature.
The front circular blade lifts the hair while the second blade follows behind and cuts the hair very close to its roots.
This way will ensure that you shave all your hair in one go without having to repeat the process.
Frequently Asked Questions
What are the different types of blades in an electric shaver?
The electric shavers can have double, triple, foil or rotary blades. Double and triple-blade electric shavers are perfect for providing a close shave.
The first blade lifts the hair while the next cut them close to the roots. The third blade ensures the removal of any remaining hair.
A rotary blade makes sure to catch the hair from different angles.
A foil blade comes with a thin layer of metal with holes that offer a close shave.
No matter what blade type you go for, make sure it is stainless steel to avoid rusting.
Can I shave my bikini area?
Yes, you can shave your bikini area. However, the important thing is to use a specially designed electric shaver for the bikini area.
The hair in your bikini area is coarser and thicker than the rest of your body.
Also, it is fundamental to not share the electric shaver with your partner or friend.
The bikini area is very sensitive and prone to infections.
Sharing your electric shaver with others can increase the chances of infections.
How can I clean my electric shaver?
Cleaning your electric shaver is very important to keep it hygienic and reduce the chances of infections.
Most of the electric shavers come with cleaning brushes.
The best way to clean the electric shavers is to hold them under running water.
Use the cleaning brushes to remove any remaining hair or foam.
How do I maintain my electric shaver?
Electric shavers are very prone to overheating. If you notice that the device is running hot, try switching it off and clean any residue.
Do not tap your electric shavers to the side of the sink for removing any residual hair.
Instead, use a cleaning brush to clean any remaining dirt. Before using an electric shaver, consider cutting the long hair with a scissor.
This will reduce chances of damage to your product.
Clean your electric shaver regularly.
When you let trimmed hair and dirt build in there, it will create the perfect brewing ground for bacteria.
You can clean your electric shaver with the help of cleaning brushes or by simply holding it under running water.
Can I use a man's electric shaver?
In short, the answer is yes.
You can use a man's electric shaver.
However, it is not recommended to do so.
Women tend to have more sensitive skin as compared to men.
They need hypoallergenic electric shavers that will provide a smooth shave without causing any irritation.
Ending Thoughts
If you find that using the traditional shaving methods leave your skin feeling sore and irritated, we highly recommend switching to the electric shavers.
Not only are they easy-to-use and cost-efficient but they will also minimize chances of accidental cuts and bruises.
Plus, most of the electric shavers are featured with hypoallergenic blades.
This will protect your sensitive skin from any irritation or damage to the pores.
We have reviewed some of the best electric shavers for women in 2020. All of these electric shavers have varying features ranging from the shaving time, portability to cost.
But one thing common to all these products is that they will give you the most bang for your buck. Carefully go through the detailed review of each product and choose the best lady's electric shaver that will fulfil all your shaving needs.