8 Best Electric Massager for Home Use
In your hectic daily routines, there should be some extra time spent in taking care of your overworked bodies and what better way to relax, release the stress and the painful knots than to go for a massage. A good massage eases the muscles, tension, aches as well as improves blood circulation resulting in a thoroughly relaxed body. What if rather than you going for a massage the massage could be brought into the comfort of your home? This may sound more like a dream, but rest assured, it is quite possible with the impressive range of best electric massagers for home use.
Products we Reviewed:
HoMedics HHP-350
MedMassager MMF06
JSB HF05
Belmint Shiatsu
INTEY Shiatsu
Wahl Deep Tissue Percussion
Pure-Wave CM5
Brookstone Max 2
Here we will be talking about all kinds of different massagers, from handheld for knots, to foot massagers for better circulation in your feet, to ones for different kinds of pain like the Plantar Fasciitis. We will also be discussing the best ones for the runners.
These devices offer not just a regular massage but also pain-reducing benefits like heat massages and deep tissue massages as well. With the ease of the handheld models, you can easily get to the out of the reach painful spots of your body.
Best Handheld Massager for Knots – HoMedics HHP-350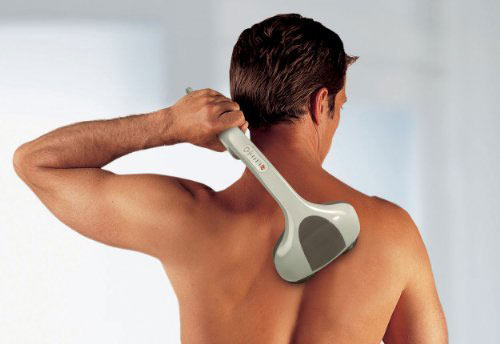 After using and comparing several handheld massagers available in the market we can readily declare The HoMedics HHP-350 Percussion Action as our top choice for you from the range.
The HoMedics HHP-350 offers a flawlessly tailored experience as it is perfect for a routine, heat and pressure massage as it gently soothes the stiff knotted muscles. The massager features changeable, pivoting dual heads which can be altered according to the user's need and easiness. The dark grey massage nodes are for softer massages while the light grey nodes are for a firmer massage ensuring a completely customized relaxing experience.
With a speed of 3,100 beats per minute, HoMedics HHP-350 provides therapeutic and intense massage.
The massager's dark and light grey attachments get too deep sore muscles, providing relieving therapy for sore and knotted muscles deep in the body.
This makes the device stand out for me as previously I have always felt unsatisfied after using other cheaper models which simply just vibrate and have no relieving effect on the stubborn deep knots.
The device is very straightforward to use, simply press on the power button to increase or decrease the intensity and enjoy the four different speed settings offered.
The heat can be turned on and off as per the requirement of the user with the help of a button, giving the user more control over the device and massage settings. This makes it very fitting for me as I have complete control over all my massage and heat settings and I can use them as I want or need.
The HoMedics HHP-350 is not just easy to use but is also very convenient to handle as it is lightweight and comes with an ergonomic rubber grip handle with adjustable length allowing the user to reach the tricky painful spots without any need for extra help.
The handheld massager requires a corded connection for power using a polarized plug. The cord enables the HoMedics HHP-350 to perform for longer time durations and with higher levels of intensity but greatly restricts the placement and the convenience of the device as I have to strictly remain at one place essentially near the power source to keep the massage going.
The device is a user and eco-friendly packed with several amazing features and adjustments making it a very versatile and modern device suitable for all different types of users as the device can be essentially modified to serve almost all of the broad ranged massage requirements. However, there have been some concerns regarding the percussions of the handheld massager branding the massager as not being sufficiently powerful for some users.
Although the massager tops on several grounds being quick and easy but is still a less preferred way of relaxing for me as compared to the manual massage as the vibrations are a bit uncomfortable and noisy and interrupt the relaxation process as your hands are continuously busy and you remain bound in just one place near the socket which makes the whole process a bit tedious defeating the main purpose of relief.
Pros and Cons
PROS:
Impressive speed and intensity
Reaches difficult to reach spots
Ergonomic handle
Dual pivoting adjustable heads
CONS:
Requires a cord for power
Heat uneven for some customers
Less intense and powerful for some users
Uncomfortable vibrations
Handheld massagers for knots are a very modern addition to the self-care products offering relaxation, pain relief and convenience. They are required to possess specific features such as intensity, versatility, power source, technology and several others that enhance its overall usage and effectiveness.
We thoroughly recommend HoMedics HHP-350 as the device is a complete package offering almost all the core features and has earned mostly a positive feedback from the users. All in all the massager is a good way to ease and relax the body, affordability and simplicity of use make it the best for knots available in the market for those who are in search of a regular soothing massage.
Best Foot Massager for Plantar Fasciitis – MedMassager MMF06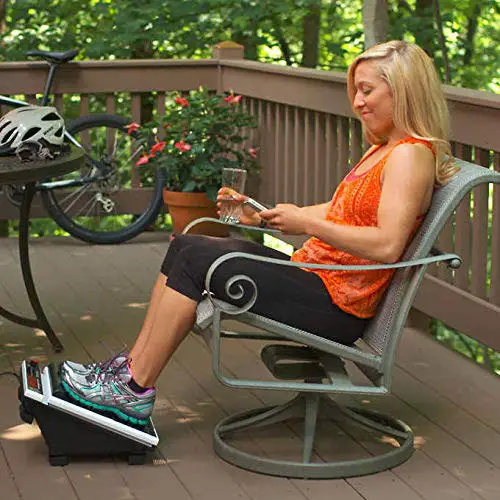 Heel pain and stiffness are an ever-growing and one of the most common problems not only among athletes but among all ages of people. People who have to be on their feet all day long fulfilling their strenuous duties would probably relate to the tremendous amount of discomfort and stinging one feels when their heels are aching. One of the most common causes of heel pain is Plantar Fasciitis which can be soothed by using your home therapy of using only the best . A foot massager is great for providing intensive massage to help bring blood circulation back to normal and provide oxygen, making the recovery quicker than it would be without it.
To make things easy for you, we tried, tested and compared a variety of  different products to reach our choice for the best foot massager for plantar fasciitis and here's what we concluded:

"MedMassager MMF06 11 Speed" is the best for plantar fasciitis due to its powerful oscillation variable speed levels that allow you to choose according to the level of discomfort you are experiencing.
Why is it the best?
There are many reasons for which we rate MedMassager MMF06 11 Speed Foot as the best for plantar fasciitis. We have explained some of the main ones in detail below:
● Powerful oscillation creates a ripple effect
Its strong vibration transfers the vibrating effect from the feet to the calves of your legs and allows a healthier circulation of blood in your legs too. You can even move it a little forward to treat your legs as well and allow them to relax.
● Medically Approved
Specifically designed for therapeutic and clinical use, it has been approved by CSA for reliability and durability and certified by FDA for therapeutic use. Doctors and nurses use these at hospitals and clinics to improve the blood circulation of their patients and alleviate their muscle tensions so when using this machine, you will be completely assured that you are using a medically approved device for your feet's therapy without any worry of going against your doctor's advice.
● Variable Speeds
With 11 speeds ranging from 1100 rpm to 3700 rpm, MedMassager offers you maximum control and comfort according to your requirements. For people with plantar fasciitis, higher speeds are recommended while if you only feel like relaxing yourself after a long day, set the speed setting at lower levels. But, a shortcoming of this machine is that it produces a lot of noise creating disturbance for you and your family. Also, the noise increases with increase in speed.
● Full sized oscillating Foot Pad
The foot pad has been designed at an optimal angle to provide relief to not only your feet but your legs too. It also allows you to sit back and relax, except for when you have to adjust the speed settings. No remote control calls for you to bend over and do this manually which can be a bit of nuisance for some people, especially the old folks. However, due to the pressure point targeting surface and the arch bar on the foot pad, you can be guaranteed to have a full massage of every aching point in your feet and ignore any little inconvenience that comes along with it.
● Provides professional experience at home
As it is the same that is being used in most of the massage parlours, you can avoid spending too much money and time of going to such places for an intensive massage for your heel pain every now and then as people suffering plantar fasciitis require regular massages.
Features:
● Powerful vibration.
● 11 speeds ranging from 1000 rpm to 3700 rpm
● Ripple effect of vibration into the legs.
● Oscillating foot pad that is designed to be at an angle.
● Approved by CSA and FDA.
● Sturdy and rugged built.
● Extra kit for hard and tiled floors.
● 1-year warranty (free replacement within the first year of purchase if the device turns out to be faulty).
Pros. & Cons.
PROS:
Very powerful.
Easy to use.
Durable.
Speed can be adjusted according to your feet's needs.
No automatic shutdown unlike other foot massagers, making it the best in the market.
Allows you to use it with your shoes on as well.
Comes with an extra kit for hardwood and tiled floors.
CONS:
More expensive than other similar products.
Quite heavy.
No handle with it making it difficult to carry it.
Lacks remote control.
Quite loud and moves a bit at higher speed levels.
With its adjustable speed settings and its full-sized oscillating foot pad, MedMassager is doing great. So, if you want to put an end to your feet's misery and treat them well but, don't want to spend time and money in massage parlours, this is the right choice for you. It might seem a little pricey to some people but, customer reviews of this product indicate that the money is well spent.
Best Foot Massager for Poor Circulation – JSB HF05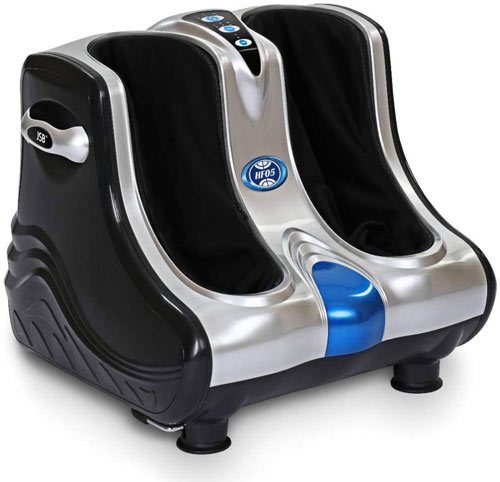 The constant running around the entire day clicking pictures and also my feet being enclosed all the time caused my feet to really start hurting. There came a point in time where I had actually taken a few days off from work so that I could rear and get back to work quickly. Somewhere in the back of my mind, I knew this was going to be a permanent problem in my life if I don't find a solution to it. I really don't like going to doctor's much so I just googled it and searched for the best foot massage for poor circulation because somewhere I had read that due to blood circulation body pains can be triggered.
The first thing that popped up on my screen was an image of a foot massager for poor circulation and it showed that the product was available on Amazon. So I clicked on the option and it showed me that this product was also available in my country. I got really excited and started reading about the device a little bit more.
The Leg Massager is aptly designed to provide electronic pressure on the much needed pressure points at the sides of the sole and helps you relax. In India the remedy known are based age old acupressure and reflexology principles for easing tensioned muscles.
The positive points about this device are a few I felt it was quite apt and it was exactly what I needed.
3 modes of vibration + 3 modes of kneading
Machine can recline up to 45 degrees : Use while sitting/reclining
Reflexology foot plate to ease foot pain
Rubber knead pad to effectively massages feet/ankles and calves
Helps in relieving muscle tension and aids better blood circulation
15-minute auto shut-off
The JSB HF05 is the best for feet poor circulation because it is integrated with three speed levels and you can expect a personalized massage as a masseuse would have provided you.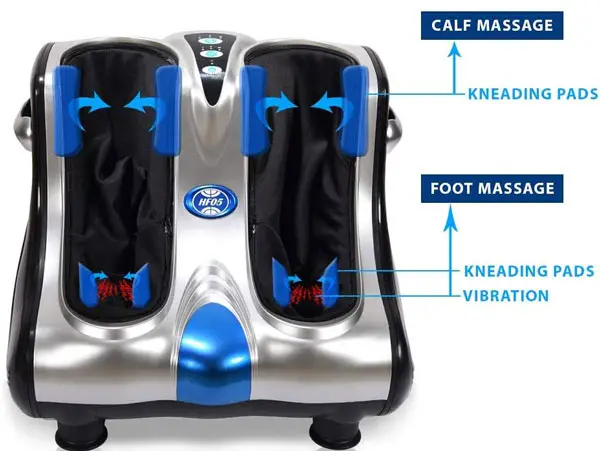 All that pleasure can be taken and released every time with just one investment. The device also features auto shut off features that ensures that you can set the time frame for the massage to be 15 minutes and I personally found that to be a really neat feature and certainly it is great.
It provided me with a thorough sense of well being. Being integrated with rubber kneading pads, it can sensibly squeeze your feet after a long tiresome day which by the way actually feels really comfortable and you just feel like not wanting to remove from there. You certainly get used to the gentle vibrations of the device which is really very soothing.
I recommend this to a few people who actually really needed this product, mostly from the same line of work as mine I found out this product was most ideal for me.
Housewives having no/limited activity throughout day
Old age people with low blood circulation
Varicose veins patients (under doctor supervision)
People suffering from cramps or swelling in legs
People suffering from pain in thighs/calves/ankle/feet
For leg slimming
Now there were a few instructions that I read on how to use this device and it was actually quite very simple.
Unpack the JSB HF05 leg.
You can find the power adapter and instruction manual.
Connect the power adapter to the port at the rear end, and turn on the red main power switch on the product.
Plug in the AC wire into the power supply. The product will turn on.
Relax on a comfortable chair and put your feet into the JSB HF05.
Press the on/off button on the remote control of the machine.
Select between the 3 modes of kneading and 3 modes of vibration from the top panel.
Enjoy the relaxing massage. After 15 minutes, cycle will stop automatically.
After use, switch off the main power supply of the device and disconnect the power chord.
The Massager for pain relief with rubber kneading pads to effectively massage foot ankle and calf at the same time. The best foot massager for poor circulation helps promote blood circulation in men and women and is effective in Varicose Veins, Foot Pain Calf Pain, Arthritis and Knee Pain. It can recline up to 45 degrees and be used while sitting or reclining on a chair. This Foot Pain Relief Product has got a 15 Minutes Auto Off function.
This Foot Massager has 3 Modes of Vibration but that's not what exactly caught my eye. I was going through the features of this product and that when it's struck me.
Features & details
Leg foot machine for pain relief with rubber kneading pads to effectively massage foot ankle and calf at the same time
Helps promote blood circulation in men and women
Effective in varicose veins, foot pain calf pain, arthritis, knee pain
Doorstep after sales service PAN India
Demo available in most metro cities
3 modes of vibration plus 3 modes of kneading
Relaxing reflexology vibration plate on sole of foot
Ideal for users up to 5'6″ height
Leg massager machine can recline up to 45 degrees
Use while sitting/reclining
15 minutes auto off
Removable and washable foot cloth
1 year JSB national warranty
Its been a while since I have been using this product. Trust me I really don't think any other device or remedy or even for the doctor could recommend me this product of I had not searched it on Google. The product was also very easily available on Amazon and it was a very reasonable buy for me. And it also comes with a years warranty so what else could I ask for .
The best foot massager for runners – Belmint Shiatsu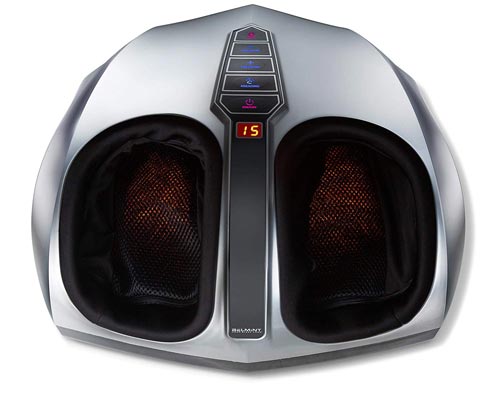 If you are a runner, there is no need of telling how much you would give for a good foot massage after every tiresome run. I can tell because I have been in the military, and the running there can get a little intense to put it mildly. After some runs and marches, you feel like you have broken every single bone in your feet, and the flesh inside your heels is on fire ignited by jet fuel. Even if you do not feel the same after your casual Monday morning run, I am sure you would be interested in getting the best foot massager for runners. If you are, you have come to the right place, because we are going to review a similar product in this post.
The product we are going to review is the "Belmint Shiatsu Foot Massager Machine".
Belmint Shiatsu Foot Massager Machine
This is a product for not only people who run, but also for those working field jobs, and are on their feet for most of the day. The name of the manufacturer of this product is Belmint. According to them, the product is better than any other similar product available in the market. They are also offering a 100% money back guarantee in case the customer is not satisfied with the product because of any reason. They are also offering a code which will land you a 15% discount on any purchase of an item by the same manufacturer. The price of this product is $139.99. However, a $40 discount is being offered currently in the form of a coupon. Now that we know about the product, let's discuss the features being offered by it to see whether the product really is great for runners.
Features
The features being provided by Belmint Shiatsu Foot which claims to be very good for runners are quite attractive.
The massage given by the device is specially designed to relax sore feet after a long hectic day. The massage reaches the tissues in depth and relaxes them.
This is done by increasing the blood flow to the tissues by stimulating it as a result of the massage. It renders the use of critically engineered nodes to relieve the feet of any sort of chronic pain and make them feel relaxed.
The nodes work in a synergic fashion, this increases the effectiveness and makes it much more efficient in reducing the pain and relaxing the muscles. It is also helpful for people with issues such as plantar fasciitis.
In addition, it has an additional feature to provide warmth to feet while massaging them. It has an opening where feet can be inserted for massaging. If the option is selected, a comforting warmth can also be provided via those openings.
This is a very comforting feature, especially keeping in mind the upcoming cold weather. This feature may prove to be heavenly for people living in harshly cold areas.
The heat function is selectable, and the intensity of the heat can also be reduced or increased. It automatically shuts off the heating function after 15 minutes of usage.
This has been incorporated into the system to protect any potential user who may fall asleep while his feet are in the device with the warm function on which may be dangerous if overexposed.
The developers realized that the users did not like to move once they started their massage.
Keeping this in mind, they developed a feature to control the functions using the toes inside the device.
The device also has an elaborate system of hygiene in the case of multiple users.
The cover on it is removable and washable. Last, but not least, it has another very attractive feature of being portable. It can be carried around the house to different rooms. You can even enjoy a good massage while binging to your favourite TV show, or even the bathroom.
Not only in the house, but you can also carry it with you to any place you desire to use it such as your office etc.
These were the main features of the product. If all of these features are being provided by the product, we can safely classify it as the best foot massager for runners.
Precautions
The following are some safety precautions for using Shiatsu.
Wash your feet before using
Make sure the feet are dried before any usage
Overexposure to the heat-in function may prove to be harmful to the skin
Make sure to place the feet inside comfortably, or else the entire massage will be ruined.
The features, as well as the discounts being offered by the product, are very attractive and desirable. The features can be confirmed from the reviews of the various users. However, the coupon and discount being offered are not verifiable. There is no way to verify this claim. Also, the response rate of the producer of the document is not up to the mark, and there are hundreds of unanswered questions on the page of the product.
Best Foot Massager For Diabetics
Diabetic neuropathy. Sounds familiar? No? It's when high blood sugar level damages the nerves that send stimuli or signals to hands and feet. A pretty common symptom in diabetic patients as the name suggests. Diabetic neuropathy causes a lot of consistent pain which can range from mildly cramped to full-on burning pain. Sounds uncomfortable, right? Well, it is. And during this whole thing, the one thing that is needed is a good massage from time to time to let that blood flowing, those muscles relaxed as to prevent cramping and further pain. And that's where the best foot massager for diabetics comes in play.
We had the chance to try out a selected range of foot massagers for this specific cause we can safely say we have found the best foot massager for diabetics which works just as great for able people in need of a good massage. The foot massager is a Shiatsu style massager.
You can probably already guess that by the name of the product but here's the deal, we test it out and we lay out some cold hard facts for you and then you decide if it's worth the money (which we believe, it is) and if you'd like to own one (which, again, we think you will). We did the same thing with the back stretcher.
Product Review
Now the product itself does not come with batteries but comes neatly and securely packed. The Shiatsu Foot Massager by Cloud Massage is acclaimed to be Godsend and efficient; two things we highly agree with. First noticeable thing; the adjustable bar. Most foot massagers are supposed to work with your knees together and legs in a certain position which just adds to the cramping and discomfort but this little guy comes with an easy-to-handle adjustment that lets you move the position of your feet, calves etc. as you see comfortable. It's not the best foot massager for diabetics for nothing! It has its saving grace features.
Another super cool feature is the dual massage catering to multiple settings for heat, pressure, air, vibration and compression etc. It allows another adjustment factor with your own preferences and endurance. This critically best foot massager for diabetics can easily be tampered with to adjust to your settings and position. The heating feature just makes it drool-worthy. I mean, who does not like to be kept warm and relaxed in the winters!
The Shiatsu inspired massager for diabetics earns its place as the pedestal set best foot massager for diabetics with its Japanese massage style concept. With its compression and pressure builds, it literally feels like fingers massaging through the nerves and the cramped muscles.
The relief factor is huge and what sets it apart from other foot massagers is its adjustability and the comfort level. You can strap it lying down, get it positioned for sitting and inclined postures. The fact that it is the best foot massager for diabetics is one thing but it does not have to be limited or confined to that one specific thing. If you have tired legs from standing all day, swollen feet or legs, pain in either or just general exhaustion, the massager works wonders. It relieves pain by maximizing blood circulation with its compression kneading. It is specifically designed to work for diabetic patients and neuropathy, hence, the best foot massager for diabetics.
It's durable, it's powerful and it looks almost minimalistic and sleek which gives it another edge over more bulky and hefty massagers. Kind of reminds of the best handheld massager for knots we reviewed. The massager itself comes with careful and easy instructions to attain optimum comfort and pain relief. And an added bonus: a money-back warranty for the product, if purchased.
We found it works well for all types of neuropathy, exhaustion or muscle cramping and provides the calm and relaxation of a professional massager, just more economic. But that doesn't' mean it is exactly cheap. It's more on the expensive side when it comes to foot massagers in general and one might be skeptical about giving it a try for that price range but we tried and tested it. It works hundred percent. Definitely worth the money.
Other than the price, we cannot exactly think of a con to this little machine. It works the way it is supposed to, it provides the relief and it is easy to handle. What more do you want?
Bottom-line
We, after thorough testing of the product, believe it reduces the muscle cramping and pain by a wide margin and speeds up the healing process for the nerves after just bare 2-5 sessions. It's deep kneading, heat therapy and the pressure-compression factors give it a step ahead as the best foot massager for diabetics.
The adjustable position gives it another great added plus point because honestly, who wants to sit cramped in the same position for long when their muscles already hurt and blood circulation is already low. Speaking of blood circulation, it's pressure technique increases that by a wide margin as well so one more point for the Shiatsu Foot Massager by Cloud Massage.
Overall, if you're looking to invest in some durable device which provides its due services, this is the one right choice.
Best for heel spurs – INTEY Shiatsu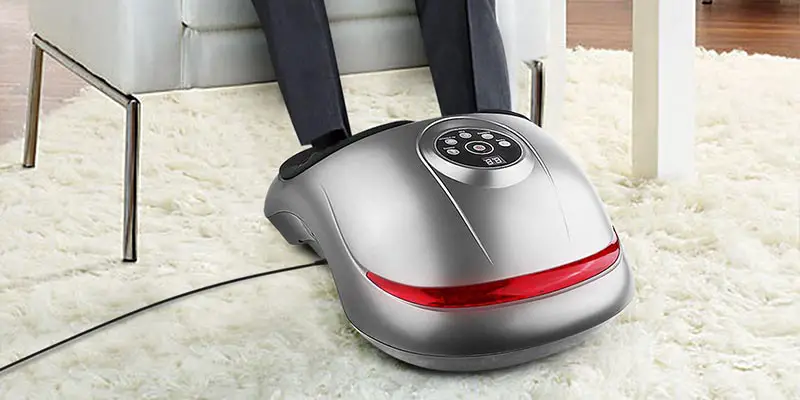 In our hectic and busy schedules we spend very little time in taking special care of our bodies and health. Through all the work and tasks we perform we tend to use our feet the most resulting in an intense amount of stress buildup in our feet. A thorough foot massage can release the stress, pain, toxins and greatly relaxes the whole body. The massage also improves blood circulation and is ideal for conditions like heel spurs, strains and sprains.
But going to a spa for a foot massage for heel spurs and relaxation is a lengthy process and we are often unable to save up sufficient time for this. Therefore a massager for heel spurs that can provide you with a professional massage experience in the comfort of your home is just the right thing for you.
There are several products available in the market offering different features and comfort levels. Out of these varied models we reviewed INTEY Shiatsu.
This product with Switchable Intensity Settings, Air Compression and Deep Kneading Function is a dynamic massager for foot relaxation. We highly recommend it for you and your tired and aching feet.
It is a very modern and efficient addition to the health care products as it serves a general foot relaxation purpose and is also incredibly apt for chronic and acute foot pains and conditions.
It uses the Japanese massage technique of finger pressure which releases body's blocked energy and stimulates internal healing mechanisms. This has very positive therapeutic effect on the body as the immune system strengthens, relieves stress and prevents against diseases.
The product in my opinion is the perfect solution for the people who have a very athletic lifestyle or require regular therapy and massage sessions due to their building age or suffer from any mobility impairment.
It as mentioned above offers a deep kneading function, air compression and heat treatment for the feet. The kneading function and the air compression give the feet a deep rub and stimulate blood circulation. The heating function using the infra red light is the most suitable for sore feet and mobility issues. The heating feature is my absolute favorite during the cold chilly winters.
It allows the user to control the intensity of the air compression massage and allows the user to turn on or off the heating and the kneading feature which makes the overall massage experience tailored according to the requirements of the user. I personally prefer a milder intensity and the highest level is a bit too harsh for me so this feature makes it very easy for me to customize according to my choice and need.
The INTEY Shiatsu is fitting for all different foot sizes making it a customer favorite and bids very high comfort levels as the device is very easy and simple to use and operate.
It has an auto turn off mechanism that greatly adds to the convenience in my opinion as you have to simply choose massage duration and set the timer and the massage will automatically stop after the specified time duration.
It has a removable and washable cover which can be removed via the zippers and ensures a clean and hygienic massager ready for use every time hence protecting against any germs and infections. This great attribute is a bonus point for me as I myself feel very strongly about the hygiene and want a sanitary and sweat free for every use.
The INTEY Shiatsu offers a warranty for 24 months and has a quick reply policy in case of any queries or problems.
The INTEY Shiatsu for heel spurs is a very innovative and versatile catering to the diverse and varied requirements of a huge audience ranging from people using it for relief and relaxation to people using it for medical purposes. The product comes packed with features and is quite reliable as well.
However the automation lags behind in the relaxation, pain relief and therapy acquired through a manual foot massage done by a professional as the massage process through the foot massager becomes tedious for some users who rely on the massage for a deeper and thorough relaxation and cleansing experience.
Pros and Cons.
PROS:
Attractive design
Three different massage modes
5 intensity levels for Air compression
Timer feature for auto turn off
Removable and washable covers
CONS:
The highest intensity levels are a bit harsh
No remote control
Lacks the ambiance of a manual massage
It is a very compact device loaded with amazing features to provide a therapeutic and relaxing foot massage experience. The features mentioned above make it a very high end model introduced by INTEY and add to its quality and reliability. All in all it is an affordable and thoroughly recommended substitute for an expensive manual massage at the spa and which can be availed with great ease in the calm of your own house and even work places, making it our top choice.
Our Research on neck and shoulder massagers
The best neck and shoulder massager review of Domas Tens, tells us about its great simulation therapy by acupuncture. It is simply the best rated electric massager available. You will find more on it in the review below.
With growing age the pain in neck and shoulders increases due to damage to the soft tissues, including the muscles, tendons, and ligaments. Younger people also experience this kind of a pain since it can be caused by trauma, poor posture, muscle strain, strain from overexertion and pinched nerves.
Now this kind of pain, in shoulders and neck can be very disturbing. It doesn't allow you to do any sort of work properly. To ease the pain and to get rid of it completely one of the best choices a person has is to use massagers for neck and shoulders pain.
Massagers for neck and shoulder pain works by increasing the blood circulation which in turn relaxes and normalizes the soft tissues of the area, thus relieving pain. You can feel your blood pressure decreasing and your muscles relaxing as the body decreases the production of stress hormones.
As massage has such good effects and should most definitely be given a shot, the question arises, What are the best massagers for neck and shoulder pain?
Best neck and shoulder massager review of various products
A massager is a device that has made its way into every house. Why? Nowadays people are more stressed and overexerted due to work, school, household tensions and need something to relax their sore muscles.
So here are some of the best massagers for neck and shoulder pain.
RENPHO Rechargeable Handheld Deep Tissue Massager
One of the best selling massagers for neck and shoulder pain which a comfortable silicone handle that you can grip easily and use on the part where it hurts.
Renpho has four Percussion modes and a light indicator. The different percussion modes help relaxen the muscles and eventually diminishes all the pain.
The motor embedded in it is quite powerful, giving upto 3600 Pulses per minute to relieve the pain.
The best part about this massager is how it automatically stops to prevent from overheat and it's portable with a cordless design, so it can easily be used anywhere.
The massager also comes with a 1-year warranty so you can just relax and give it a go.
The best neck and shoulder massager review of DOMAS TENS Unit Electrode Massager
This product is a great gift to anyone suffering from muscle pain, and of the best massagers for neck and shoulder pain.
Just imagine overcoming even the worst of muscle pain only in a matter of minutes.
The therapy provided by Domas Tens is like a simulation therapy by acupuncture, hitting the vital points and giving the best relief.
The highlight of this massager is how it can fit in your pocket and you can take it anywhere and use it anytime.
Moreover, the powerful and rechargeable battery of lithium ion gives long lasting relief.
HoMedic, 3D Shiatsu, and Vibration Massage Pillow
Everybody wants to lay down and get a nice massage to relax and some people even like to fall asleep to that, so what could be better than having a massaging pillow to get rid of all the pain?
HoMedic,3D shiatsu pillow offers a massage technology in which the heat is delivered in a circular kneading motion.
Using the latest technology the massaging nodes of the pillow moves inwards and outwards for a deeper effect.
Furthermore, the vibration helps in reaching the inner organs for full body relaxation while the use of heat helps to penetrate tired muscles in your upper, lower back, neck and shoulders.
What's more, the controls are built in the pillow so you won't need to look around everywhere for the remote, you just have to reach to the right where the settings are, turn it on and enjoy the massage.
Along with everything else, this pillow is portable. Didn't get enough massage at home? No problem. You can take to your office and work as you relax.
Best neck and shoulder massager review which are best rated
As there are so many products out there that have been tried by many people, what do you think are the best-rated neck and shoulder massagers?
Naipo Shiatsu Massager
This product is quite unique, in its function and style, with  8 deep-kneading massage nodes and a U shaped design it fits perfectly around the neck.
It has a built in heat function that transfers warmth to muscles all over and increases the blood circulation, moreover, it shuts down automatically to prevent overheating.
It can also be adjusted to three different speed levels, ranging from low, medium to fast. It's entirely up to you to set the speed you want.
Naipo Shiatsu massager is not only dust proof but also has a car adapter and it's super easy to clean.
Aldom's Shiatsu kneading and knocking massager
Tired of going out to get physical massages but still not getting any results? Well the solution is here, Aldom's kneading and Knocking 2 in 1 massager is one of the best rated neck and shoulder massager.
This massager has been carefully designed to put two relaxing techniques (knocking and kneading) in one product.
The massager has powerful actions, it feels like a masseuse's fingers kneading and pounding you to give the best deep tissue massage with an 18 massage roller balls with two separate nodes. You'll feel like the pain went away as if it was never there.
This massager is so designed to give you the feel of human hands that help you relieve sore muscles.
The motor had been designed to last for 3 years so you don't have to worry about anything and use it whenever you feel like having a nice, relaxing, long and soothing massage.
Additionally, it has a heating function that gives warmth to muscles and joints to improve the circulation of blood. Plus it also stops working every 15 minutes to ensure your safety and overheating.
Along with everything else you can set the speed depending upon the pain you're feeling in your muscles.
It's perfect for home, office and vehicle use as it also contains a power adapter and a car charger along with a carry bag so you can take it anywhere you want.
So many people suffer from neck pain, mainly due to stress and want to relieve it fast. So what's the best electric massager for the neck?
This simple but stylish looking device offers six artificial massages, two operating modes (manual and automatic) to easily deal with cervical problems and give you a comfortable feeling.
With its ergonomic design and multi-directional massage capabilities, it offers a deep penetration massage from the front, back, left and right of the neck to relieve the sore muscles and gets rid of the fatigue.
Due to its small design and lightweight, it's easy to carry it anywhere and it perfect for use during work.
Although this massager comes with a set of warnings, you should avoid using it if you're a patient of heart disease, blood pressure, unconsciousness or any disease that requires the supervision of the doctor, however, if you have any problem with the product the company helps you solve it within 24 hours.
If you want a sample product for just your neck pain. This is an excellent choice.
Best neck and shoulder massager review summary
First of all, all the products are worth a try, you never know which one might suit you the best since every person has a different problem and a different body.
Secondly, all the products offer good result with powerful vibrations and a relaxing massage but if I had to recommend one, I'd choose the DOMAS TENS Unit Electrode massager. It is simply the best when we talk about the best neck and shoulder massager review.
Why?
It's portable
Can fit in your pocket.
Recharge lithium battery
Pads can be reused upto 30 times
Small but strong pulses
Can be used on different parts of the body with muscle tension
Lifetime warranty
This is the best product there for chronic pain.
For a lighter pain reliever, the best option would be Naipo, Shiatsu Massager
Not only does it have speed control and 8 deep-kneading massage nodes, but the built-in heat function also helps you get muscle relationship much faster.
It helps relieve all sorts of pain
Slept wrong?
Lifted too much?
Got cramps?
This massager will help with its unique heat mode and deep vibrations.
Hope you like this best neck and shoulder massager review.
Our Research on Deep Tissue Massagers
Some years before, massage was done by hand and it was the tradition in Asia to relieve the pain in the body and tiredness and still massages is popular in these tradition societies. The technological advancement changed the massage style and now it can be done by every individual.
We have collected best for deep tissues who have the capability of helping users relieve the pain especially in the back. It also helps reduce the fatigue due to overexertion. It has variable speed. It allows the adjustment of the massage intensity from light to intense as per requirement. The percussion massager uses to relieve the tense and tired muscle and act as pain reliever of deep tissue.
Variable speed
Extra attachments
Percussion massage is the bench marks
Shape: should be easy to hold and feel balanced
Should be designed to allow you to reach most parts of your body easily.
Weight and durability
Finally of course price
Wahl Deep Tissue Percussion
It is a real example of deep tissue therapeutic pain reliever. It is on the top of our list of best deep tissue electric massager. Adjustable speed and other features allow the use to regulate the massage intensity.
It is available with some unique attachments like percussion, power source, corded and massager interchangeable heads. These attachments serve the user at different angles to be massaged easily. Besides these it has some other attachment like four finger flex attachment, accupoint attachment and raised bump attachment.
These attachments and accessories make the product best choice to buy. The cost US$ 36.99 the optimum cost which is affordable for general people.
Pros. & Cons.
PROS:
Different options available
Low price
Easy to use at different angles of the body
Four finger flexible attachment
Long handle
Lowest setting because it's so strong
CONS:
It consume high power
Produce heat
Pure-Wave CM5
It is also called cordless muscle and joint massager because of its characteristics. The muscle and tendon pain melt away under the healing touch of the CM5 component. The powerful RPM percussion head penetrates deep into muscle tissue to relieve pain and speedy muscle recovery. The speed dial also lets you dial back the intensity, to treat sore sinew and joints. It has some other features like six head stick, air cushion and point stick. There is long battery which is charged by charger. Low weight, Compact and cordless, the CM5 fits easily into a backpack or suitcase.
Pros. & Cons.
PROS:
Best-in-class power, for deep tissue therapy
Breaks up painful muscle knots
Soothes inflamed joints and tendons
Low charging time and runs for two hours
Brookstone Max 2
It is also having the ability for deep tissue massaging. It is easily available in all drug stores.
It is powered by a rechargeable, lithium battery that carries a powerful massage without fading.
It has long handle reach which helps you to soothe sore muscles at any angle.
The 5-speed motor provides an impressive intense body-relaxing massaging power.
It is lightweight and durable. Its body is of aluminium with two ergonomic handles lets you glide the massager over the body and decide how much pressure to apply to tight muscles.
Then customize massage with 5 speed intensities. It can be move up and down, for a deeper, more satisfying percussion massage of the different parts of the body. It can operate with or without cord.
Pros. & Cons.
PROS:
Extra-powerful percussion massage
Completely cordless for easy manoeuvring
Dual handles for easy control
5 selectable speeds
Accelerate muscle recovery
Alleviate muscle pain
Reduce heart rate
Increase flexibility
Improve circulation
Promote better sleep
CONS:
Heavy weight
Keep long hairs and loos clothing away from it.
Not for pregnant women
Not for those with weak bones