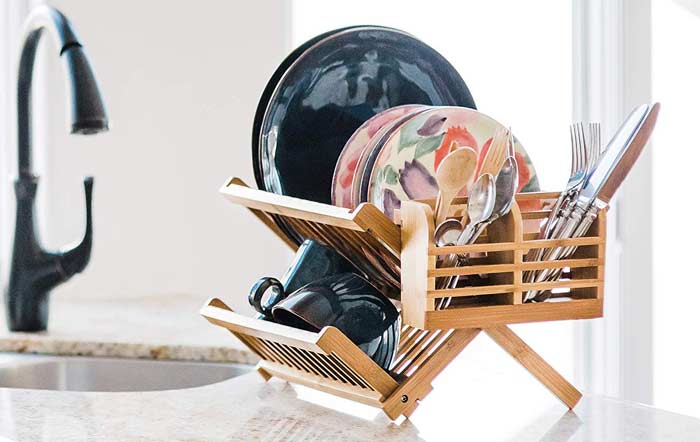 Having a small kitchen space? Well not to worry as we are here with the best  dish drying racks for small kitchen and spaces. We handpicked each one of them and they are super compact and extremely attractive to the eye. We know that every inch of your kitchen counter is very valuable so we are bringing in some of the amazing racks to save you some space.
Now the smallest dish drying rack can still get up to 1 foot in length.
So after a lot of research, we figured out that the best dish rack for your compact kitchen is the Chef'n CleanGenuity Garden Dish Rack which is 1 feet and 2 inches in size.
Why its the best?
It's very compact, it's dimensions are 13.2 x 13.2 x 6.2 inches. Almost 1 foot in length. Or you can say 1 foot in diameter.
Also not too heavy with weight around just 2 pounds.
It' much bigger than it seems and can carry in a lot of dishes. The outside rings that you see can allow you stack up even more dishes inside.
An example:
You don't have to clean this rack for months, since it's made out of safe plastic.
And so it is very durable and very well made. It will last for years.
There is a water drain at the side as shown below so you can direct that side to the sink and it won't make a water puddle on your kitchen counter. But it doesn't work that effectively if you hang the cup on the outside spikes.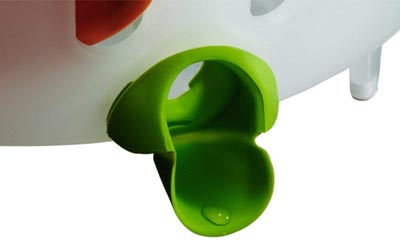 The dishes get dry very quickly as there is a good air circulation going on in this design.
This product provides the best value for your money as it is very inexpensive. Check price here on Amazon.
Our 2nd Choice is the mDesign Compact Dish Drying Rack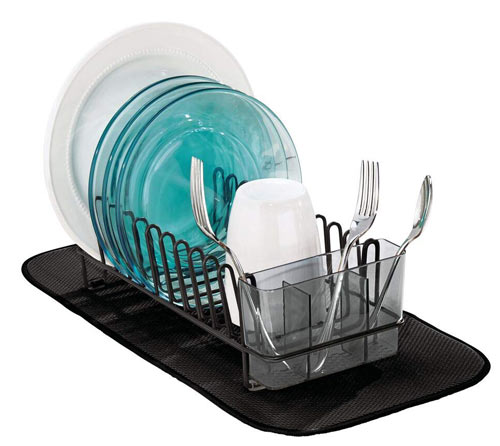 This mini and modren dish rack fits very easily on small kitchen counters. If you are still running low on kitchen space, this rack also fits within the sink itself. The 12 slots may make you think this might not be compact but surprisingly its dimensions are 13.6 x 13.5 x 7 inches. So just over 1 feet of length. Which is just 5 inches more than our first choice Chef'n CleanGenuity.
Now the bottom of this rack is actually a drying mat, that basically collects all the water from the drying dishes and has to be bought separately. The following picture will clear this up.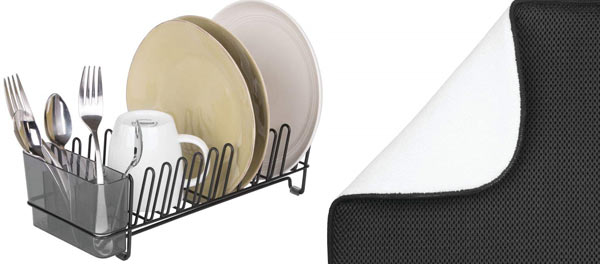 Microfiber Black Mat Measures 18″ x 9″
So why do we like this product so much?
Apart from being super compact, it's modern look is very attractive to an eye.
Infact, comparing both in looks, this one takes the lead.
It's actually a little cheaper according to the price now, you can check it's price on Amazon here.
But why it's not our 1st choice?
 Bowls and pots do not sit in the rack as well as they do in other racks.
The side glass holder where you can see forks and spoons is not tall enough
Other Dish racks we will be reviewing today
There are other 3 dish racks that we reviewed here too, so as to give you more flexibility to choose.
Sagler wooden dish rack (our 3rd choice) (Has highest capacity of Dishes)
Size:18 x 14 x 1.5 inches
You can check it's price on Amazon
Now this good looking bamboo dish rack is almost 4 inches bigger than our 2nd choice, the mDesign Compact, but it held in alot of dishes. Out of all the dish racks we researched, this one has the highest capacity.
Why do we like it?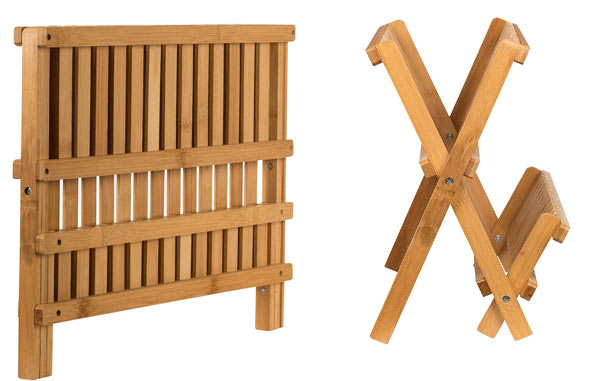 What we don't like about it?
It doesn't have a utensil holder. But you can buy this holder with it. They call it "Totally Bamboo dish rack utensil holder".
Not as strong as our 1st and 2nd choice as this is wood and they are made out of metal and safe plastic.
Dish Drying Rack Over Sink by HabiLife
What do we like about this product?
A good solution to a small kitchen space
It is very easy to assemble. Just 5 screws and you are good to go
It homes to more dishes than even a normal kitchen dish drying rack. So a great capacity of dishes.
What we did not like about this product?
The product doesn't have the instruction in the box. But still it can be easily figured out.
This product costs more than all the other dish drying racks we reviewed. You can check it's price here on Amazon.
You also have to dry out the counter after washing dishes it drips a little bit on the sides.
Lets talk about all these products in detail
Chef'n CleanGenuity Garden Dish Rack 🏆 OUR CHOICE
Now this rack is bigger than it seems. It has a lot of space, even more than the conventional kitchen rectangular racks that you see. You can add all of your dishes quite easily, that's really impressive because it is literally the smallest ever drying dish rack with the diameter of just over 1 foot. To put that in to perspective, the height of a 2 liter soda bottle is 1 foot.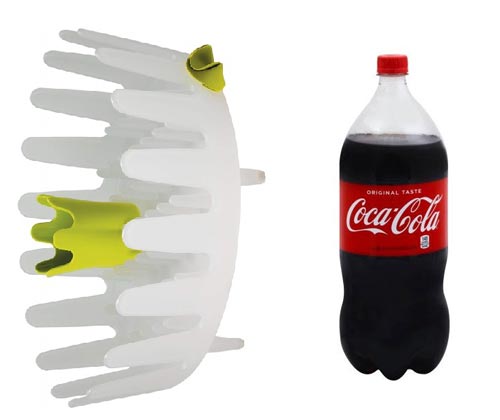 Another thing that we love about this product is that it is very easy to clean and all you have to do is just wipe it off with a cloth and you are good to go. It doesn't even need a lot of wiping to begin with also, since its a safe plastic.
And also plastic, so you don't have to worry about the rust factor in it. The material is also very sturdy and durable and I think it will last for a long long time.
Marry on Amazon Reviews Says:
"…we drove almost 5000 miles and this dish drainer stayed put."
You can check out more Amazon customer reviews by clicking here. (Scroll way down)
But plastic doesn't mean, this product would look like a toy. It looked good.
It has 2 Utensil and they can added anywhere on the spikes if you like. Just make sure you add the knives and forks right side up as it will cause scratches on the plastic surface.
It has a water drainage at the side so that all the water from the drying dishes can move out. Make sure to place the drainage side to the sink. The drainage can also be blocked and you can do this later.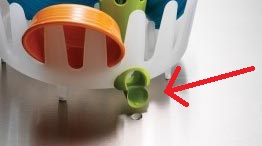 The overall design of this rack is a little slanted, so as to let water move out easily.
The plastic material is also standardized by FDA and also JFSS, the Japanese food safety standards, which are even more tough.
Pros. and Cons.
PROS:
High quality plastic, so no rust
Very compact, yet high capacity
Water drainage feature
CONS:
Knives & forks can leave marks
mDesign Compact Dish Drying Rack (Best Looks🏆)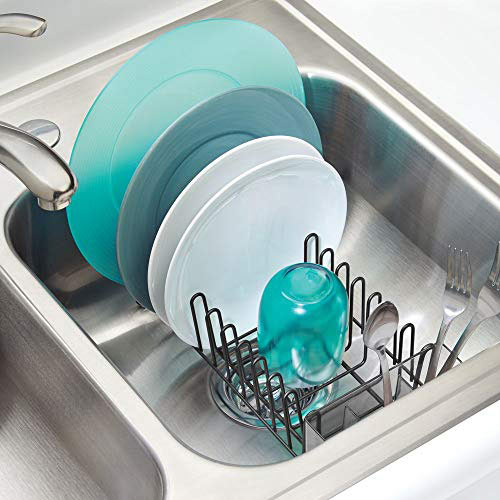 This dish rack is also very compact. No wonder they added "compact" in their name. Its dimensions are 12.5 x 5.5 x 4 inches. Again, to put that into perspective, if we compare it's size with the 2 liter coke bottle, it will look like this.
It has a total of 12 slots for plates and glassware.
It comes with a microfiber mat which measures 18″ x 9″. The drying mat replaces all the soggy towels and wet kitchen counters. Its a soft design and provides cushion to the delicate dishes.
With terry cloth on one side and the polyester on the other, it's completely washable and fabric softener is recommended. Use it whenever you are done with washing and want to dry out the dishes. One thing that they should have added in this mat is the hanger, there is no hanger on it and one has to try other ways to dry the mat out after done with the dish washing. If we talk about absorption, it absorbs almost 4 times it's weight.
Now, let's talk about the rack. Its made out of solid and sturdy steel wire and has a coating on it which prevents it from rusting. It's quite solid and you have to exert some force if you want to bend the grill. It has soft cushioned feets as shown below.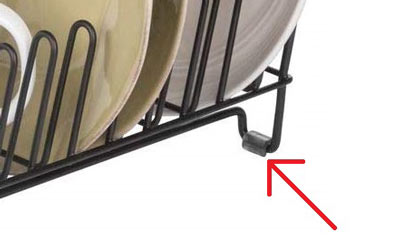 The "feets" are made out of PVC. They provide a lot of friction and doesn't allow the rack to move or slip easily. They also eliminate the scratching factor of the metal wire.
Overall, its a pretty need and good looking design and gets the work done and is very compact. Some people still complain about the size too small however.
Sagler wooden dish rack (our 3rd choice)
Now this dish rack is slightly bigger, measuring 18 x 14 x 1.5 inches (when folded, shown below). So now it's one and a half coke bottles, something like this.
So that is 18 inches in length and 10 inches in height, when opened.
One thing that we liked the most about this rack is that it's fold-able, which is a good news for people here looking for dish racks for their RVs.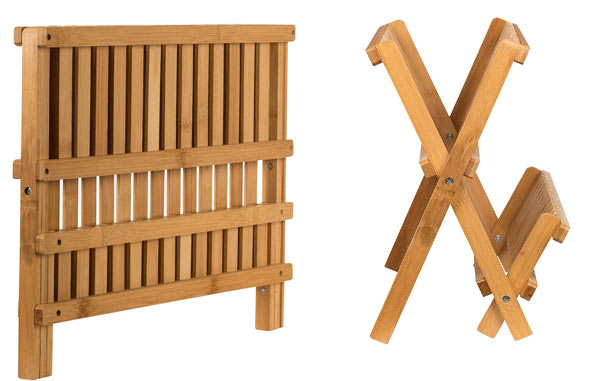 When folded the dimensions become 18 x 14 x 1.5 inches, so that's 18 inches in length, 14 inches in height and with a thickness of 1.5 inches. You can put this rack anywhere then.
One thing that we didn't like about this product was that you have to buy the utensils rack and the drying mat separately unlike our 2nd choice where both of these things come along. Totally Bamboo dish rack utensil holder is what they call it. And buying it along with the rack and the drying mat increases the price to up to more than 30 bucks. You can check it's price here on Amazon.
But still it's a pretty neat design with 14 slots, where our 2nd choice had 12.
Dish Drying Rack Over Sink by HabiLife (Something Extra)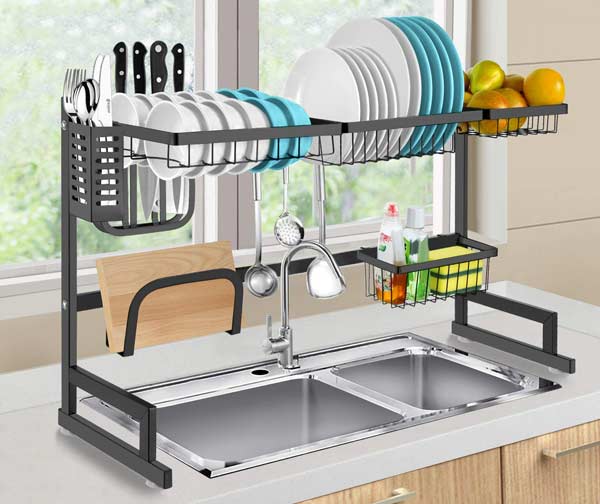 When it comes to small kitchen spaces, maybe going small isn't the way to go, which is exactly what this company thinks as they give out an another solution to compact spaces and that is simply hanging the rack over the sink, which is literally the name of their product even, so as to leave any ambiguity aside.
They call it "all in one versatile organizer" with even a space for putting your washing soap and scrubber.
Now the only problem with this rack is that you have do some maths before buying. You have to know the exact dimensions of your kitchen sink and although the chance of it not fitting over the sink is low, there were still some complains in the Amazon review section about the rack not able to fit in properly. And that's why it's not in our top first 3 products.
Now make sure you get the sizes of this rack right before buying, the rack is about 20 inches in height, the "inside" length is exactly 32.5 inches. (Outside length is 35 inches).
The instructions of setting it up does not come along in the box, but that's not something to worry about as it can be assembled without any efforts. It took us around 10 mins to set it up.
One of the best thing about this rack is that, you don't have to worry about the drying mats here. Since it sits on the top of the sink all the water goes directly in, although there is a little problem with it wetting the sidebars of the sink, but i wont call it a issue even.
Overall, if you think that this rack will fit in perfectly on your sink, it is worth your money. And ofcourse it eliminates the small kitchen space problem as well.
Conclusion:
All of the dish racks we picked out for the today's post are all hand-picked for small kitchens and compact apartments need. All in all, if you don't have a lot of dishes and budget you should definitely go with our first choice, the Chef'n CleanGenuity Garden Dish Rack, which is a great and very inexpensive choice for small dish racks with high capacity. Similarly if the circular design doesn't suit you or you think plastic is not the way to go, then you can look in to our 2nd and 3rd choices, the mDesign Compact and the Sagler wooden dish rack which offer both the traditional design and the looks. So you have basically all 3 choices in different materials, plastic, metal and wood.
If budget is not an issue and you know the measurements of your kitchen sink and you have alot of dishes despite the small kitchen, then our last choice may be the best for you, the Dish Drying Rack Over Sink by HabiLife as it has the regular size and solves the space issue intelligently.